Jimmy Page Played on Rolling Stones Records Both Before and After Led Zeppelin
While Jimmy Page is known for his session work before Led Zeppelin, he played on Rolling Stones record before and after Zep.
When you look at the biggest rock bands of the 1970s, The Rolling Stones, The Who, and Led Zeppelin are all right up there. All three groups were recording at a high level and grossing massive sums on tour for most of the decade.
But while Pete Townshend seemed to resent Zeppelin's fame and fortune, the Stones and Zep got along just fine. You saw it in Zep's use of "sixth Rolling Stone" Ian Stewart on "Rock and Roll" and "Boogie With Stu."
If you caught the interactions between Jimmy Page and Keith Richards in the '70s, you'd also conclude the legendary rock guitarists were on good terms. (We won't mention how Zep used the Stones' mobile recording studio and even borrowed studio time from the band once.)
But the Zeppelin-Stones connection didn't stop at the studio door. Prior to his epic run with the Zep, Page actually played on a Stones session. And then he did it again after Zep disbanded following the death of John Bonham.
Jimmy Page played on 'One Hit (to the Body)' in 1985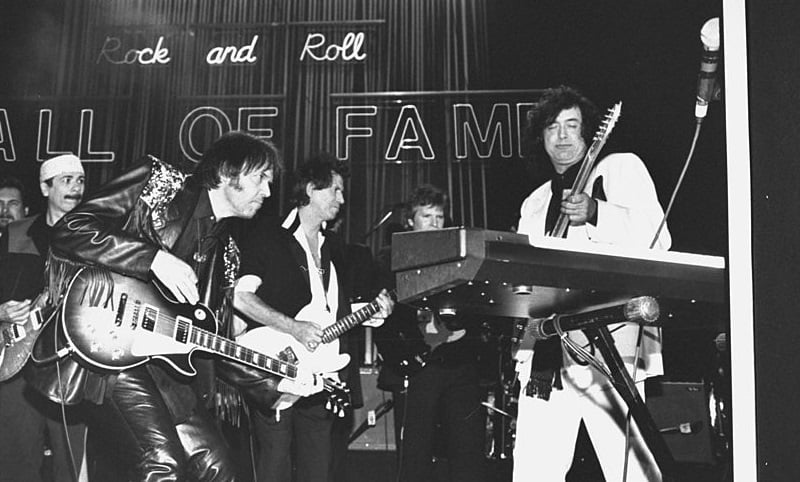 There are countless stories of Page playing guitar in London studio sessions in the '60s. Whether you played for The Who or were working on the latest James Bond soundtrack, there was a good chance you might see Page turn up in the studio next to you.
In some ways, Page got back to his old habits after the end of Zeppelin. He played on a few tracks by The Honeydrippers (with Robert Plant) in the early '80s. And he also played on a Stones track that cracked the top 40.
That song, "One Hit (to the Body)," featured a strong Page solo (starting at 2:27). According to Guitar World, Page's friend Ronnie Wood invited him to lay down something for the Stones' upcoming album, Dirty Work. And Page delivered.
But the first time Page played on a Stones record, Wood hadn't joined the band yet. (Wood came aboard in 1975.) And Led Zeppelin was still four years away from forming.
Page's 1st trip to a Stones session came in 1964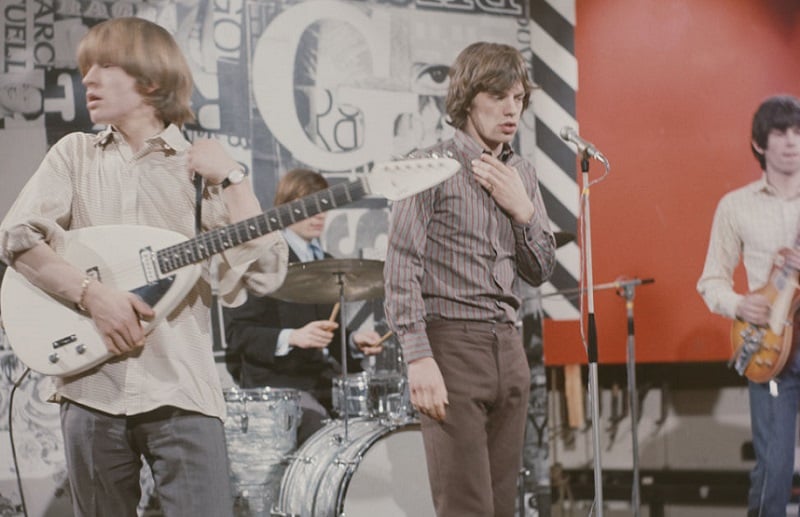 To get an idea how ubiquitous Page was in studio sessions circa 1964, just look at his credits. In addition to his work on records by The Who and The Kinks (plus the A Hard Day's Night soundtrack), Page dropped by for a '64 Stones session.
He didn't play on some obscure track, either. Page played on an early version of "Heart of Stone," a song that became a top-20 hit for the group in America. Before the famous version went on record, Page joined for a session that produced a demo for the track.
Since no one hired Page without getting a solo, you hear Page get to work here, too. (His solo kicks off at 2:04.) Though Page said he didn't do any pedal steel work until later, some believe he played that part as well.
This track went unreleased for a decade and eventually saw the light of day on the Stones' Metamorphosis release (1975).
Also see: The Rocking Jimmy Page Single From 1965 That Featured Page on Vocals