'Jirisan': Everything We Know About the K-Drama Before Its Premiere
The tvN and iQiyi Korean drama Jirisan will premiere on Oct.23. The drama was also previously known as Cliffhanger and is titled an action-mystery K-drama. Jirisan's storyline focuses on mountain rescuers of Mount Jiri National Park as their duties are to rescue any lost individual and keep the mountain safe.
The upcoming K-drama stars actors Jun Ji-hyun and Ju Ji-hoon as its main characters. Fans anxiously await Jirisan as it promises death-defying natural situations, high-risk rescue missions, and an eery mystery in the depths of the mountain. Before the K-drama's premiere, there is a lot of information to catch up on.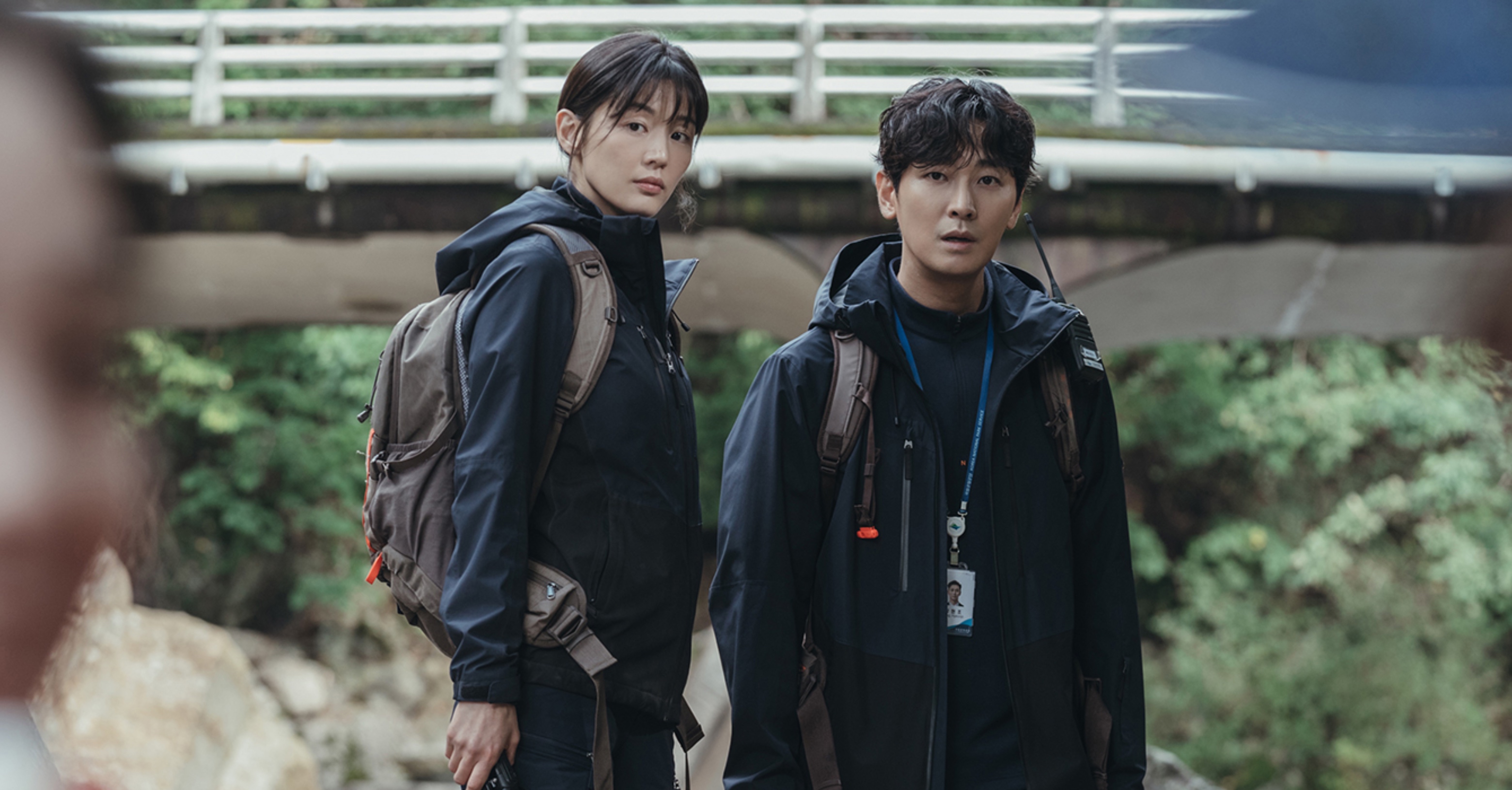 Viewers can expect tense rescue mission in a stunning natural setting from 'Jirisan'
Part of Jirisan's storyline is the profession of the main characters as rescuers for Mount Jiri National Park. The plot element adds a level of tension, suspense, and jaw-dropping situations. Seo Yi-kang (Jun) is the mountain's top ranger with years of experience and determination. Her partner, Kang Hyun-jo (Ju), is a rookie who hides a dark secret. The two characters must face the natural environment the mountain offers as the crew goes on dangerous missions.
In Jirisan's first episode teaser, fans get a firsthand look at the dangerous terrain the rescuers must face. The team is deployed in the middle of a typhoon to rescue a lost hiker. They only have 30 hours to complete their mission amid the roaring winds, pouring rain, and dangerous terrain. The teaser also shows fans the turmoil between the team.
According to Soompi, the voice-over explains that some rangers are willing to risk their lives to rescue the hiker that might still be alive. The rest of the team is less than willing to make that bet. The riveting tension of Jirisan's storyline is amplified with a thrilling mystery.
A killer uses the mountain as their hunting ground in 'Jirisan' K-drama
Jirisan promises multiple levels of plot elements to keep viewers invested. As viewers are kept on the edge of their seats as the rangers go on dangerous rescue missions, the K-drama also promises lighthearted comedy. Above all, Jirisan interweaves a dark mystery. The rangers start to wonder if the mountains hide a dangerous secret.
In the K-drama's highlight reel, the rangers get caught in something they never imagined. The scene cuts to news reports of another fatal accident on the mountain. Locals believe a ghost inhabits the mountain, and whoever sees it will die. But Yi-kang knows better and deduces someone is murdering people and covering it up.
The team is on high alert as they not only have to protect the mountain and its visitors but hunt a possible serial killer. Jirisan's highlight reel also teases Yi-kang and Hyun-jo have a secret between them that they can not reveal. The rescuers suspect someone close to them is the culprit.
'Jirisan' will be available on iQiyi streaming platform
The tvN K-drama will premiere On Oct.23 for South Korean and global audiences. While Korean viewers can watch Jirisan on cable television, international viewers will have to watch the drama on a streaming platform. Jirisan will be available to viewers on iQiyi, a popular Asian streaming platform.
Jirisan is a 16-episode K-drama and tagged as a tvN original in collaboration with iQiyi. The drama is one of many iQiyi is producing to get ahead of the global boom of K-dramas. At Busan's Asian Contents & Film Market, the platform announced its further venture in acquiring rights to various dramas.
"While Korean content is subject to an unofficial embargo in mainland China, iQIYI International is competing with non-Chinese streamers to stock up on Korean dramas that are achieving growing cross-border popularity," according to Variety.