'Jirisan': Where You've Seen the K-Drama Main Cast Before
TvN and iQiyi's Korean drama Jirisan is off to an impressive start since its debut on Oct.23. The K-drama has already ranked No.1 with high ratings, and the second-highest ranked drama in tvN history. Before its premiere, Jirsian was the talk of the town due to its impressive main cast. Actors Jun Ji-hyun and Ju Ji-hoon star as the drama's leads.
Jirisan serves as a reunion between the two actors who starred in Netflix's Kingdom. Besides Jun and Ju, the K-drama has many recognizable faces from hit dramas every fan has heard about. Jirisan's main cast includes actors widely known for both dramas and movies.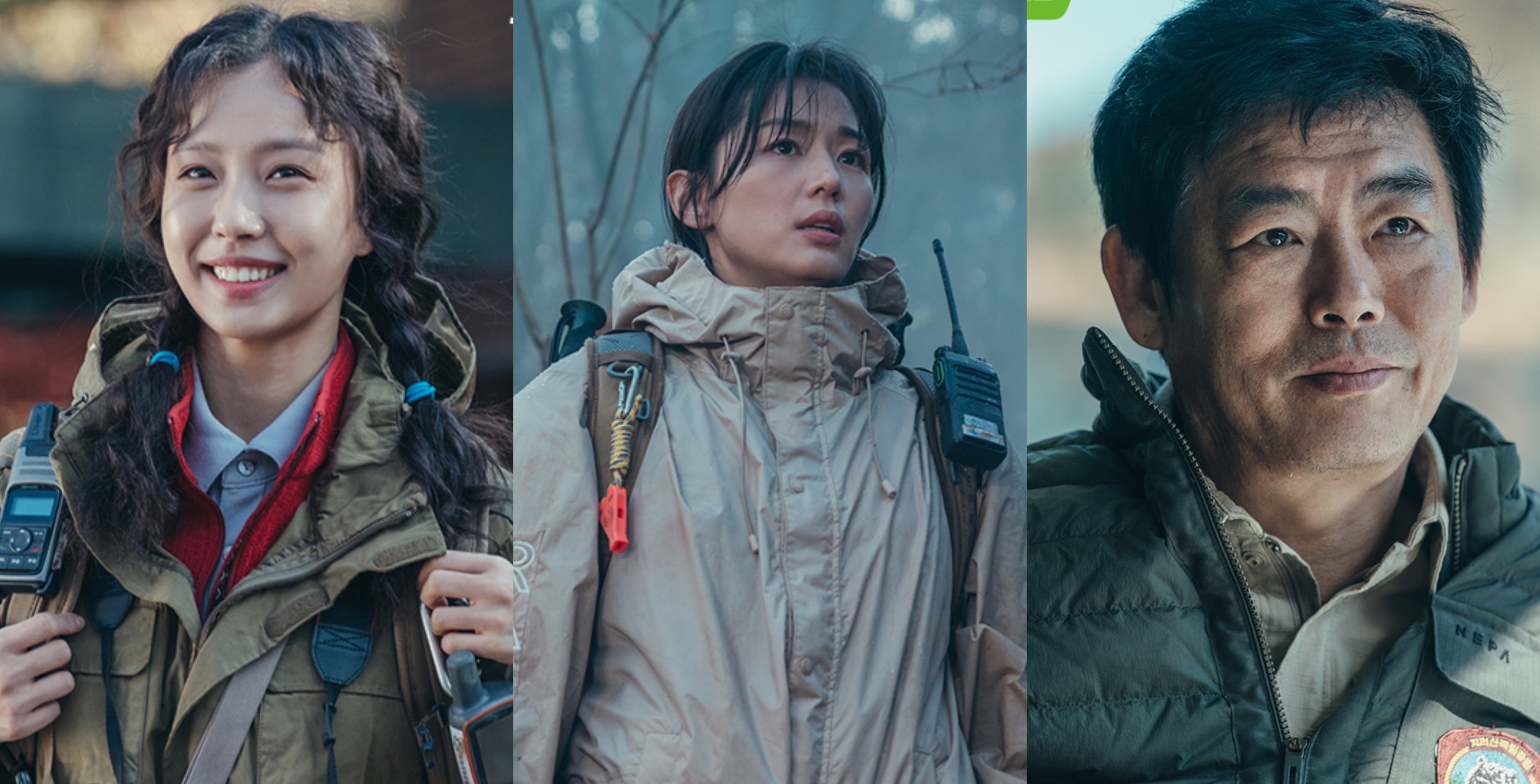 Joo Min-kyung plays Lee Yang-sun in the main cast for 'Jirisan'
Fans were first introduced to Lee Yang-sun's charter when Kang Hyun-jo (Ju) appeared at the Haedong Branch Office. She is the administrative support for the office who tracks weather patterns, evaluates maps, and much more during a rescue mission. Actor Joo Min-kyung plays the role.
Joo has appeared in a few dramas in her acting career. In 2019, she played the role of Lee Jae-in in One Spring Night. A year later, she appeared as Kong Ji-sun in Soul Mechanic. Joo will star in a new 2022 K-drama titled Green Mothers Club about five mothers' friendships, love, and stories.
Go Min-si is the youngest actor in 'Jirisan' main cast
Go Min-si is a rising actor who has gained her notoriety over the past few years, starring in popular K-drama for Netflix and a highly talked about period drama. She plays the youngest rescue ranger in Jirisan, Lee Da-won. The 26-year-old actor starred in Love Alarm, the drama that would help cement Netflix as the next K-drama streaming service.
After the drama's success and its second season, in 2020, she would star alongside Song Kang once again in the apocalyptic-horror K-drama, Sweet Home. Before Jirisan, Go received praise for her profound and emotional character in Youth of May. It is a period drama with a romance set during the Gwangju Uprising.
'Jirisan's' Park Il-hae is played by recognized actor Jo Han-chul
Any K-drama fan who watched Netflix's Hometown Cha-Cha-Cha would have spotted actor Jo Han-chul in Jirisan's main cast. Before the premiere of Jirisan, Jo starred as the washed-up musician Oh Chun-Jae in the Netflix K-drama. The actor is another famous face on television. Fans can not keep count of how many roles he has played in his career.
Jo even played the role of Han Seung-Hyeok in the hit action-mafia drama Vincenzo for Netflix. His long list of works included Memorist, Nobody Knows, Romance is a Bonus Book, and movies like The Wailing. In Jirisan, he plays the role of Park Il-hae, the rangers team leader.
'Jirisan' Main cast member Oh Jung-se plays one of the K-drama's rescuers, Jung Goo-young
Included in the main cast for Jirisan is actor Oh Jung-se. Oh's first on-screen credit was in 1997 in a movie called Father. Since then, he has taken over movies and television in many credited roles and is a fan favorite among K-drama fans. Fans would recognize him in the romance-mystery When the Camellia Blooms, but Oh hit stardom as one of the main characters in Netflix's It's Okay to Not Be Okay.
The International Emmy nominated K-drama starred Oh as Moon Sang-tae. His character is on the autism spectrum and is taken care of by his younger brother, who works at a psychiatric hospital. The K-drama and his character delivered a profound message about mental health. According to Soompi, writer Jo Yong expressed, "I personally began to respect Oh Jung-se as a person after seeing him sincerely do his best to first understand those diagnosed with autism spectrum disorder and to get close with them."
Sung Dong-il is the rescuers boss Jo Dae-jin in 'Jirisan'
There is still a lot to learn about the character Jo Dae-jin in Jirisan. Sung Dong-il is part of the main cast playing the role of the head of the branch office with a fierce loyalty to Mount Jiri and his team. The actor is a veteran in the industry, having started his career in 1987. Over the years, he has gained more property in movies and television and became well known for his fatherly role in the hit K-dramas, Reply 1997, and its spin-offs Reply 1994 and Reply 1988.
Sung is well known amongst fans appearing in fan-favorite K-dramas like Moon Lovers: Scarlet Heart Ryeo and Legend of the Blue Sea. He also starred alongside Squid Game actor Park Hae-soo in his acclaimed drama Prison Playbook.
Ju Ji-hoon plays the newbie ranger Kang Hyun-jo in 'Jirisan'
Fans are already intrigued by the character Kang Hyun-jo since the events of Jirisan episode 1. The K-drama promises a unique and mysterious storyline for the new member of the Mount Jiri rescue team. Actor Ju got his start on television in 2006's Princess Hours. While starring in movies between his television roles, Ju gained notoriety in Netflix's hit K-drama, Kingdom.
Ju played the main role of Crown Prince Lee Chang, who must deal with a zombie plague and political conspiracies. Kim Eun-hee wrote both Jirsian and Kingdom. According to Soompi, Ju explained, "Although I've already worked on a project with writer Kim Eun Hee, I had a lot of curiosity this time in terms of 'What kind of story will unfold?' and 'How will she utilize a place of nature like Jirisan in the project?"
Jun Ji-hyun is part of 'Jirsan's' main cast as Seo Yi-kang
K-drama fans were excited for Jirisan as it starred actor Jun Ji-hyun in the leading role and main cast. The actor is highly praised for her career and memorable role in My Sassy Girl and Legend of the Blue Sea. Jun gained even more critical acclaim appearing in Kingdom as Ashin.
The grand success of the original Netflix K-drama led to a prequel installment titled Kingdom: Ashin of the North. Jun returns as her character Ashin, but the K-drama instead details the backstory of the mysterious heir of the Northern Seongjeoyain tribe village. Her last movie role was in 2015's Assassination, which also starred Squid Game actor Lee Jung-jae.
Jirisan is available to stream on iQiyi.