Joan Collins Once Revealed Why the 'Dynasty' Cast 'Hated' Her
The cast members of TV shows don't always get along. Joan Collins has opened up about the Dynasty cast not liking her years after the show ended. She gave her theory on why that happened and more.
Joan Collins played Alexis Colby on 'Dynasty'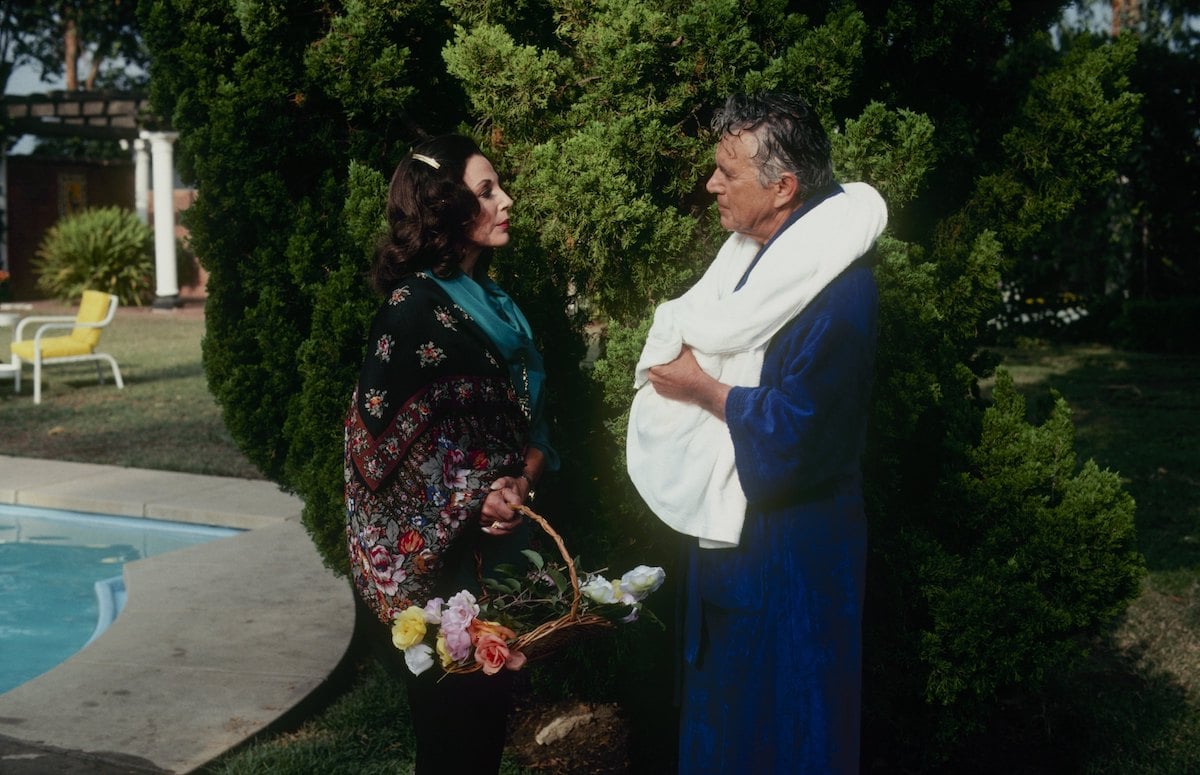 RELATED: Is 'Dynasty' Star, Joan Collins, Related To Novelist, Jackie Collins?
Alexis Colby didn't make her entrance until the finale of the first season. She comes in as the surprise witness for her husband, Blake Carrington's (John Forsythe) trial. But we don't really see the English woman until season 2.
Alexis and Blake were married but eventually divorced. There were rumors Collins and Forsythe didn't get along, but they danced around that for some time.
"Those stories were a crock," he said during a reunion in 1991, according to Entertainment Weekly. "There are some people you connect with, and some people you half-connect with. I'm afraid that may have been the case with Joan."
Collins said her cast hated her
RELATED: Will Joan Collins Ever Appear on the 'Dynasty' Reboot?
There were rumors for some time that things were tense between Collins and other cast members. She previously denied it, but in recent years she admitted there was tension.
"There was a lot of resentment," Collins told Attitude in 2019. "I've been asked this question a million times, and when I was doing it, I would poo-poo it. I'd say, 'Oh, no, no'."
She added, "But yes. There was. And now I know there was because many people have come back to me who were around at that time and said, 'They bloody hated you, Joan'."
Collins believed her being English and saving the show is what rubbed other people the wrong way. She said all of the negativity has lasted over the years and that there was "antipathy towards me" at their reunion a few years ago.
The actor also talked about something her co-star said at an award show. Collins talked about Forsythe on Watch What Happens Live with Andy Cohen.
"[At] the People's Choice Awards, we won as a whole company, and we were told that when we were being presented with the award, it was going to be given to John," she said. "However, they gave it to me. He didn't like that. I said, 'Oh, thank you very much, I'm going to give it to our fearless leader,' and he said, 'She's said enough,' and that was it. And it was very unpleasant, I have to say. It wasn't nice."
It sounds like the cast wasn't one big happy family on set. Collins is still working and is currently playing Adelaide of Savoy on Glow & Darkness.