Joan Rivers Left Flowers Out For the Ghost In Her $28 Million Manhattan Penthouse
Do you believe in ghosts? Joan Rivers didn't, but when she purchased a penthouse apartment in 1988, something happened that changed her mind. The celebrity found herself pitted against an invisible menace in her new home and in desperate need of help. Rivers was born Joan Alexandra Molinsky in Brooklyn, New York on June 8, 1933, to Russian Jewish immigrants, Dr. Meyer C. and Beatrice Molinsky. She and her older sister, who went on to be an attorney, enjoyed a privileged upbringing. From childhood, Rivers aspired to be an actor and began her journey to stardom in college theater productions. In 1954, she graduated from Barnard College with a bachelor's degree in English and anthropology.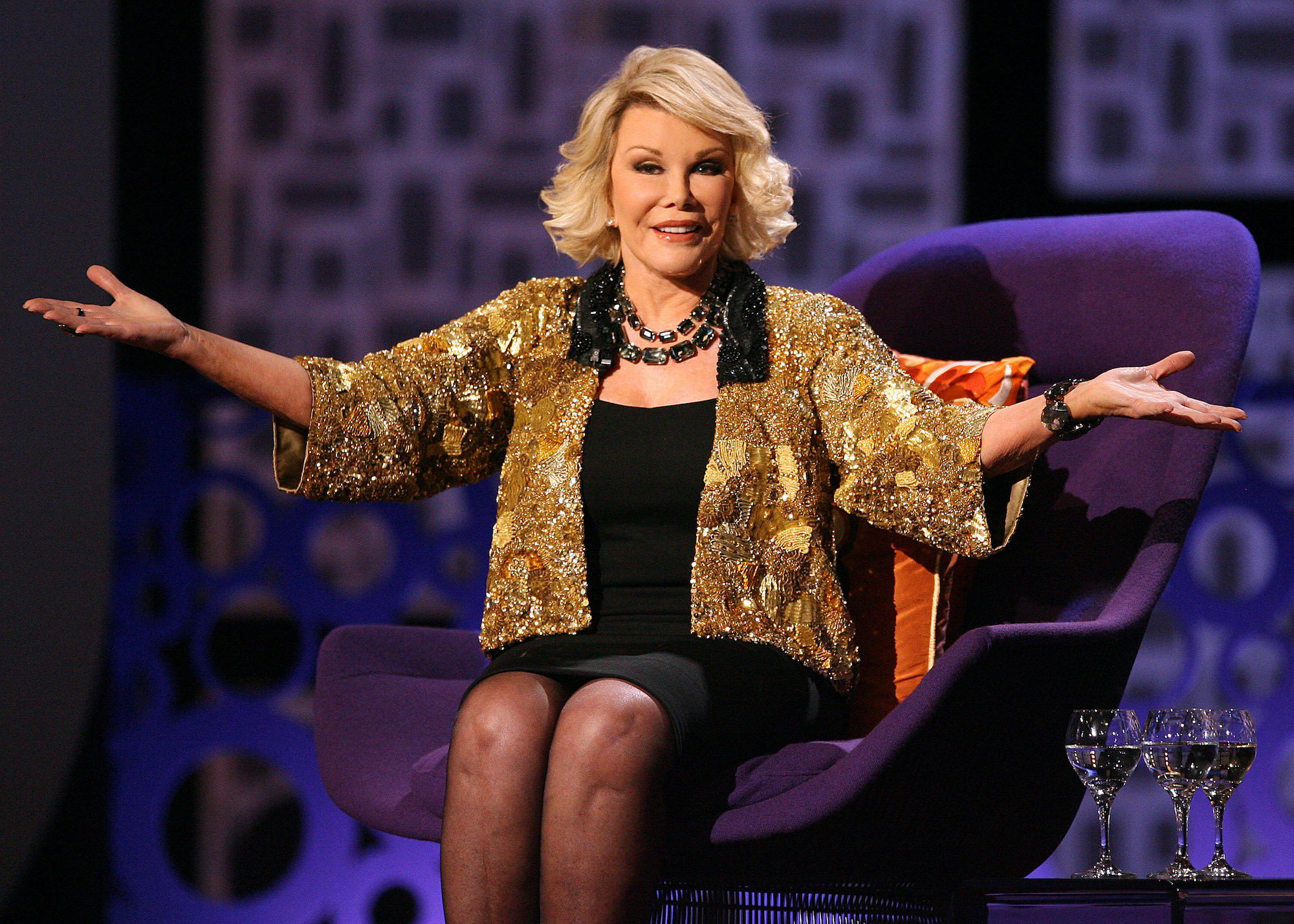 A trailblazer and survivor
First performing as Pepper January, Rivers was part of The Second City comedy troupe and became a sensation when she appeared on The Johnny Carson Show. She was a frequent guest host and close friend of Carson until Fox hired her to host The Late Show in 1986. Carson, who reportedly felt betrayed by the move, never spoke to her again.
She married twice, first to Bond Clothing Stores heir, James Sanger in 1955, then to British television producer, Edgar Rosenberg in 1964. Her first marriage was annulled after 6 months. Rivers and Rosenberg remained married until his tragic death in 1987 and had one child, Melissa.
In 1987, the bottom fell out of Rivers' life and career when she and Rosenberg, who was functioning as her manager and executive producer, were fired from The Late Show. Arsenio Hall replaced her as host. The Daily Beast reported that Rivers butted heads with network executives who were unhappy with her performance. Three months later, Rosenberg died by suicide. Widowed, jobless, and in debt thanks to bad investments, Rivers sold her house in Los Angeles and moved back to her home state of New York. She purchased a rundown apartment in The Spencer Condominiums at One East 62nd Street in Manhattan.
The four-story French-inspired mansion was originally designed for socialites John and Alice Troth Drexel in 1903 by architect, Horace Trumbauer. It changed hands several times and became an apartment house in 1938. You can read a detailed history of the Drexels and their mansion at Daytonian Manhattan. Miserable, Rivers threw herself into the renovation of the fourth-floor ballroom and 2 modern upper-floor additions that comprised her new home. Unfortunately, the building's previous owner was not pleased. 
Rivers meets the ghost of Mrs. Spencer
The elusive Mrs. Spencer whose first name remains a mystery is said to be the niece of financier J.P. Morgan. She is most likely Mrs. Alfred Nichols Spencer, the mother of Edith Spencer, whose marriage announcement appeared in the New York Times in 1941.
Rivers related her experience with the grand lady of the condo in season one, episode one of Celebrity Ghost Stories, which is available to stream on Amazon Prime. "She comes back, and she just does things to people in the house," said Rivers. The neighbors all had stories; full-bodied apparitions had been seen dancing in the ballroom and descending the grand staircase to the lobby in evening attire. Once, a neighbor came home to find all the cherubs on her antique chandelier beheaded. Even Rivers' dog would refuse to go into the place.
Fearful and desperate for help, she called the New York University parapsychology department and was referred to a voodoo priestess in Louisiana. The priestess came to Rivers' apartment and performed a frightening ceremony that took an hour and a half. The room warmed up and the dog came in on his own for the first time in five months. Rivers and the priestess went from apartment to apartment that night cleansing her neighbors' living spaces. Not one of them turned her down.
When Rivers moved in, the haunting resumed. The place was cold again. The dog wouldn't come in. Electrical things wouldn't work. "I started to cry, and I said, 'Mrs. Spencer, I am a widow. All my money's in this apartment. You cannot do this to me. You cannot do this to me. You must, you must, must, must leave me in peace.'" One night, she found an old portrait of Mrs. Spencer in the basement. She cleaned it up and hung it in the lobby.
Shortly thereafter, the priestess called Rivers and reported that Mrs. Spencer had told her she was pleased to have been returned to her home, she was happy with what had been done to the ballroom, and with the flowers that Rivers had put there. The priestess told Rivers to always keep flowers in the ballroom. "So, it has been 18 years and Mrs. Spencer has gotten her flowers and her portrait," said Rivers, "and she comes to visit me now, just about every night … My whole life turned in that apartment and turned in a wonderful way."
Inside River's haunted condo
After Rivers' death in 2014 of complications from throat surgery, her family put her palatial apartment up for sale. Architectural Digest featured it in their "Spookiest Celebrity Haunted Houses" article and speculated on the potential return of Mrs. Spencer after its sale. According to the New York Times the 11 room penthouse with four bedrooms, five fireplaces, two kitchens, and sweeping views of the city and Central Park, sold to "Middle Eastern royalty" in July 2015 for $28 million.
The following August, Daily Mail revealed the new owner's name and plans for the property. 65-year-old Saudi Arabian prince, Muhammad bin Fahd was reportedly "ripping it to shreds," shocking neighbors and removing every trace of Rivers' opulent style. He also requested the addition of a private elevator, likely due to security concerns. Fahd, who will not be living there, wants 24-hour security for his new place. His sons and their families will stay there for a few months a year. Most of the time, the apartment will be vacant, except for Mrs. Spencer, who may well be angry about the changes Fahd has made. Let's hope he likes flowers.
"You know, it's kind of like, if these walls could talk," said Diana Olick in the CNBC Business News video as she described the lavishly gilded 5,100 square foot triplex prior to its sale, apparently not realizing that, in a way, they can.