How to Make Joanna Gaines' Biscuits
If you've been looking for the perfect biscuit recipe, Joanna Gaines has you covered. She shares her secret to her famous biscuits in her cookbook Magnolia Table. In her book, Gaines said these biscuits were a labor of love. "It took me a year of Saturdays to get these biscuits just right," wrote Gaines in her cookbook. "Almost every weekend for months I worked up another batch for Chip and the kids to taste and then wrote down their feedback… All those failed batches didn't discourage me—instead each one spurred me to tweak my formula and try again the next week," she continued. Here's Gaines' biscuit recipe.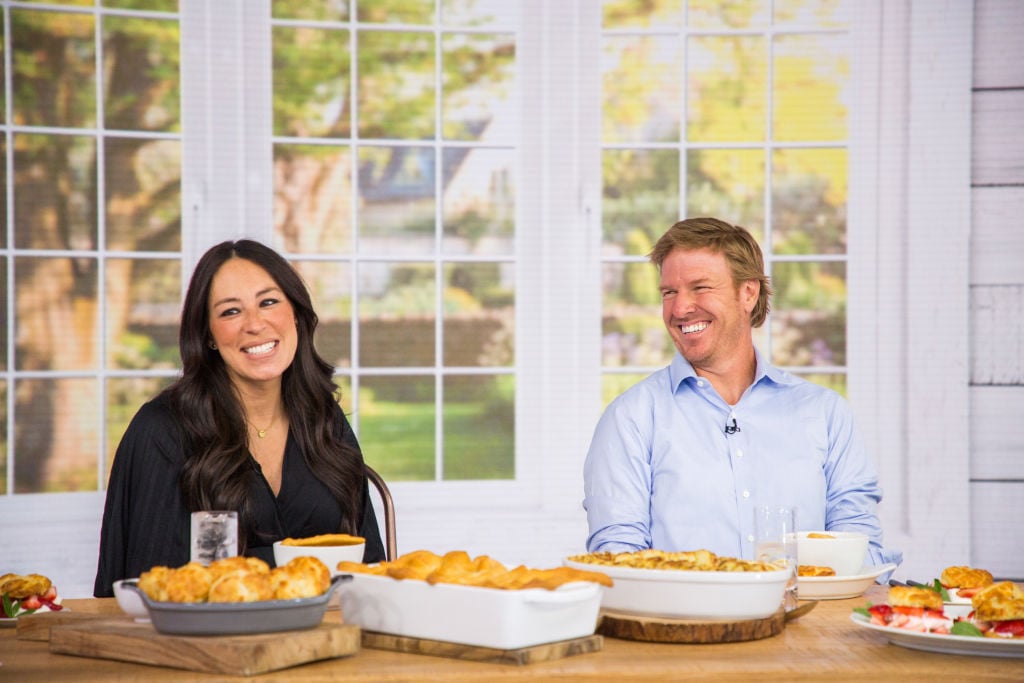 Ingredients
4 cups self-rising flour, plus more for the work surface
2 tablespoons baking powder
1 teaspoon baking soda
3/4 pound (3 sticks) salted butter, cold, cut into 1/2-inch pieces or grated
2 large eggs, beaten, plus 1 large egg for brushing
1½ cups buttermilk, or as needed, plus 1 tablespoon for brushing
Strawberry jam or gravy, for serving (optional)
Directions
1. In a large bowl, whisk together the flour, baking powder and baking soda. Add the butter and use a pastry blender to cut the butter into the flour until the pieces are even and about the size of peas.
2. Stir in the beaten eggs with a wooden spoon until combined. Stir in 1½ cups buttermilk until the dough comes together into a sticky mass. If it is too dry, add more buttermilk 1 tablespoon at a time, mixing after each addition, until it reaches the correct consistency. Cover the bowl and refrigerate for at least 30 minutes and up to overnight.
3. Position a rack in the middle of the oven and preheat the oven to 400°F. Line a baking sheet with parchment paper.
4. Scrape the dough onto a floured work surface. Use your floured hands to press it into a round roughly 14 inches across and about 1/2 inch thick.
5. Use a floured 2¾-inch round cutter to cut out about 20 biscuits. If necessary, collect and pat out the scraps to cut more biscuits.
6. Transfer the biscuits to the prepared baking sheet, arranging them so that they all are touching.
7. In a small dish, beat together the remaining egg and 1 tablespoon buttermilk. Brush the mixture on the top of the biscuits.
8. Bake until golden brown, 15 to 20 minutes. Let cool slightly in the pan on a rack.
9. Biscuits are best the day they are made (and ideally fresh out of the oven). Serve with strawberry jam or gravy, if desired. Store leftovers in an airtight container at room temperature for up to two days.
Gaines' tip: For longer storage, arrange the biscuits about 1/2 inch apart on two parchment-paper-lined baking sheets and freeze until solid. Transfer them to a zip-top plastic bag and freeze for up to two weeks. There is no need to thaw them before baking.
Source: Magnolia Table by Joanna Gaines
Read more: Delight Your Taste Buds with Joanna Gaines' Peach Tea Punch Recipe
Check out Showbiz Cheat Sheet on Facebook!