Joanna Gaines Documented the Sweet Valentine's Day Tradition That Incorporates All Her Kids
Just when you thought the Gaines family couldn't get more adorable, they just did.
Many celebrity parents hire babysitters or rely on nannies so they can celebrate Valentine's Day privately. But instead of getting dressed up and hitting the town, Chip and Joanna Gaines turned their holiday plans into a celebration the whole family could enjoy together. And the best part of all? Their oldest son Drake recorded some of it for fans to enjoy.
It turns out the family-centric Valentine's Day plans have become an important annual tradition in the Gaines household. Here's how they celebrate.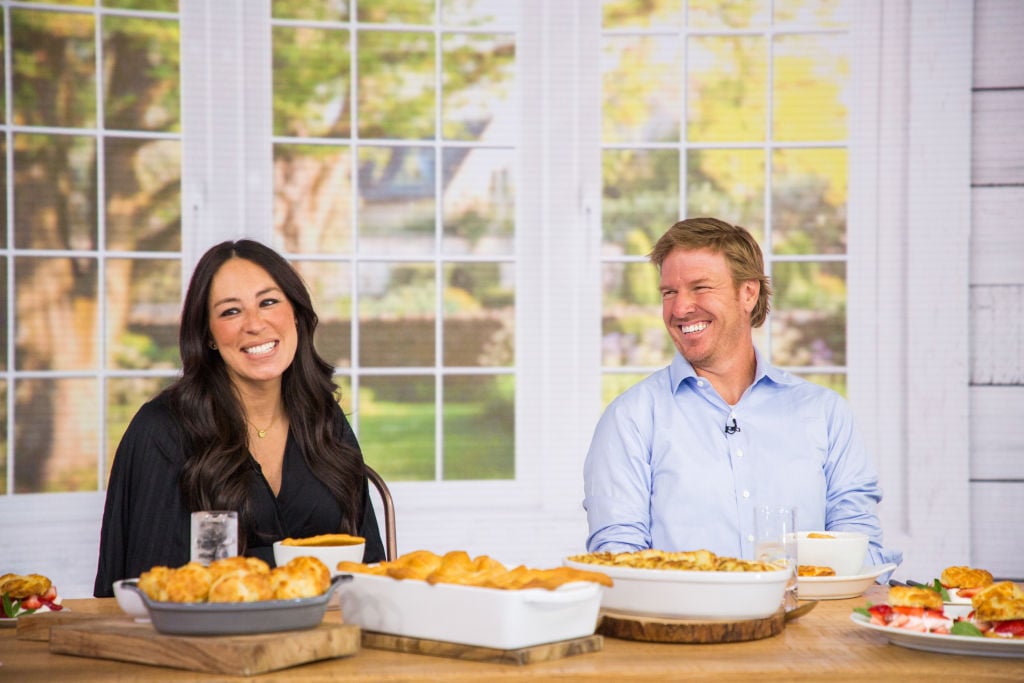 Valentine's Day is an 'all hands on deck' event
The video of Joanna preparing the family feast is rowdy, but because it's happening at the Gaines family farmhouse, it's also beautiful.  
"It was an all hands on deck kind of night," Joanna shared on her blog. "We were racing the clock to have everything on the table at a reasonable hour—Chip grilled the steaks, Ella was on babysitting duty, and Drake took it upon himself to document all of the chaos in between (or to expose how messy I am in the kitchen)."
The Gaines kids plan an elaborate feast for Valentine's Day
As Joanna Gaines shared on her Magnolia blog, she and Chip forgo fancy (overpriced) restaurants on Valentine's Day and spend the evening at home with their five kids. To make things even more interesting, she has the kids plan the menu for the evening. Then everyone dresses up "really fancy" and dines together at a candlelit table.
This year, Joanna doubled down on her hands-down favorite part of the meal — dessert. Instead of sticking to one sweet confection for the evening, she whipped up the delectable French Silk Pie from her new cookbook, Magnolia Table Volume 2, which is being released in April 2020.
Joanna said the kids asked for so much food at the feast
Many moms are opposed to cooking more than one meal per night. But Joanna Gaines considers Valentine's Day a special occasion. "The kids have asked for like a 19 course meal," Joanna says, gesturing to the plethora of food on the counter.
Their Valentine's Day spread in 2020 included steak, crab, shrimp, fettucine, rolls, layered salad, angel food cake with strawberries and whipped cream, plus that dreamy French Silk pie.
The video showed of Joanna's sweet relationship with her kids
Not only was it super adorable that the Gaineses share Valentine's Day with their children, but also there were a few delightful moments on the video that really showcased Joanna's relationship with her children.
While Joanna is demonstrating how to recreate her layered salad recipe, she explains that the candied walnuts are the "reason my kids eat the salad." But then Drake whispers to the camera, "We don't actually eat the salad." That's just one of many moments during the video that we see how loving and close this family is.
It's easy to imagine hanging out in the kitchen with the Gaines family — which is precisely what made Fixer Upper so famous in the first place.