João Franco From 'Below Deck Med' Asks Fans If They Miss the Sirocco Crew (The Answer Seems to Be 'Yes')
Amid what can only be described as the darkest season of Below Deck, bosun João Franco from Below Deck Mediterranean wistfully posted photos of his dream deck team.
The majority of the Below Deck deck team came under fire for misogynistic behavior toward the women on the boat. Trouble began when bosun Ashton Pienaar forcibly kissed chief stew Kate Chastain on more than one occasion. He also violently lashed out at her during a drunken rage in a van ride to the boat. Additionally, Pienaar poisoned the all-male deck team against deckhand Rhylee Gerber. Gerber returned mid-season and Pienaar didn't hide his disdain for her.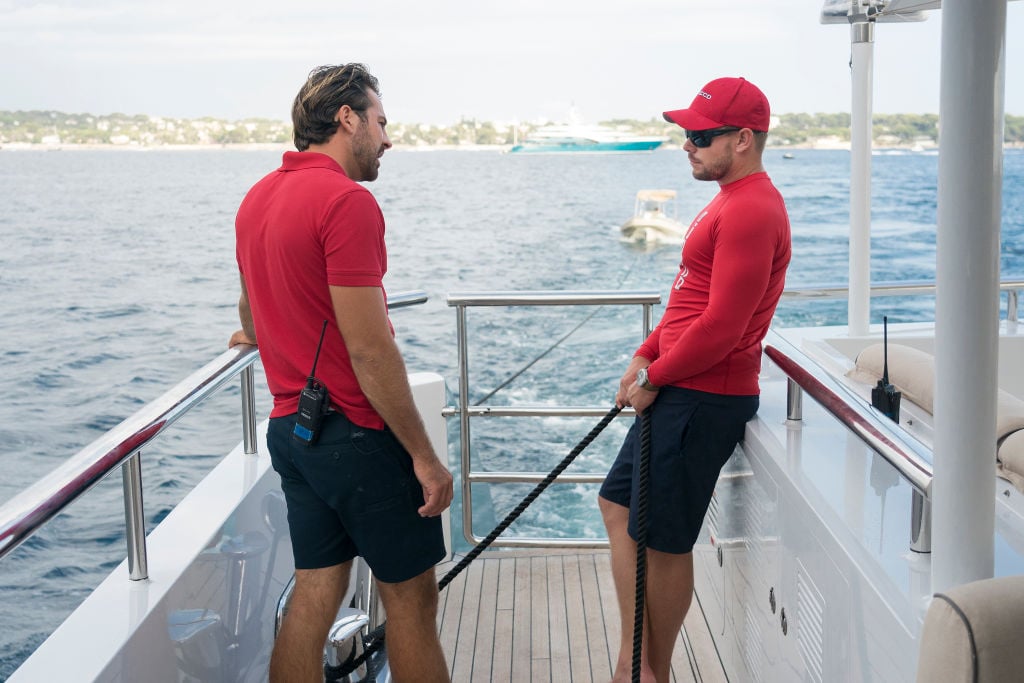 Viewers have become upset and angry now that season seems to have taken on a polarizing, "men versus women" theme. Pienaar expressed regret but no remorse for his behavior, while the rest of the men on board back him up. During the last episode, Gerber was visibly shaken and upset, while stew Courtney Skippon sobbed after deckhand Brian de Saint Pern slammed her for backing Gerber.
Miss us yet?
None of the mess on deck was lost on Franco. Although he too had some moments where he misspoke about the women on the crew last season, the situation never became this intense. During the episode, Franco posted a photo of the deck team. "@colin_macyotoole would say- "can I get a what?" @travismichalzik – "bunch of stud muffins!" Jack- "looooovely!" Anyone miss these lads as much as I do? We sure had a laugh with this group!!😂 I take my hat off to the lot of them✊🏼."
Fans were thrilled to see the group photo and the fun-loving vibe from the last season of Below Deck Med. One viewer summed it up on Franco's thread. "As we watch Below Deck this season we comment at least once or twice during each episode, 'Man, we wish Joao were running this crew, he would know how to handle each and everyone of them, motivate them and encourage all of them to do better and be better,'" the fan remarked.
"We know Rylee is not innocent, but she's having an extra difficult time with this crew and a leader who just shouldn't be in a leadership role (for numerous reasons). We have no doubt you would be able to deal with her in an appropriate way and motivate her as part of the team. They knew what they were doing when they promoted you to Bosun and then onto captain. I hope to see you back one day – even as Bosun with Captain Lee… even if that means taking step down just for one charter. Point is: We love you in a leadership role."
Fans certainly miss the men of Sirocco
Deckhand Colin Macy-O'Toole from Below Deck Med is often presented with the question about what he'd do if he were on this season. In fact, a few fans suggested he teach a manners course to the current deck team. He joked on Twitter about the idea. "Thank you everyone for suggesting a 'Courtesy with Colin' course! You have all been very supportive!" A fan observed, "Gosh we miss you Colin. There are so many angry women watching this season of below deck I can't even believe that they are men that think this behavior is appropriate."
Franco has also been critical of Pienaar this season. He didn't agree that the crew can hookup with charter guests when Pienaar pursued one of the guests. "Not, 'they're just,' they are guests on the boat. They're off but when we're off we're still on…," he tweeted.
He also has had Gerber's back. "I am all about people who aren't afraid to speak the truth… and she certainly speaks the very unfiltered truth," he tweeted about Gerber. "Very refreshing! I'd work with her any day."