Get Ready for the Oscars With the Playlist Joaquin Phoenix Listened to on the Set of 'Joker'
Sure, you could listen to Michelle Obama's "2020 Workout Playlist" or songs actually nominated at the Oscars. But why do that when you can listen to the playlist that Joaquin Phoenix jammed to while becoming the Joker. Here's our look into the playlist this Academy-award nominated actor listened to while on set.
Joaquin Phoenix portrayed the title character in the Academy Award-nominated movie, 'Joker'
Put on a happy face, Joker fans. Since this movie's premiere during 2019, it became one of the frontrunners at multiple award shows, with Joaquin Phoenix winning the Golden Globe and British Academy Film Award for Best Leading Actor. This, of course, was for his portrayal of the title character, Joker.
Box office sales and other recognitions aside, Joaquin Phoenix earned the Academy Award nomination for Best Actor. Joker itself became one of the films with the most nominations, including Best Picture, Best Director and Best Original Music Score. Nicki Ledermann of Joker earned the nomination for Best Makeup and Hairstyling.
Nicki Ledermann was the makeup designer for 'Joker'
It's not easy transforming into this iconic character. For this Academy-award nominated film, Nicki Ledermann acted as the makeup designer primarily responsible for Joaquin Phoenix becoming the Joker. For one NME story, she touched on how she made the actor comfortable while he was getting his makeup done. One way was through music.
"I pride myself on always having the best music," Ledermann said during her interview with NME. "Joaquin and I always had a little music on, it was mixed stuff – from old '70s songs to modern stuff to be inspired. It's a very eclectic playlist. I'll send it to you!"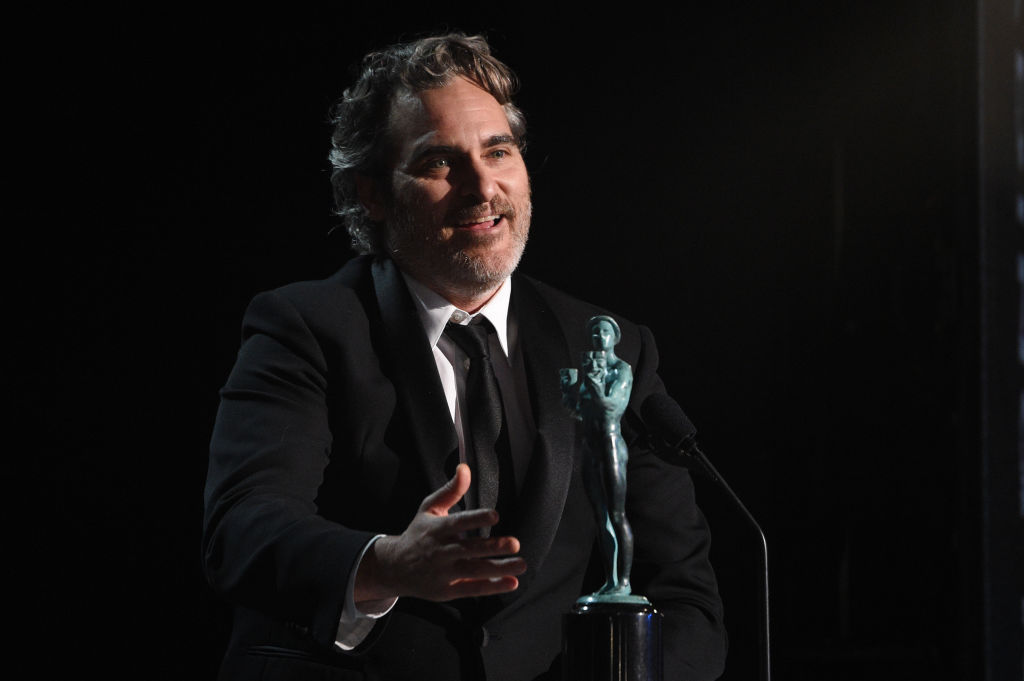 Here are songs from the 'Joker Makeup Trailer' playlist, created by makeup designer, Nicki Ledermann:
Emmit Fenn – "Painting Greys"
Lamb – "Wise Enough"
Tyler, The Creator – "F*CKING YOUNG / PERFECT" (Feat. Toro y Moi, Kali Uchis, Syd & Charlie Wilson)
Jetta — "I'd Love To Change The World"
Sigur Ros — "Sæglópur"
Mellow Fellow — "How Was Your Day?" (Feat. Clairo)
Ennio Morricone — "Sospetti e tenerezze"
Fatboy Slim — "Demons (Feat. Macy Gray)"
Marius Furche — "Mad World" (Instrumental Mix)
Ben Howard — "Small Things"
The Walters — "I Love You So"
Rex Orange County — "Sunflower"
Midnite — "For His Speech"
BROCKHAMPTON — "GOLD"
The Marias — "Bast Ya"
boy pablo — "Everytime"
Greg Laswell — "Days Go On"
Ginger Taylor — "Scar"
The Guess Who — "Laughing"
Gary Glitter — "Rock 'n' Roll (Part 2)"
White Rabbit — "Mayssa Karaa"
The Marias — "Only In My Dreams"
Faithless — "Muhammad Ali"
Gabriel Yared — "37°2 le matin"
N.E.R.D. — "Lemon – Drake Remix"
Cosmo Pike — "Great Dane"
Madeleine Peyroux — "Don't Wait Too Long"
Daniel Caesar — "Best Part" (Feat. H.E.R.)
BADBADNOTGOOD — "In Your Eyes"
Manu Chao — "Bong Bong"
Ginger Taylor — "Yuppie"
Ginger Taylor — "Seaside Arms"
This playlist is available for streaming on Spotify. The Academy Awards take place on Feb. 9, 2020.