Jodie Whittaker's Take On Why People Still Love 'Doctor Who'
Jodie Whittaker discusses why people love 'Doctor Who' so much. Find out what she has to say as well as what fans say about why they love the show.
Doctor Who is loved by many fans. It has been since the show premiered in 1963 and since the show returned in 2005. Some people may wonder what causes such passion for so many people. Well, Jodie Whittaker, the actress playing the Thirteenth Doctor, might have the answer.
What does Jodie Whittaker think about portraying the Thirteenth Doctor?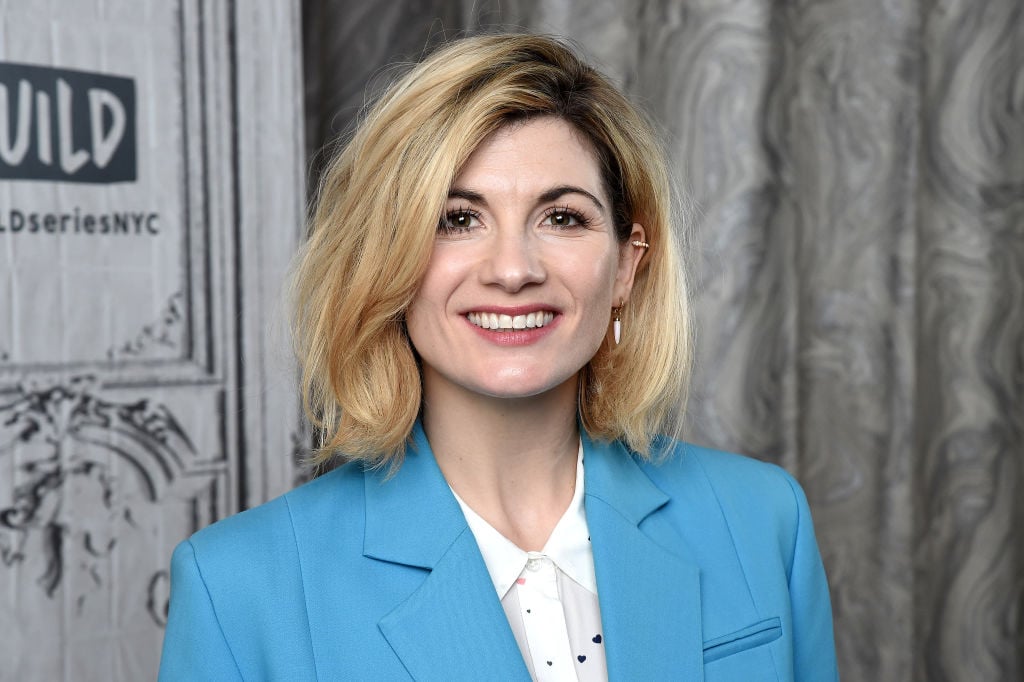 In an interview with Salon, Jodie Whittaker talks about her "defining role" in Doctor Who. The role of the Doctor must be a dream role for any actor. And it is definitely the kind of role that you would be reminded of long after you'd left it. Whovians, as Doctor Who fans are known, are a passionate bunch of people.
According to Jodie Whittaker, Doctor Who being her "defining role" is "fine. That's absolutely fine. [She'll] take it." She also believes that after the role she will "come out of it a completely elevated actor."
 Playing the Thirteenth Doctor " has given [her] a sense of playfulness."  She "[loves]…tapping into that childish dream of when [she grows] up, [she wants] to play pretend for [a] living." She discusses the "joyous position" of having the role of the Doctor. Whittaker also says that "if [she's] 70 years old walking down the street and in that one moment [she's] the Doctor for whoever walks past, and all they know [her] as is one of the Doctors and they couldn't list anything else on [her] CV, that's fine."
Why does Jodie Whittaker say people love 'Doctor Who'?
During her interview with Salon, she talks about what makes the show so popular and loved. According to Jodie Whittaker, Doctor Who shows "There is hope in darkness." She talks about how "The Doctor has such an incredible hindsight and such an incredible sense of loss and future hope." This all leads the Doctor to "never [reduce] either a race or an opportunity to judgment."
The Doctor believes, according to Whittaker, that " through adversity comes huge achievements and huge journeys." The Doctor proves that "It's okay to be scared, but do not lose hope." Whittaker thinks that it is "a wonderful thing, if as humans we can cling onto that."
The Thirteenth Doctor is certainly a hopeful incarnation. She definitely encourages fans not to "lose hope." Jodie Whittaker's statement also feels like it makes sense given her previous comments on why the show is so popular. In an interview with TV Guide, she said the show "touches so many people because it's inclusive, rather than exclusive."
It is "welcoming rather than off-putting." In the same interview, she speaks about how the show "is about optimism and change and hopefulness."
What do fans have to say about why they love 'Doctor Who'?
Now that you know what Jodie Whittaker thinks about why people love Doctor Who, let's take a look at what fans have to say. One fan on Twitter mentions the historical figures in episodes. "Just part of why I love Doctor Who, so much," this fan says. The show's "weaving [of] awesome history lessons into awesome sci-fi adventures."
Another fan quotes the Doctor by saying "These are the dark times. But they don't sustain. Darkness never sustains. Even though sometimes it feels like it might."
The fan goes on to say that quotes like the one above are "why [they] love Doctor Who". Another fan mentions the Master reveal during "Spyfall: Part One". This reveal reminded the fan "why [they] love this [show]." "The Master, in disguise, using abilities we haven't seen since the 1980s [is] just wonderful to see," the fan says.