Joe Alwyn Shares Photos of Taylor Swift's Cat, Proving They're Sheltering in Place Together
Taylor Swift and Joe Alwyn are rumored to be sheltering in place together. As her fans know, Swift spends a lot of time on the road. Even when she's not on tour, she goes back and forth between her homes in Los Angeles, Nashville, New York, and more. Alwyn, meanwhile, spends most of his time in London, where he was born and raised, and the two are rumored to have a home there together.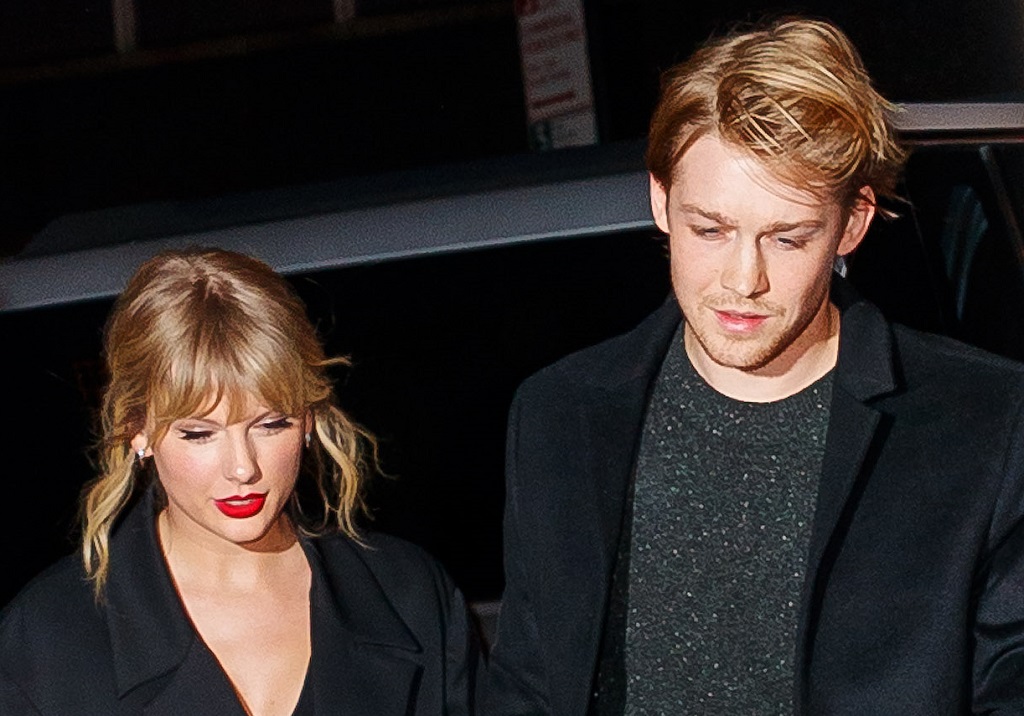 So where are they holing up during the coronavirus (COVID-19) pandemic? While neither has confirmed anything, she may be in Nashville, in order to be with her mom, Andrea Swift. Andrea has cancer (the subject of her song, "Soon You'll Get Better," which she sang during the One World: Together at Home event), so Swifties assume the artist (and Alwyn) are there to support her during this time.
Neither has been particularly active on social media
The pandemic came at what was set to be a busy time for Swift. She had recently finished promoting her Netflix film, Miss Americana, and released her fourth Lover single, "The Man," along with its accompanying music video. She was then gearing up for Lover Fest when the Safer at Home measures forced her to cancel her scheduled 2020 shows.
Like many other artists, Swift has encouraged her fans to stay at home, sharing photos of her cats, Meredith Grey and Olivia Benson. She told fans how "proud" she is of her brother, Austin Swift, for co-producing his first film. And Swift posted the above seemingly innocuous selfie — which some believe could mean she's about to release "Cruel Summer" as a single.
Alwyn uses Twitter for the first time in years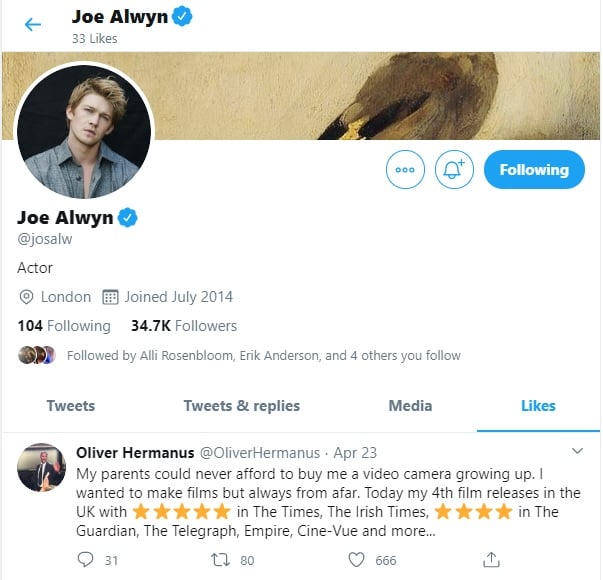 OK, so Swift hasn't exactly been silent. From addressing the neverending Kanye West drama to making another statement about her feud with Scooter Braun and Big Machine Records, her Instagram Story has been active. But Alwyn isn't as big of a social media user as his girlfriend. In fact, he hasn't used Twitter since 2018.
But oddly, this changed recently. On April 23, 2020, he liked a tweet from Oliver Hermanus about his fourth film, Moffie, which was released on VOD in the UK. Alwyn hasn't worked with Hermanus as far as we're aware, but he was at the British Independent Film Awards when Moffie premiered, so perhaps he met Hermanus and saw the movie then.
He takes to his Instagram Story with photos of Benjamin Button
Alwyn is less of a stranger when it comes to Instagram. But he isn't exactly known for spontaneous bursts of content. So on April 29, 2020, when he shared nine consecutive photos to his Instagram Story, fans took note. And they were especially pleased to see who made a cameo in some of them.
The actor posted a handful of pen and watercolor drawings, a selfie with a glass of white wine, and what appears to be a photograph of a dark, cloudy sky. He also shared three photos of Benjamin Button, Swift's youngest cat, hiding in various objects. (Swift adopted the cat after working with him on the music video for her April 2020 single, "Me!")
Swift and Alwyn sent a joint present to GiGi Hadid
Alwyn's social media use isn't the only hint that he and Swift are together right now. The day the tweet he liked was posted, the couple was tagged in an Instagram Story from Gigi Hadid. The model, who is rumored to be pregnant, celebrated her 25th birthday that day, and she received flowers from them.
"@taylorswift @joealwyn (+ cats) love n appreciate uuuuu," Hadid wrote over the image of the pink, purple, and red bouquet. Tagging Alwyn would indicate that he also signed the card and that he and Swift are quarantined during all of this. Perhaps that was also the kick he needed to get into social media.