Joe Rogan Was Deeply Traumatized By the Murder of His Co-Star and Friend Phil Hartman
Before Joe Rogan was synonymous with the UFC and podcasting, he portrayed Joe Garelli on NewsRadio, an NBC sitcom that ran from 1995-99. The character was initially slated for actor Ray Romano, but he was dropped after only one rehearsal. Rogan was cast in his place to portray the electrician/handyman character.
Joe Rogan's role on 'NewsRadio'
For six years, Rogan toiled as a stand-up comic before landing his first role on Fox's Hardball, which he calls one of the strangest gigs he's ever had. The program was a flop, but it helped him earn his role on NewsRadio, where he met Phil Hartman. The former SNL star's untimely death had a profound impact on Rogan.
As a result of the swap, Rogan collaborated with NewsRadio's writers to shape the character before the premiere. He subsequently characterized Garrelli as a "very dumbed-down, censored version" of himself. Rogan's comic approach was ideal for the show. He added the perfect energy to NewsRadio, quickly establishing himself as a key member of the cast.
Joe Rogan and Phil Hartman became fast friends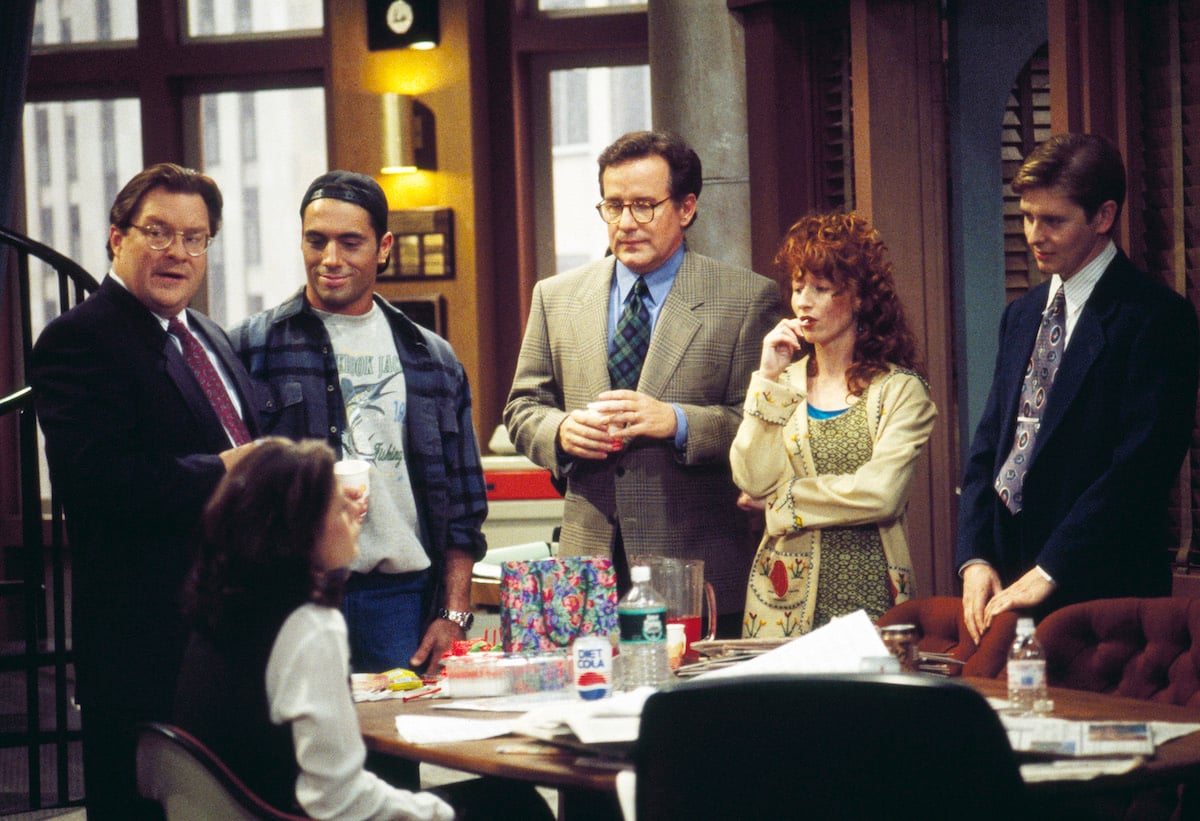 Hartman was a cast member on NBC's comedy show Saturday Night Live from 1986-94. He earned the name "Glue" for his ability to keep the program together and assist other cast members. Hartman even received a Primetime Emmy Award for his efforts on Saturday Night Live in 1989.
When Rogan joined the cast of NewsRadio, he befriended his co-star. Hartman would tell Rogan about how horrible his marriage was as the two became close friends. Rogan claimed he tried to persuade Hartman to divorce his wife five times, but "he loved his kids and didn't want to leave."
Sadly, on May 28, 1998, Hartman's wife killed the SNL alum, as History.com reports. This affected Rogan's ability to do stand-up. The devastated young actor missed a week of booked appearances. Following the NewsRadio star's unexpected murder, the cast and crew faced a difficult decision. Hartman's passing created a huge vacuum in the cast — and the comedy industry in general — that no one could fill.
Because of his long acquaintance with Hartman and his similar sensibility, actor Jon Lovitz was a good choice to fill in for Hartman, Lovitz once told Larry King. No one could've replaced Hartman. But casting a fellow SNL alum in the role was a fitting tribute.
What happened to Hartman's kids after his death?
Hartman married his third wife, Brynn Omdahl, in 1987, and they had two children. Their marriage was troubled due to Omdahl's drug use and domestic violence against Hartman, who was frequently absent from their home. In 1998, while Hartman slept in his bed, his wife shot and killed him. Omdahl died by suicide.
After Hartman and Omdahl's deaths, Birgen Anika Hartman and Sean Edward Hartman, then nine and six years old, moved into the home of their maternal aunt and her husband, as Cinemaholic reports. Now, Birgen is 28 years old and a University of St. Thomas graduate.
Both Sean and Birgen have modest, low-key lives away from the spotlight, but they still honor their father's legacy. Birgen attended the 40th-anniversary celebration of Saturday Night Live in 2015 to celebrate her father and his contributions to the show.
How long did Rogan stay on 'NewsRadio'?
After Phil's death, Rogan canceled a week of scheduled gigs. He started to see acting as a simple career. becoming weary of "playing the same role every week." Rogan realized he was just doing it for the money. NewsRadio ended in 1999.
By 2009, Rogan started a podcast with his comedy partner, Brian Redban. They realized he had enough insight to turn it into a real show.
The podcast landed in iTunes' Top 100 a year later. Since then, The Joe Rogan Experience is considered one of the most popular, influential podcasts. Political candidates and celebrities even go on the show to reach a larger demographic.
RELATED: Who is Joe Rogan's Wife Jessica? Here's Everything to Know