Joe Rogan Reacts To Kanye West's 'Donda' Outfit — 'He's Wearing a Bear Hunting Jacket'
Kanye West is known for doing, saying, and wearing some very unusual things. The latest example of this is the spiked outfits he's been donning during the listening events for his upcoming album, Donda. 
Joe Rogan, who interviewed West in late 2020, has a unique relationship with West. He's previously stated that West's mind operates at a higher speed than most humans, and frequently comments on the things he sees West doing in the public eye.
He recently caught wind of the spiked jacket West wore during his second listening event at the Mercedes Benz Stadium in Atlanta and likened it to a bear hunting jacket that he once saw. 
Joe Rogan says Kanye West was wearing a bear hunting jacket during his 'Donda' performance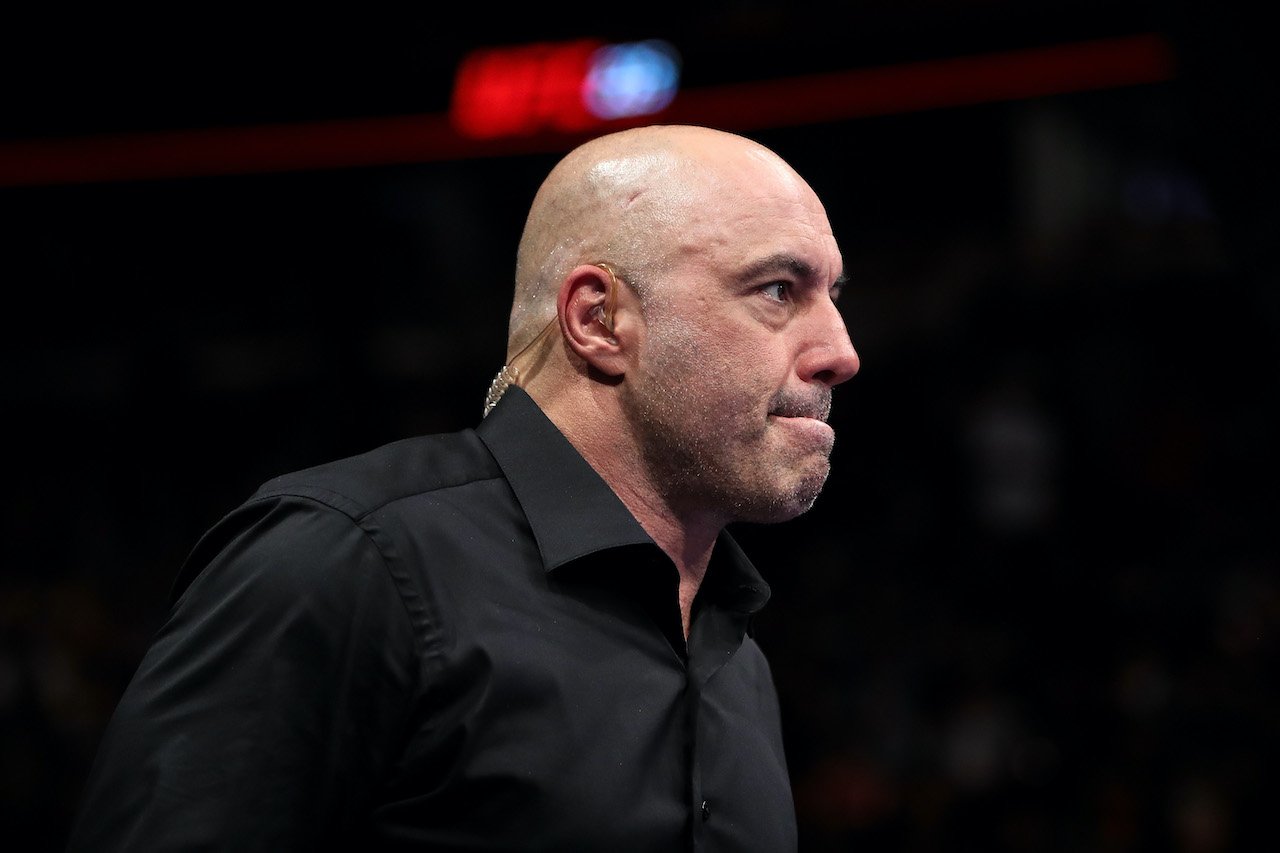 Rogan made the connection between West's jacket and the bear hunting jacket during a recent episode of The Joe Rogan Experience.
"That's hilarious. Oh, this is when he was on stage with the mask on," Rogan said. "That is what he's wearing, he's wearing a bear hunting jacket. That is crazy."
Rogan and his guests, Ms. Pat and Jordan E. Cooper, went on to speculate about the cost of the jacket, with Rogan suggesting that it cost upwards of $30,000. Rogan also agreed with Ms. Pat when she mentioned that people will buy bear hunting jackets in an attempt to imitate West's style.
He says that Kanye West's brain doesn't work the way normal people's does
Later in the interview, Rogan noted that despite how strange West's actions may seem, it's only because his mind doesn't operate in the same way as regular people's.
"Kanye is an unusual human, have you ever met him?" Rogan asked. "His brain is firing at a different RPM than everybody else's. It's just going. "Like, he's probably simultaneously thinking about new products, while he's thinking about new songs, while he's thinking about — he wants to reimagine housing. He wants to build houses. He wants to like, develop communities that are self-reliant communities, where they grow their own food and use solar power. And the dude is just constantly going with new ideas, constantly."
Rogan also discussed how West revealed to him that his behavior changed after he was prescribed medication for his mental health.
"There's people whose brains just don't work at the same speed as ours. And that's one of those people. And he's just constantly trying to process things, and he was saying that when they tried to get him on medication … they tried to calm him down, but the medication made him — he started getting lethargic, he gained a lot of weight," Rogan said."
Joe Rogan speculates that people will wear bear hunting jackets now
Rogan then returned to the topic of the spiked jacket, noting that people will likely start wearing them in hopes of emulating West.
"I wonder how many people are gonna wear those bear hunting suits around now," he added. "If he makes them, he'll buy them."
RELATED: Joe Rogan Recalls the Time Elon Musk Smoked Weed On His Podcast — 'I'm Like, Oh No, What Have I Done?'