Joe Rogan Revealed Why He Would Have Kim Kardashian on His Podcast
Imagine having an opportunity to be a fly on the wall during an in-depth, three-hour conversation with your favorite celebrity about aliens, nature, or social issues. How amazing would it be to listen and sit in on them sharing their authentic feelings and experiences in a real-world conversation? Joe Rogan offers a podcast that provides millions around the globe an opportunity to be that fly on the wall.
As Rogan's podcast popularity continues to grow, fans are always dying to learn just who he plans to interview next. His forward-thinking perspective has many wondering if he'd even bother to entertain guests that might not match his intellect. In one podcast segment, he was asked if he would consider having Kim Kardashian on his podcast. His answer might alarm you.
What makes The Joe Rogan Experience so popular?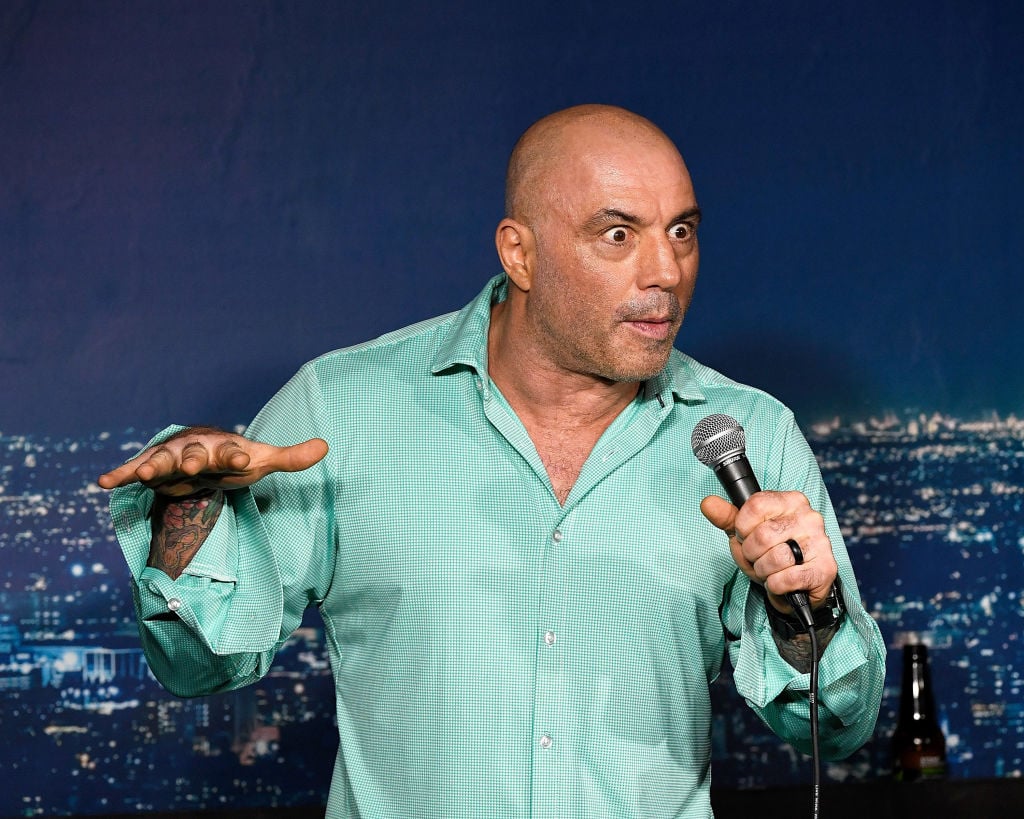 Joe Rogan has been at it for ten years now and has over 1,300 episodes under his belt. Some speculate fans flock to listen because of its uncensored nature. Others claim the three-hour extensive conversation format allows for some of the best and spontaneous conversations with high profile guests. Even if you disagree with Rogan's opinion about the topics at hand, you're bound to find him charming and the podcasts genuinely engaging.
Joe Rogan loves his guests, and he routinely entertains thoughtful conversations with a variety of invitees. Celebrities come often, and not just to promote their upcoming ventures. He's sat with musicians, scientists, and professional athletes too. Controversial stars love to get to the bottom of the rumor mills with Rogan as their sounding board, and his podcast is their platform to speak to the world.
But what about Kim Kardashian?
Recently, Joe Rogan was asked if he would have – or even enjoy having for that matter – Kim Kardashian on his podcast. Considering some of his conversations dive deep into the analytical, like the purpose of life or complex understandings of nature under the influence of psychedelics, Kim Kardashian might not be the first person who comes to mind who would enjoy such a conversation. However, Rogan's response may surprise you. He said he would have Kim on his show, and he was enthusiastic about explaining why.
He went on to explain that he's impressed with her prison reform efforts alone, and he finds her narrative to promote helping others and making a difference is well worth his respect. He cited her recent trip to Washington and her past success with having freed 18 wrongfully convicted people from prison. In a world where all Kim Kardashian has to do is buy jewels and get pedicures, Rogan says her example of using her celebrity for good is an example worth interviewing.
Prison reform is Kim Kardashian's mission
Kim made headlines earlier this year with her trip to the White House and meeting with the president. She spoke at an event about her dedication and efforts to bring awareness to prison sentencing and advocating for reform. "After visiting prisoners, my heart completely opened up, and I wanted to do more," she said. One of her accomplishments involves a partnership with the rideshare company, Lyft. Formerly incarcerated individuals can take advantage of Lyft's sponsored gift cards for transportation to job interviews and work. It's a partnership and project she's been vocally proud to have created.
With the increased popularity of Joe Rogan's podcast along with Kim Kardashian's prison reform efforts and good deeds, a meeting of the minds seems logical. Rogan would gladly welcome her too.