Joe Rogan Says Manny Pacquiao Would Beat Conor McGregor in a Fight — 'He's Not as Efficient, and He's Gonna Get Tired'
Joe Rogan is known for his blunt assessments of boxers and UFC fighters. He never shies away from sharing his thoughts on a boxer's talent and loves to speculate on what matches between certain fighters would look like.
He recently continued the trend by sharing his insights about a potential match between Manny Pacquiao and Conor McGregor. In his opinion, McGregor wouldn't stand a chance against Pacquiao for a number of reasons. 
Joe Rogan thinks Manny Pacquiao could beat Conor McGregor in a fight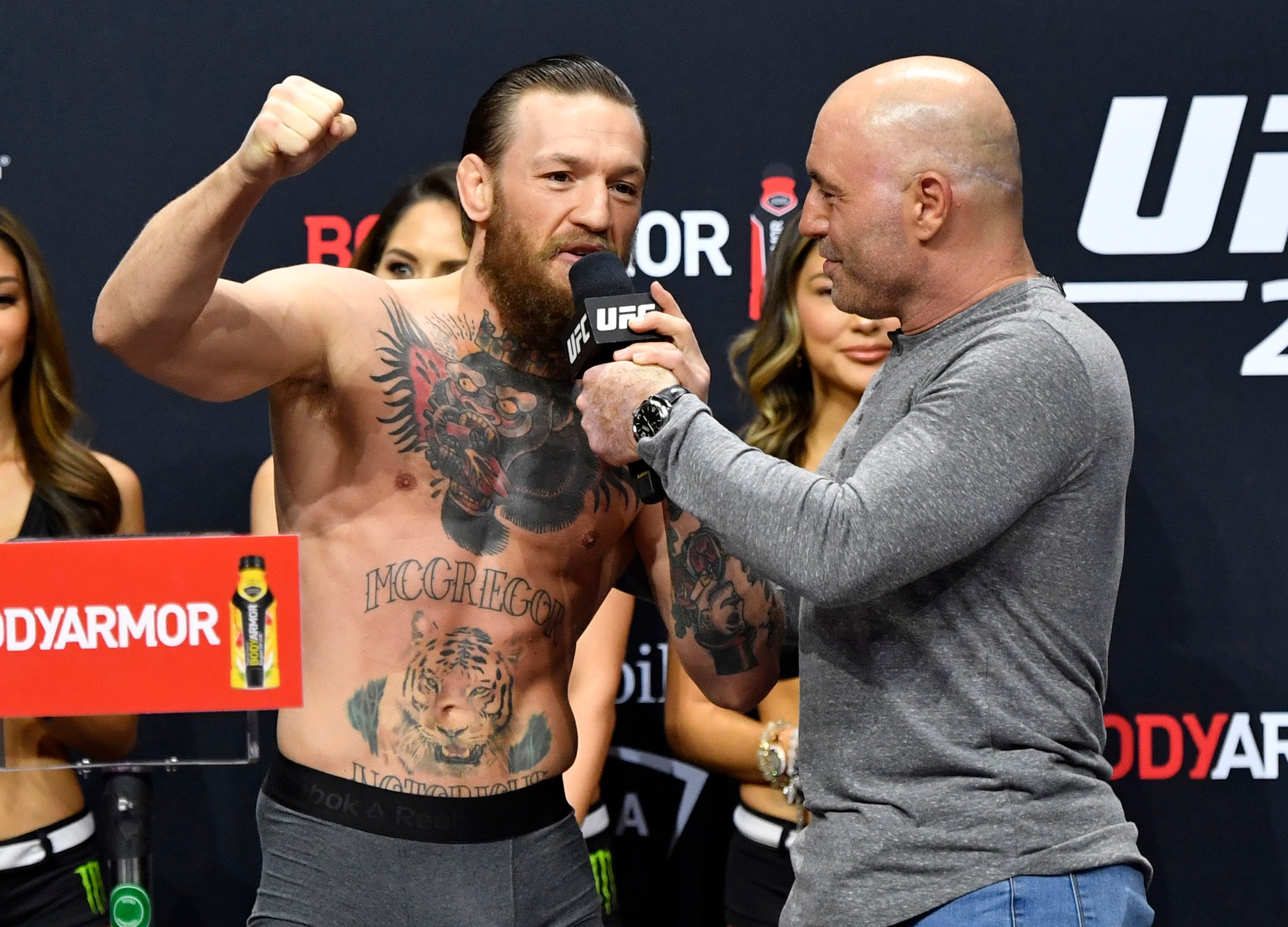 Rogan discussed the future of Pacquiao's career during a recent episode of his podcast, The Joe Rogan Experience. During the show, he talked about the possibility of a boxing match between Pacquiao and McGregor. 
"He's still fighting actively, people are actually talking about him fighting Conor McGregor now, which is kind of bonkers …" Rogan said.
Guest Tony Hinchcliffe then asked Rogan why he thought the idea of the two fighting was so crazy. Rogan subsequently takes a moment to remind Hinchcliffe of Pacquiao's greatness, claiming he'd dominate a fight with McGregor.
"You're talking about one of the greatest boxers of all time, against a guy with one professional boxing match."
Joe Rogan explains why Manny Pacquiao wouldn't stand a chance against Conor McGregor
Rogan's knowledge of professional fighting is well-documented. He's worked for many years as a commentator for UFC matches and practices Brazilian Jiu-Jitsu in his free time. He typically has pretty sound assessments of fighters and their abilities and made a fair analysis of McGregor's boxing skill.
"Conor is not a professional boxer ok?" Rogan said. "So, because he's not a professional boxer, he's not as efficient, and he's gonna get tired easier. …"
"But Conor is a freak, he's an explosive guy. He's so fast, and there's no remedy for that, other than getting a guy tired. …"
Rogan thinks a Pacquiao vs. McGregor fight would be a great opportunity to make money
Rogan previously discussed the possibility of a Pacquiao vs. McGregor fight during a podcast episode earlier this year. During that conversation, he claimed a fight between them would be a good opportunity for Pacquiao to earn a lot of money.
"Well, here it is, an opportunity for Manny Pacquiao to make a f—load of money," Rogan said. "I mean, that's how I'd look at it. I'd look at it for Manny to make a hundred million bucks. But, you'd have to sell the public. I mean they already watched Floyd Mayweather box circles around him." 
Joe Rogan could see Manny Pacquiao playing pool professionally after boxing
During the podcast episode featuring Hinchcliffe, Rogan also mentions he could see Pacquiao in another profession after boxing. According to Rogan, Pacquiao is a supremely-talented pool player that frequently competes with professionals. 
"Manny Pacquiao could play professional," Rogan said. "Yeah, like, he gambles with professionals. Yeah, my friend Max Eberle, … he's a legit pro. Like, Max is like, world champion caliber pro, and he's gambled with Manny Pacquiao. And he said Manny Pacquiao is good. He says you have to really bear down to beat him."