Joe Rogan's Top Controversies, From N-Word Usage to COVID-19 Misinformation, Make Him Spotify's $100 Million Problem Child
Joe Rogan isn't one to apologize as he's proven by the many controversies he's created on his podcast. In fact, the UFC host seems to relish the opportunities.
Joe Rogan seems to never stop making headlines due to his contentious podcast The Joe Rogan Experience. Launched in 2009, the 54-year-old's podcast catapulted him to fame and earned him a $100 million licensing deal with Spotify. However, Rogan's superstar status doesn't come without a good amount of scandal. 
The UFC host isn't afraid to say what he believes whether it's correct or not. Here are the most controversial things Rogan has done and said.
 Joe Rogan was a standup comedian before he became a podcast host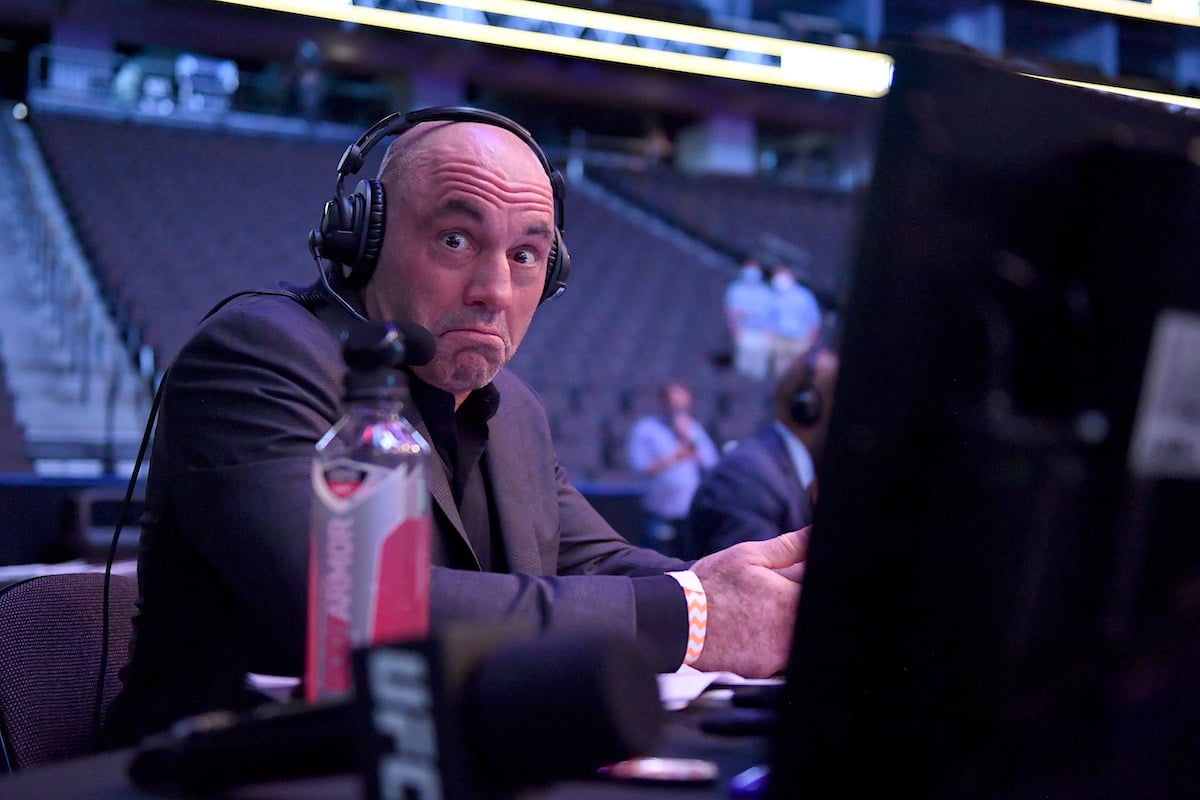 In 1994, Rogan moved from Newark, New Jersey, to LA to pursue a career in standup comedy. His first nationally televised performance took place on MTV's Half-Hour Comedy Hour. A year later, NBC sitcom NewsRadio cast him as handyman Joe Garrelli. In 2001, the kickboxing enthusiast became a UFC commentator and the host of the popular Fear Factor reality show. Rogan hosted Fear Factor for seven seasons from 2001-06 and 2011-12.
In 2009, The Joe Rogan Experience podcast launched. Sirius XM acquired the show in 2011. By October 2015, the podcast received a whopping 16 million downloads, garnering more fans than nearly any other podcast on air. The global pandemic spurred even more interest in podcasting.
Spotify recognized the growth and bought Rogan's podcast for $100 million in 2020. Since moving to the audio streaming platform, Rogan has continued to gain loyal listeners. He also receives a lot of hate due to the controversy he seems to relish creating.
Joe Rogan's top controversies 
The Sun reported on Rogan's most controversial moments, which often stem from his conversations with guests on his podcast. Here are several of them:
Smoking weed with Elon Musk: In 2018, Rogan had Musk on his show for a three-hour interview. The UFC host offered Musk a spliff, which is a mixture of marijuana and tobacco, and Musk took a puff. The show is recorded in California where recreational use of marijuana is legal. However, many people were incensed by the brazen drug use.
Welcoming Alex Jones: Alex Jones is a well-known conspiracy theorist. Rogan hosted an interview with Jones in October 2020 where they discussed mask-wearing and the possible risk of vaccines.
Forest fire claims: On the episode with British author Douglas Murray, Rogan made the claim that "left-wing activists" deliberately started the forest in California, Washington, and Oregon.
Transphobia: Rogan has made numerous comments through the years that are problematic for the trans community.
Racist language: Rogan is shown in a video explaining how he and his friends were dropped off in a Black neighborhood. Rogan can be heard saying, "We got out, and it was like we were in Africa, like we were in Planet of the Apes."
Misogyny: Rogan hosted Dave Chappelle in February 2003. The pair went out in New York in search of women with great breasts.
Rogan's most controversial statements involve the coronavirus pandemic and his use of racial slurs. It's spurred many famous actors, singers, and writers to call for his cancelation.
Celebrities want Rogan removed from Spotify 
In lieu of several comments made by Rogan on his podcast, many celebrities are calling for Spotify to remove him from their available podcasts. Some music artists are even choosing to remove themselves from the platform if Rogan does not leave. 
India Arie is removing her music and podcast from Spotify, according to Insider. The singer shared a clip of Rogan repeatedly using the N-word on his podcast. She posted on Instagram: "I have decided to pull my music and podcast from Spotify. Neil Young opened a door that I MUST walkthrough. I believe in freedom of speech. However, I find Joe Rogan problematic for reasons other than his Covid interviews. For me, it's also his language around race." 
Arie goes on to explain, "Paying musicians a fraction of a penny? And HIM $100M? This shows the type of company they are and the company that they keep. I'm tired." Notably, she named Neil Young as the push she needed to leave the streaming platform. Young gave an ultimatum to Spotify in January 2020 that they had to choose between offering Rogan's music or his.
The "Harvest Moon" singer could not support Spotify if they continued to support Rogan and his statements about COVID-19 specifically. Subsequently, Young removed his music from the platform after the streaming platform did not remove Rogan's podcast. Joni Mitchell joined Young in leaving in protest of Spotify continuing to host Rogan and his controversial stance on the global pandemic.