Turns Out, John Boyega Is Not a Fan of This 'The Rise of Skywalker' Romance
Even John Boyega has thoughts about this final movie in the Skywalker Saga. Recently, the actor took to social media, even sharing images of his co-stars from this recently-released Star Wars film. Here's what fans are saying about this controversial moment in The Rise of Skywalker.
Warning: This article contains major spoilers from Star Wars: The Rise of Skywalker. Read at your own risk!
'The Rise of Skywalker' premiered in theaters during December 2019
The wait is finally over, Star Wars fans. The final movie of the sequel trilogy, and of the Skywalker Saga, entitled The Rise of Skywalker, premiered in theaters on Dec. 20, 2019. Along with this final movie of the sequel trilogy came a long-awaited kiss between two fan-favorite characters — Rey and Ben Solo. Although the two didn't end up together, it certainly caused some drama between Star Wars fans.
Some even suggested that Rey and Kylo Ren's relationship "glorified abusive and assault against women." Daisy Ridley, the actress who portrays Rey, commented on the relationship during an interview ahead of the movie's release.
"I think it'll be really interesting to see people's reaction to [the final film]," Ridley said during an interview with Entertainment Weekly. "Obviously, there's this whole Reylo thing and some people are very passionate about it, some aren't. J.J. [Abrams] does deal with [it]. It's a very complex issue. People talk about toxic relationships and whatever it is. It's no joke and I think it's dealt with really well because it's not skimmed over."
John Boyega, who portrays Finn, shared his thoughts about this 'Star Wars' romance
Whether you love Reylo or you hate it, it happened. Now, fans are commenting about it on social media. Actor John Boyega, also known as Finn from The Rise of Skywalker, commented on the relationship, even sharing still images from the film. The caption was "Star Wars romance," complete with a series of sarcastic emojis.
John Boyega even retweeted one fan reply, which read, "your girlfriend never stabbed in you the chest before? Weird…"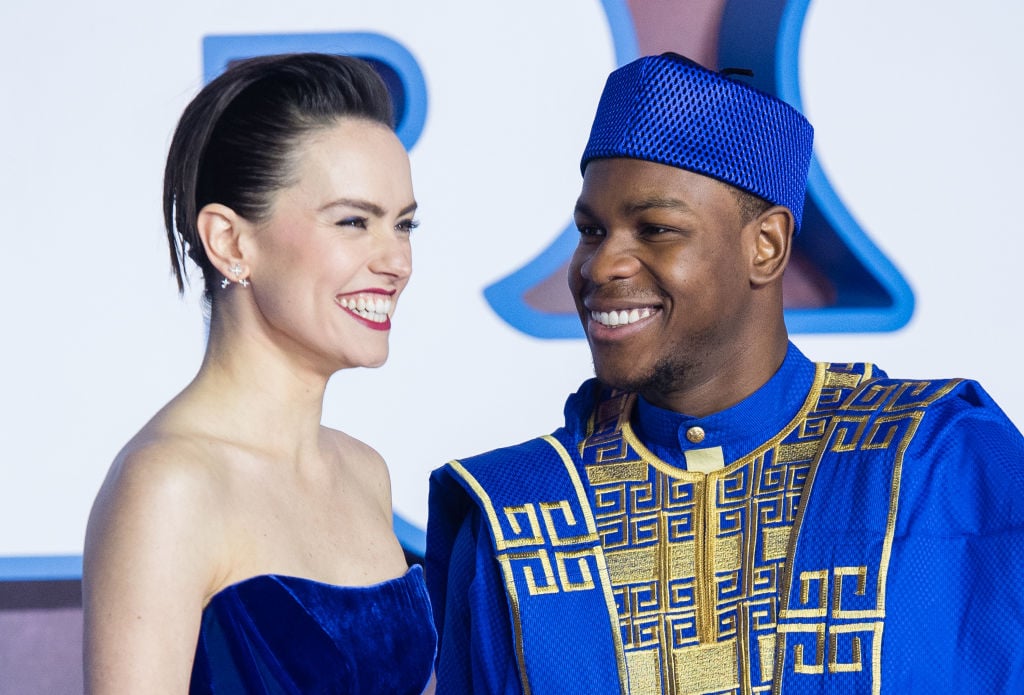 Some fans still love Rey and Ben Solo's friendship, sharing drawings and messages about the two 'Star Wars' characters
Once John Boyega interacted with fans about this controversial Star Wars relationship, some jumped to Rey and Ben Solo's defense. Others wrote about the actors behind these two characters — Daisy Ridley and Adam Driver.
"Why are you making fun of your own colleagues' work and what they have done to bring life and emotion in these two characters," one Twitter user replied to John Boyega. "The disrespect you have your own movies and the work behind it is sad. Blame the writers and the whole Disney for promoting Rey and Kylo as the romance."
"I am totally obsessed with the transformation from Kylo Ren to Ben Solo. It's not just the lighting or outfits, but the look in his eyes. He went from broken/conflicted as Kylo to determined to do the right thing and save Rey, no matter the personal cost," another Twitter user said.
Star Wars: The Rise of Skywalker is now playing in theaters.