John Cena Called This Ridiculous Moment His 'Most Difficult Stunt' in 'The Suicide Squad': The Sad Meme-Worthy Photo Proves It
John Cena is no stranger to doing his own stunts and he's definitely got the muscle-power to pull off scenes that demand physical strength and athleticism. During an appearance on The Tonight Show Starring Jimmy Fallon, Cena shared the most difficult stunt he had to do while filming The Suicide Squad, sharing the saddest photo as proof.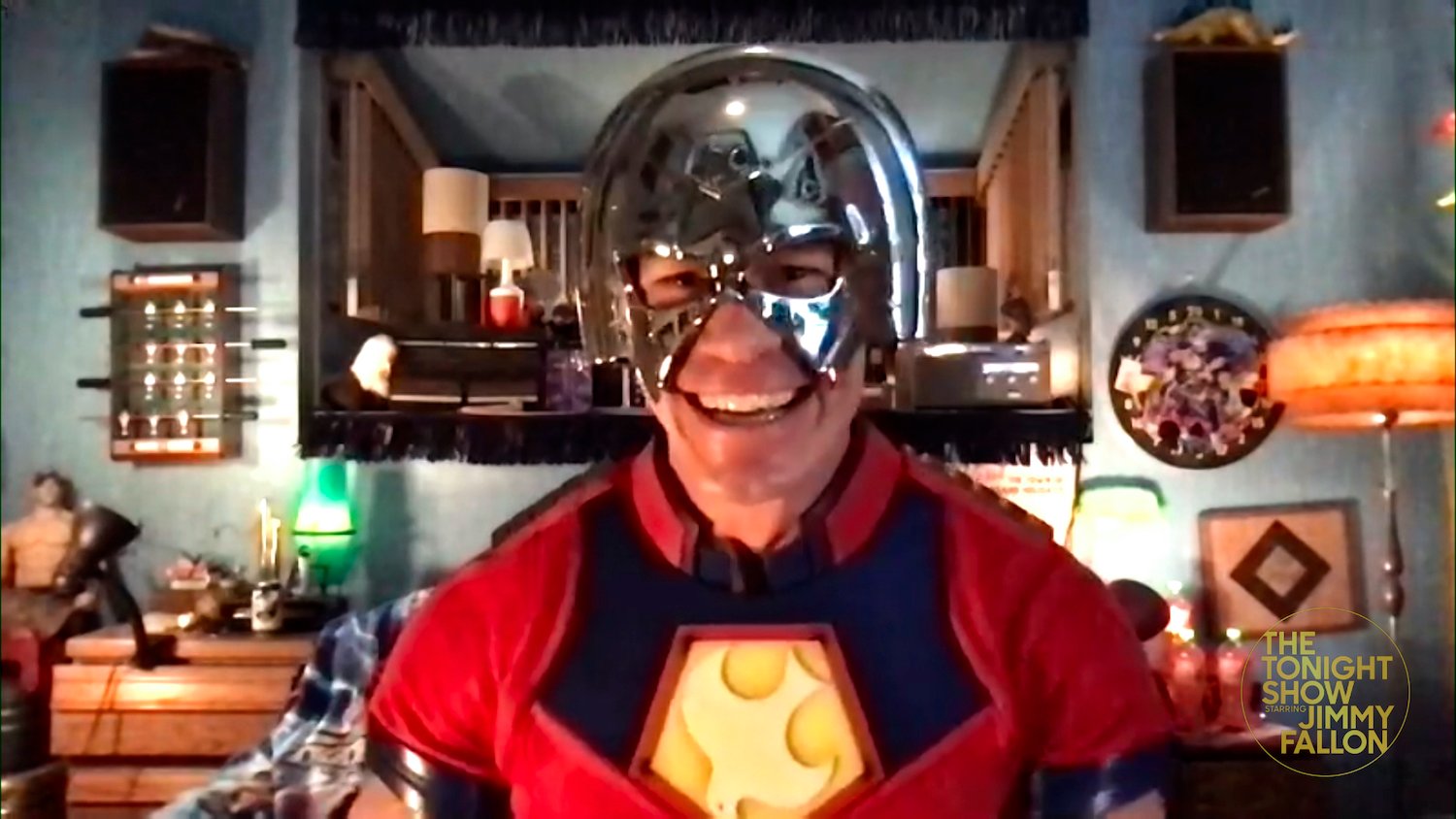 John Cena plays Peacemaker in 'The Suicide Squad'
Cena plays the character Peacemaker in the upcoming The Suicide Squad movie and he showed off his interesting costume on The Tonight Show since he is in the midst of filming the spinoff series Peacemaker.
When Fallon asked Cena to describe the character, the actor explained how he's a bit like some favorite superheroes but has "an interesting story."
"Peacemaker is like a polar opposite of Bruce Wayne," Cena explained. "Where Bruce Wayne would be a billionaire with a Batcave, I live in a single-wide and this is my outfit. So, it's a bit of an interesting story and a bit of a new tale."
He said his character is "like a douchey, bro-y Captain America."
John Cena struggled with one stunt and thinks it should become a meme
Cena shared that there was one difficult scene he had to do for The Suicide Squad that practically defeated him — eating 40 empanadas.
"The stunts were incredible and filming the movie was treacherous, but that right there is the face of defeat," he said as a photo showed a mopey Peacemaker with an empanada in hand. "That is me eating my 37th of 40 empanadas."
"We had to do this one big take because the horribly beautiful corrupted mind of [writer-director] James Gunn operates in so many intricate pieces," Cena noted. "He wanted this big giant take … I had to do it 40 times and nearly ate myself sick. And you can tell by that picture, I was not having a good day."
"That was my most difficult stunt in The Suicide Squad," he added. "If that doesn't turn out to be some sort of meme, then the meme culture is dead."
Will John Cena return to WWE?
Fallon asked Cena if WWE fans can expect his return and he shared that, as for now, it's not on his radar for a number of reasons.
"Yeah, I will. I just, unfortunately, the state of the world — I'm not sitting there on the couch next to you," he explained. "It's a difficult and unpredictable time. And right now, I'm doing this, I'm filming Peacemaker. And that's gonna take a lot of my time and I can't bounce back and forth due to international restrictions."
"So, at least for the time being, I'm here and I'm still away from WWE but I very much look forward to returning as soon as I possibly can," he added.
Cena then played a game with Fallon called "Think Fast," a rapid-fire question and answer segment where each answered with "the first thing that pops into your head."