John Cena Says BTS's Fans Inspired Him to Be More Open About His Feelings
John Cena is best known for being a WWE wrestler and actor. When he is not working, however, he can often be seen supporting BTS. In fact, Cena is perhaps one of BTS's biggest celebrity fans.
Cena has interacted quite a bit with other people in BTS's fandom, ARMY. He recently shared how much of a positive effect fellow BTS fans have had on him, especially when it comes to being vulnerable on social media.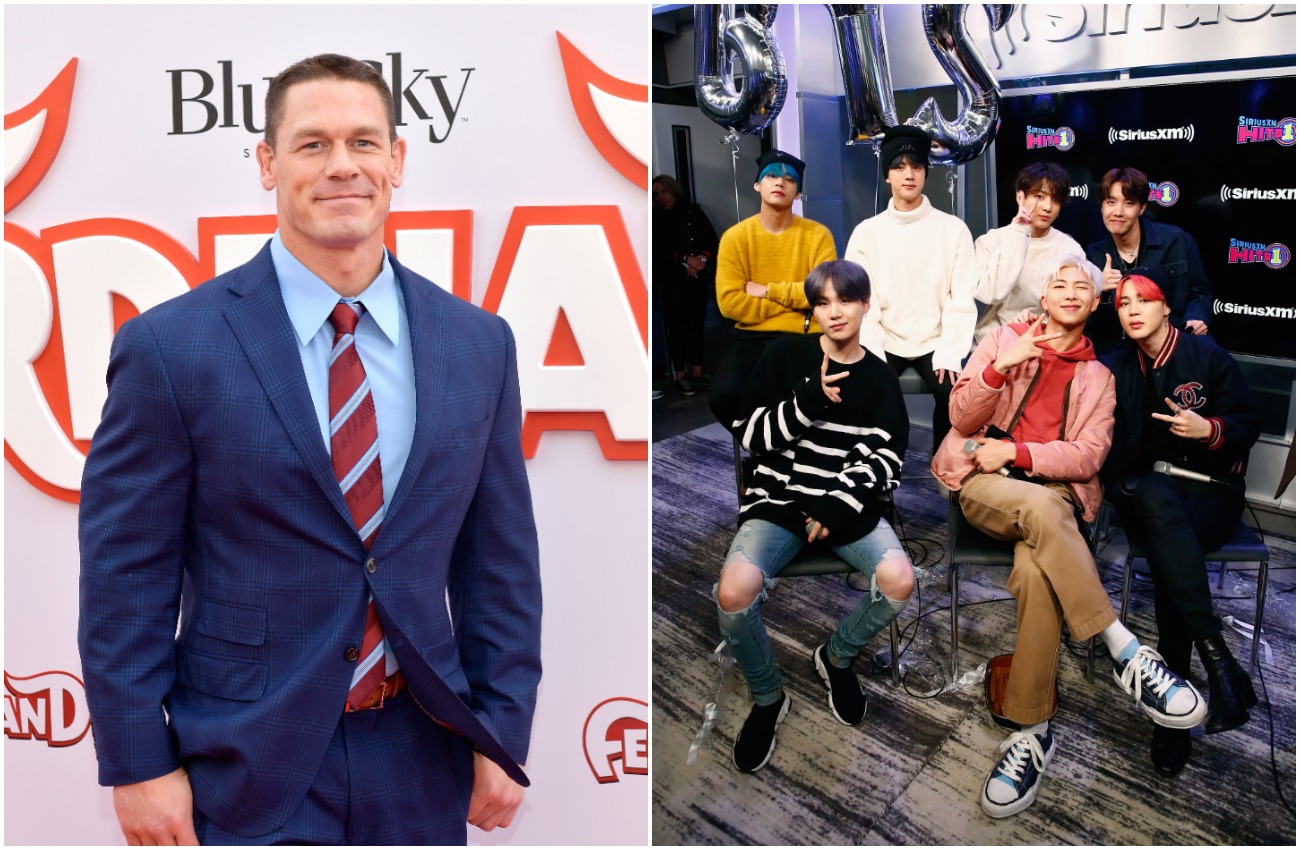 When did John Cena become a BTS fan?
It's not clear when Cena officially considered himself a fan of BTS, but he first talked about the group online in February 2018 when he posted a picture of J-Hope on Instagram. Afterwards, he began mentioning them in various instances on Twitter.
Last year, Cena also revealed on The Tonight Show Starring Jimmy Fallon that he initially checked out BTS because so many people were talking about them. However, he, then, found himself being admiring their rap line and what they stood for.
"So when I started to look at BTS, and listen to their music, I was originally drawn because there are rappers in that crew," Cena said, according to Comic Book. "And they use, on some of their intro tracks, and like bookend tracks, they use sick*** boombap beats and they actually rap, so like yeah I kinda like this is great."
He added, "They advocate self love. They advocate don't be afraid of failure. They advocate that you are enough… That's why they're so popular around the world. One, they're great performers, but it's the message they send. It resonates with the people."
John Cena was touched by BTS's 'Love Yourself' message 
Cena recently stopped by The Ellen DeGeneres Show to promote two motivational books he is releasing on April 6. There, he decided to talk about how BTS's "Love Yourself" message came at a right time in his life.
"I was going through a pretty down period in my life—it was about four years ago," Cena said. "And I decided just to have a vulnerable moment and put one of those thought-provoking journal entries out on Twitter."
He shared that, at the time, he was trying to incorporate self-love into his life. Coincidentally, BTS was also releasing their "Love Yourself" series, which Cena called "wonderful timing."
John Cena shares how BTS's fans inspired him to be more vulnerable
Cena began being more vulnerable on social media and made many posts about self-love. At first, he did not know how people would receive those posts given his image.
"So I put out all these messages about self-love, and I'm thinking, 'This is not going to be a good idea because this big, larger-than-life sixteen-time WWE champion is now talking about vulnerability and that you are enough and you shouldn't be ashamed of who you are,'" Cena explained.
However, the BTS ARMY showed he had nothing to worry about. Cena said, "It caught fire because of the BTS ARMY. I was essentially sending a similar message of the band."
Cena went on to share how fellow BTS fans inspired him to continue being vulnerable and not hide his true self, which led him to eventually publish his motivational books.
"These books exist because the ARMY was brave enough to support my vulnerable moment," he said. "So I really got to thank K-pop. I got to thank BTS for supporting me in a moment of weakness and turning it into a passion of mine."