John Krasinski Purposefully Sabotaged His First Date With Emily Blunt
John Krasinski's first date with Emily Blunt was a bit of a disaster. Guns were involved.
John Krasinski and Emily Blunt are one of the most adorable couples in Hollywood. The way these two lift each other up is awe-inspiring, and we can only hope to one day find ourselves in such a loving relationship. The fact that Krasinski has seen The Devil Wears Prada over 70 times is only half of the reason why these two are so goal-worthy. Yet despite how perfect they seem, their first date was a bit of a mess. Krasinski opens up on why he purposefully tried to sabotage his first date with Blunt because he truly believed he'd "never end up with her."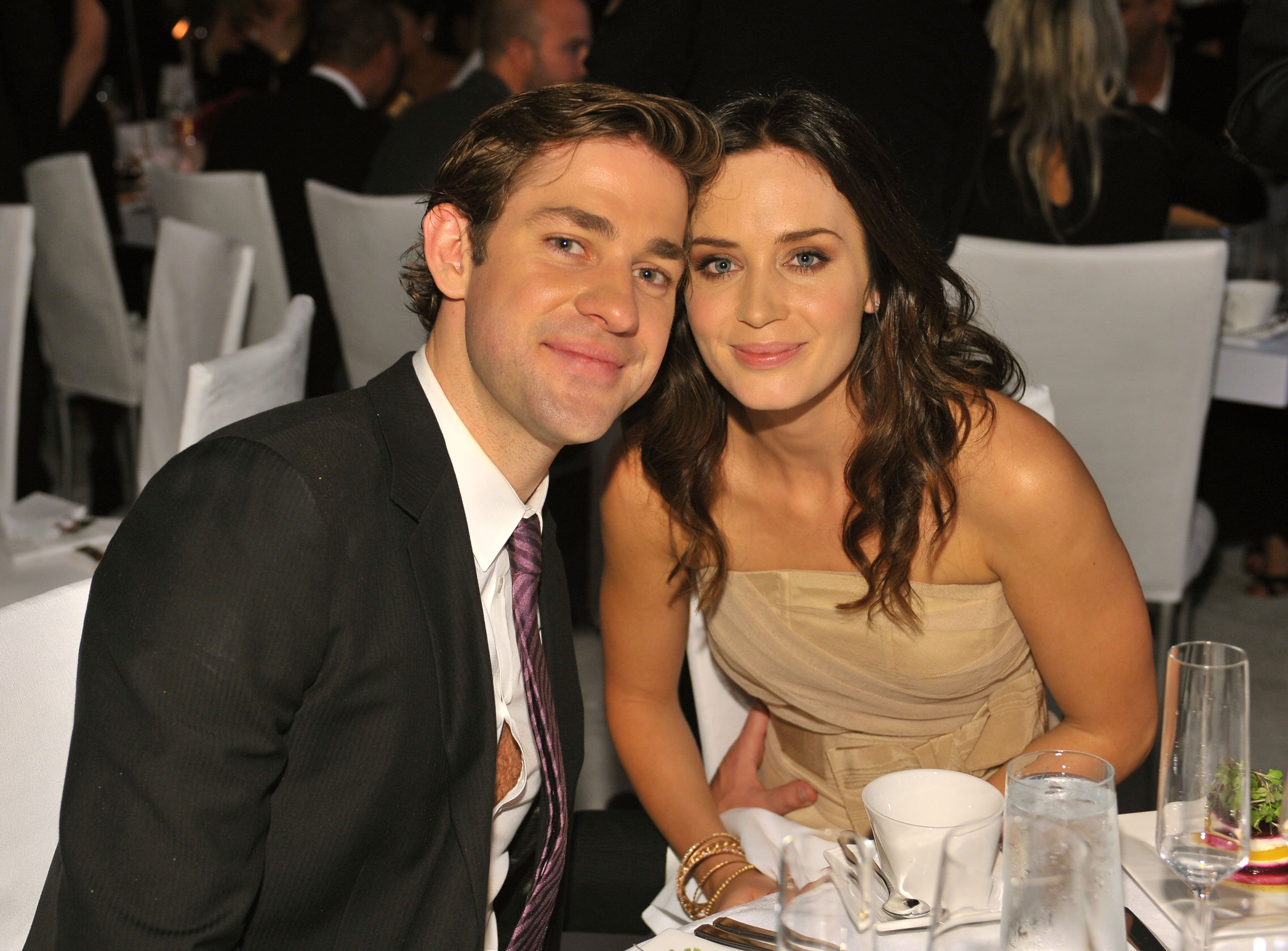 John Krasinski thinks Emily Blunt is 'way out of his league' 
The love Krasinski and Blunt share is heartwrenching. According to Krasinski, he is under the impression that his wife is way too good for him. He believed this from the very beginning, considering Blunt to be "way out of his league."
When they first met, Krasinski was a huge fan of Blunt already (which is evident by his obsession with The Devil Wears Prada.) Meanwhile, Blunt had no idea who he was at the time. Krasinski admits to being incredibly nervous when he met his soon-to-be wife, describing the incident on Ellen. 
"I was so nervous," he says. "I was like, 'Oh god, I think I'm going to fall in love with her.' As I shook her hand, I went, 'I like you.'" 
Their first date was a bit of a disaster
When we picture "date night," roses, candlelit dinners, and dancing under the stars usually comes to mind. But what people usually don't think of when it comes to a first date is a shooting range.
While Jim Halpert is known for his big romantic gestures (like his teapot for Pam filled with their inside jokes,) Krasinski purposefully tried to "blow" his first date with Blunt to protect himself. He tells Conan O'Brien, "On our first date, I decided, 'I'm gonna really hit the gas and bring her to a gun range. I think that I was so sure that I would never end up with her … that I was like, 'You know what, I'm gonna blow it right away and then that way you don't feel bad.'" 
Yet despite Krasinki's initial insecurities about whether or not he was worthy of Blunt, it turns out The Devil Wears Prada actress felt the same way about him.
Blunt describes their first time meeting, saying she "knew right away" that they were meant to fall in love. *Wipes tear.*
John Krasinski thinks the best days of his life came after meeting Emily Blunt 
Just when you thought nobody could top Jim Halpert's professions of love, it turns out the actor who plays him is a million times more romantic. He opens up about how meeting his wife changed his life for the better. Krasinski tells The Daily Beast,
"The best days of my life started when I met my wife. That's the truth, it's not just me saying it because it sounds nice on a card. She's one of the coolest people, she's so talented, she's beautiful, and she's certainly out of my league. When you're lucky enough to meet your one person, then life takes a turn for the best. It can't get better than that." 
Mutually, Blunt gushes about her husband. She says, "When I feel the support that I have from him, I feel invincible. There's someone behind you on your good days and someone in front of you on your bad days."