John Krasinski Said Jim and Dwight Shared This Kind of Relationship on 'The Office'
The feud between Dwight Schrute and Jim Halpert on 'The Office' was brotherly, according to John Krasinski.
Jim Halpert (John Krasinski) and Dwight Schrute (Rainn Wilson) shared a special relationship on The Office. As a goofball, Jim was always messing with Dwight. And as a stickler for the rules, Dwight was always looking for ways to report Jim's actions. 
Their dynamic made for some of The Office's most hilarious moments. According to Krasinski, Jim and Dwight's bond was rooted in a special kind of relationship.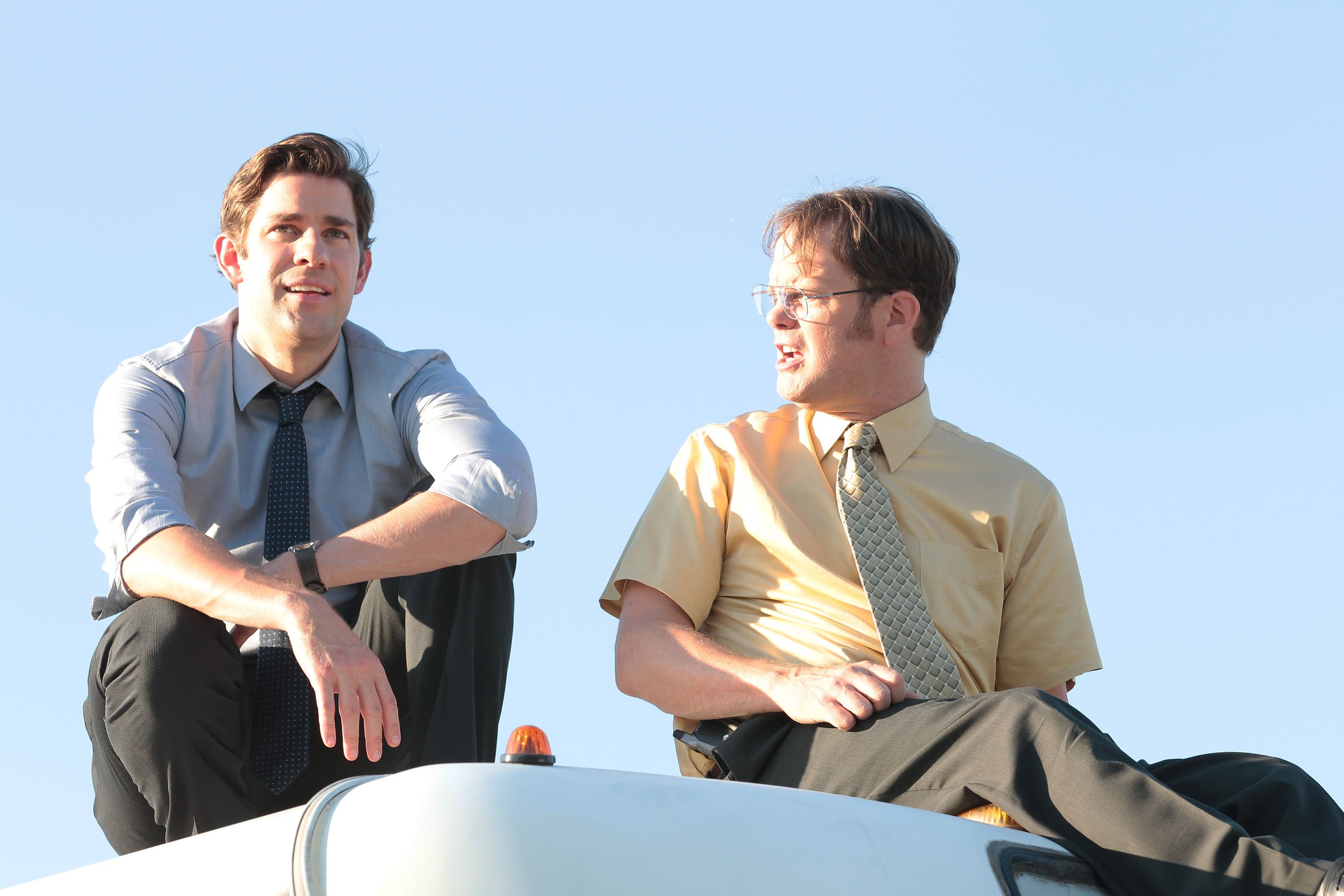 Jim and Dwight are a hilarious pair on 'The Office'
The Office is a show that relied heavily on the relationships of its characters. Those relationships formed many of the comedic duos fans grew to love. 
From Michael (Steve Carell) and Dwight to Andy (Ed Helms) and Erin (Ellie Kemper), there were several frequent pairings on the show that made audiences laugh. 
But there's one comedic duo that had a special kind of relationship: Dwight and Jim. While they seemed to be in a feud most of the time, eventually they developed a mutual respect for one another that made their relationship even more enjoyable. 
Jim Halpert had a brotherly relationship with Dwight Schrute
In earlier seasons of The Office, Jim made it his goal to mess with Dwight as often as possible. As Jim was awarded more power within the structure of Dunder Mifflin, Dwight resented Jim, but also knew he had to respect him.
By the end of the series, the two found their places in the world — Jim working for another company and Dwight becoming the regional manager of the Dunder Mifflin Scranton branch. Along the way, the two developed a friendship that many fans coveted. 
Even during the early days of Jim and Dwight's relationship, fans found something to enjoy. Krasinski attributes that to the way writers wrote Jim and Dwight.
"What the writers did so well was make those pranks kind of loving and brotherly, like there was a brother aspect to it that I think made them so great," Krasinski explained on Office actor Brian Baumgartner's podcast, An Oral History of The Office. "I wasn't being mean, I was doing something that I knew he kind of got a kick out of too." 
Krasinski understood how Jim felt toward Dwight, and he let that influence the role.
"I think [Dwight] was everything I didn't want to be or so I thought," he said. "We were in the scenes together coming from two totally different places and that was so cool, the weird explosive thing."
John Krasinski loved working with Rainn Wilson 
Krasinski got just as much joy working alongside Wilson as fans did watching them together. 
"When we did [scenes] together and we were a team, that was great," Krasinski said. "That stuff was amazing."
Some of Krasinski's favorite scenes with Wilson were the talking heads they did together — the interviews in the conference room where the actors looked directly into the camera. 
"I don't think I was professional once in them," Krasinski continued. "When I sat in a chair next to him, that weird energy just radiated off of him, and I just started laughing." 
As someone who cries when they laugh, Krasinski often needed to take a moment to regain his composure and reset to film those scenes. "I had that high-pitched girl laugh," he said. 
Krasinski's enjoyment of working with Wilson relayed itself throughout his role, making the show a pleasure for fans to watch.