John Krasinski Says This Life-or-Death Experience 'Changed My Entire Life'
Though fans of The Office will always see John Krasinski as the lovable Dunder Mifflin paper salesman Jim Halpert, the actor has several additional credits to his name. As director, writer, and star alongside wife Emily Blunt in the box office hit A Quiet Place, Krasinki has proven he is a man of many talents.
Few may know that Krasinski can also add "teacher" to his list of occupations, where he served as an instructor of English to students in Central America. During his time in Costa Rica, The Office alum risked his life to save someone in need.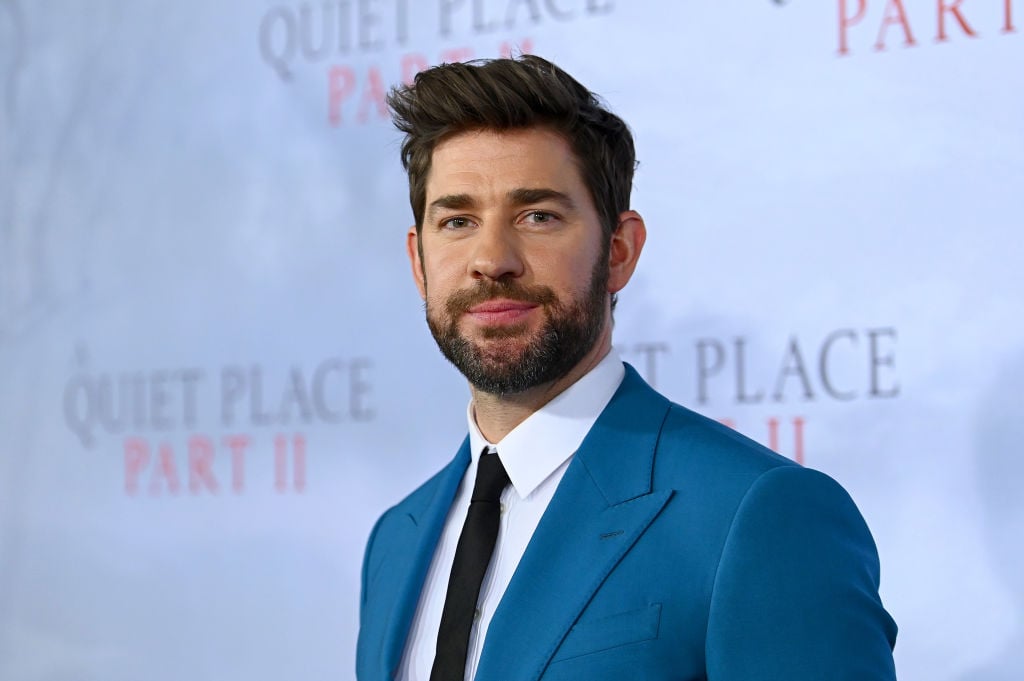 Jim Halpert, teacher
As a first-year student of Brown University, Krasinski decided to test out his foreign language skills by heading to Central America.
"I was 17 years old… I decided to go down to Costa Rica," he told Playboy in 2016. "The family I stayed with forced me to speak only Spanish, so it was anything but a cool, pura vida Costa Rica experience. I went there to teach English at a Spanish-speaking school."
Turns out his first gig didn't need his help for long, so he had to find another opportunity. "I was volunteering, but they literally didn't have enough work for me to do, so they very politely fired me and I had to scramble to get a new job," Krasinski recalled. "I ended up at an English-speaking high school, teaching seniors all the stuff I'd just learned. I asked my mom to send down my books from school, Romeo and Juliet, The Canterbury Tales and all that stuff. I was teaching from the notes in the margins of my books."
While his students were a bit suspicious of their teacher's age, Krasinski let them guess the number and stuck with it.
"I never told them how old I was," the Quiet Place director revealed. "They would ask, 'How old are you?' and I was like, 'How old do you think I am?' They would say, '27?' and I was like, 'Perfect.' But all these things were happening when I was 17 years old."
'The Office' alum to the rescue
While in Costa Rica, Krasinski toured several areas on his own to get the most out of his time there. An excursion to one particular beach came with some unexpected hazards.
"One of the places I went was this amazing beach called Manuel Antonio that I didn't realize had an insane riptide," he told Playboy. "While I was swimming there—this is a story I've never told anybody—this Costa Rican girl and an American guy were swimming right next to me, and we were knee-deep. I went underwater for a second, and when I came back up he was screaming at the top of his lungs. Literally in three seconds the girl had been swept 150 yards out."
Barely having a second to think, Krasinski went on instinct to try and rescue the swimmer. "My mom was a lifeguard and taught us to swim very early," he revealed. "In that moment, I didn't ask anyone. There was no one to help me. I just went out and tried to save her."
John Krasinski, hero
While embarking on the rescue, Krasinski got himself into a dangerous situation.
"When I got out there, I was in a crosscurrent with her. It was one of those moments of 'Oh my God, you just made a poor choice and it might cost you your life,'" The Office star recalled, adding that he knew the girl's life depended on him in that moment. "But I didn't think about it like that. It was just this survival instinct… I got her back. When I got within 20 yards or so of the shore, some surfers came out."
The director credits that harrowing event as a total game-changer in his life. "Granted, not everybody needs to have life-or-death experiences, but that changed my entire life.," Krasinski said. "All of a sudden I grew up."
Wow – actor, director, writer, teacher, hero. Not bad, John Krasinski!