John Legend Defends His 'Baby It's Cold Outside' Remake: 'It Wasn't Supposed to Be Preachy at All'
John Legend is defending his remake of the classic holiday song, "Baby It's Cold Outside." 
The award-winning musician recorded a new version of the song, a duet featuring Kelly Clarkson, his fellow coach on The Voice, and changed controversial lyrics to ones about consent. Since the song debuted in Oct. 2019, Legend's new take on the song has become controversial in itself receiving much criticism. But Legend stands by the lyrics he wrote with Natasha Rothwell.
Originally written by Frank Loesser in 1944, "Baby It's Cold Outside" includes an exchange between a couple where the man in the song repeatedly asks a woman to stay the night despite multiple protests. In the version sung by Legend and Clarkson, the man says he'll call an Uber for his date. Another new lyric has the EGOT (Emmy, Grammy, Oscar, Tony) winner singing, "It's your body, it's your choice."
John Legend says 'song was supposed to be silly'
In a new interview with the U.K.'s Observer published on Dec. 8, 2019, Legend discussed his version of "Baby It's Cold Outside" and the criticism the new lyrics have received. The musician who released his first Christmas album, A Legendary Christmas, in 2018, said the modern update to the lyrics were meant to be light-hearted.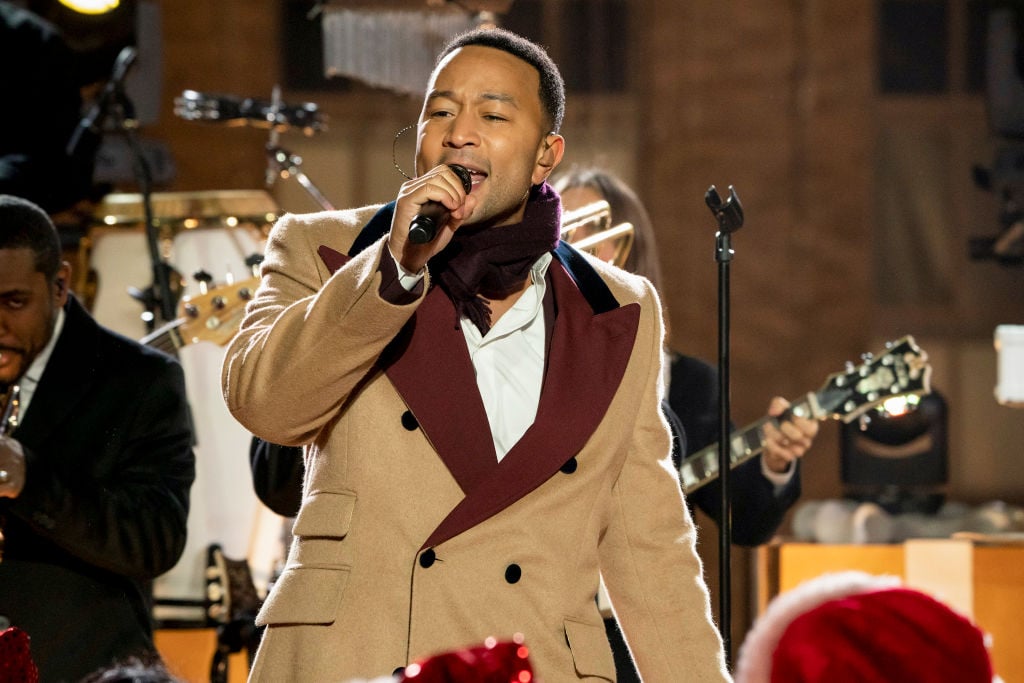 "The song was supposed to be silly!" Legend said. "It wasn't supposed to be preachy at all. I never disparaged the old version."

"And, by the way, the original writer, or his family, gets paid for my version, too," he added. 
He released a deluxe version of the same album in Nov. 2019 with a few new additions including his rendition of "Baby It's Cold Outside." In the same interview, Legend further opened up about the thought process behind the lyric changes, saying he thought "it would be fun, and it would be newsworthy. And — yeah — it was both."
Chrissy Teigen thinks people should 'get over it'
Legend's not the first person to talk about his new song. His wife, Chrissy Teigen, discussed the negative attention the song's received during a Nov. 19, 2019, appearance on The Kelly Clarkson Show, hosted by none other than Kelly Clarkson, who sang the duet with Legend.

Teigen, 34, joked that Clarkson and Legend "did ruin Christmas" as critics of the song suggested. She also said she didn't take issue with her husband's song because it takes a lot to offend her.
"Exactly, like I'm not offendable, like I hear it all," the cookbook author said. "It's hard to offend me. I wasn't mad about the song, I don't care what you guys do, but to be like 'Ugh I hate this now.'" 
"Oh my God, get over it," she added. "Go off, Sharon."

The "Sharon" Teigen referred to is Sharon Osbourne, co-host of The Talk. Osbourne shared her opinion of Legend's song on a Nov. 4, 2019, episode of the TV program, where she compared the original song to a master painting that should remain unchanged. 
"It's, to me, like a master painting," she said. "You go and see these beautiful nudes in museums all over the world, they're spectacular. Would it be right for me to go and draw a bikini top on one of those nudes? It's still an art form, it's a piece of art," Osbourne said.

She went on to call the lyrics "ridiculous" and say that if Legend didn't care for the words in the original song he shouldn't have recorded a new version.