John Lennon Praised Fleetwood Mac in Peter Jackson's 'The Beatles: Get Back'
The Beatles may have been in their own little world for much of their time together, but they did know about other artists' music. We saw that clear as day in Peter Jackson's new three-part documentary, The Beatles: Get Back. While the group was supposed to be writing 14 original songs for their new album and a TV special, they often found themselves jamming out to songs penned by their idols, past and present. In other scenes, The Beatles even praised those idols.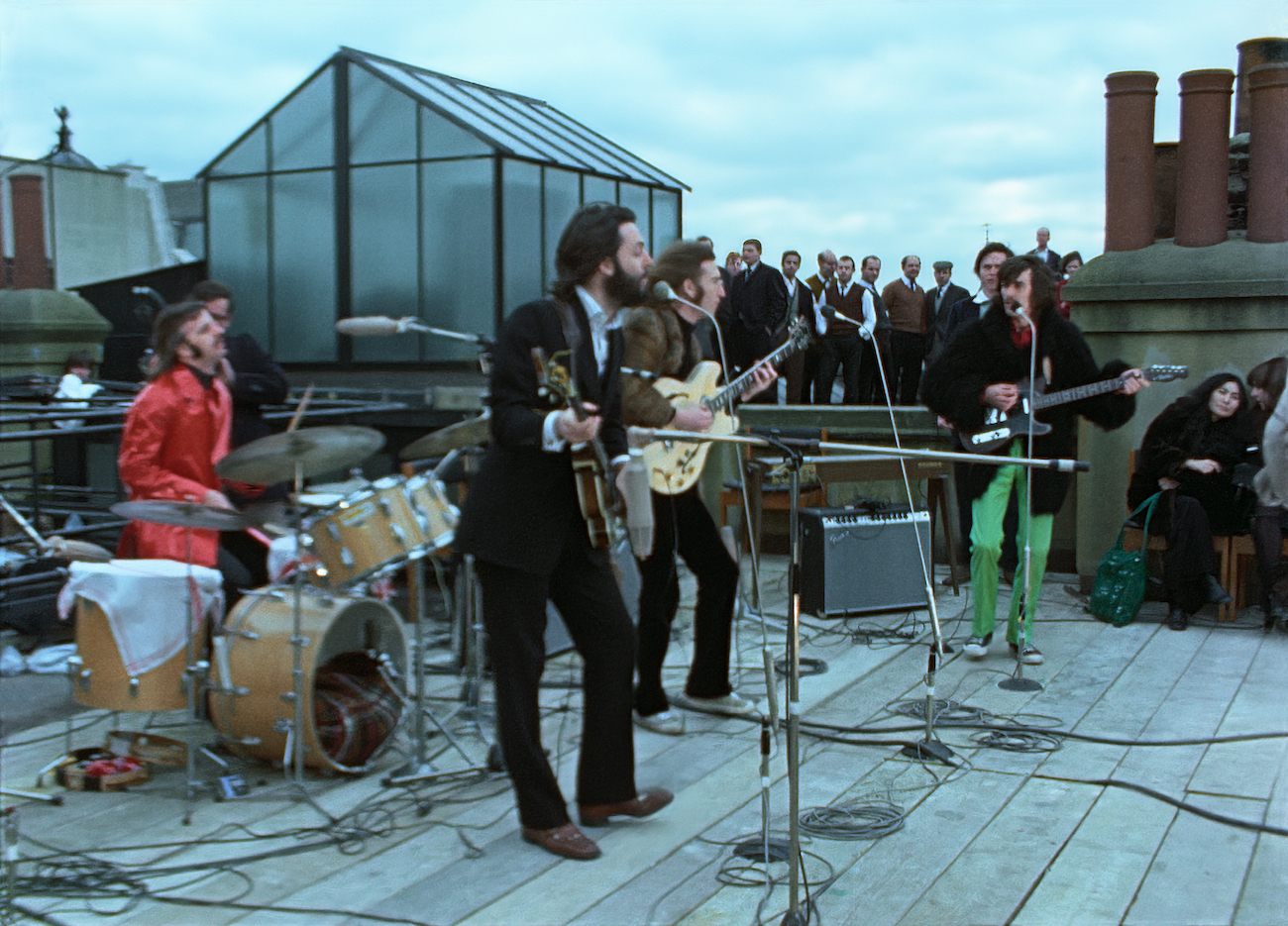 John Lennon praised Fleetwood Mac in 'The Beatles: Get Back'
In Part 2 of Jackson's documentary, John Lennon asked the rest of the group if they'd seen Fleetwood Mac on Late Night Live the night before. This was, of course, before Stevie Nicks and Lindsey Buckingham had joined the band. Then, Fleetwood Mac consisted of founder and frontman Peter Green, drummer Mick Fleetwood, bassist John McVie, guitarist Danny Kirwan, the occasional keyboardist Christine Perfect (later Christine McVie), and slide guitarist Jeremy Spencer.
"They're so sweet, man," John told The Beatles. "And their lead singer's great. You know, looks great, and he sort of sings quiet as well. He's not a shouter." Paul said they sounded like Canned Heat. "Yeah, but better than Canned Heat," John said.
"There was only four of them last night, wasn't there?" George asked John. "Yeah, they're really good though…," John replied. We don't know which four of the members of Fleetwood Mac actually appeared during the TV performance, but Spencer probably wasn't there.
However, John seemed really inspired by Fleetwood Mac at that point, so it's no surprise that one of his next songs took a page from the blues/folk group's book.
Fleetwod Mac's 'Albatross' inspired John to write 'Sun King'
The Beatles might be one of the most influential bands in the world, but even they have influences. For a time, Fleetwood Mac was one of them. Strangely, The Beatles inspired newer bands, and when those newer bands gained success, they started influencing The Beatles in return.
According to Far Out, John was inspired after hearing Fleetwood Mac's hit song "Albatross." John might have referred to Abbey Road's "Sun King" as "a piece of garbage I had around," but the song came out of a love for Fleetwood Mac at the time.
John initially titled the song "Here Comes The Sun King," but he changed it to avoid confusion with George Harrison's hit on the album, "Here Comes The Sun." John sings quietly, just as he'd seen Green do on TV, only his lyrics were a bit tongue in cheek.
"We just started joking, you know, singing 'quando para mucho,'" John said in 1969. "So we just made up… Paul knew a few Spanish words from school, you know. So we just strung any Spanish words that sounded vaguely like something."
Cosmic magazine reports that John told a radio DJ in 1969 that The Beatles pretended to be Fleetwood Mac on "Sun King." He continued, "We did the introduction, we call it the 'Sun riff,' the little instrumental bit that's like Fleetwood Mac, before we start singing, and we did it again at the end, so we are able to sing it to make them different, you know, so it wasn't just the same riff."
Mick Fleetwood was 'elated' that The Beatles were inspired by Fleetwood Mac
George confirmed in 1987 that Fleetwood Mac's "Albatross" had inspired "Sun King." He said, "At the time, 'Albatross' (by Fleetwood Mac) was out, with all the reverb on guitar. So we said, 'Let's be Fleetwood Mac doing Albatross, just to get going.' It never really sounded like Fleetwood Mac… but that was the point of origin."
Later, Mick Fleetwood recounted John's 1969 interview in which he talked about Fleetwood Mac's influence on The Beatles. Fleetwood said he was "elated" that his band had inspired one of his favorite bands.
Cosmic wrote that Fleetwood "was touched something he had helped create could inspire a band which had meant so much to him." So everyone was influencing everyone back in the late 1960s.