John Mayer Has Had Plenty to Say About His Relationship With Jennifer Aniston
Singer John Mayer has been in several high-profile relationships with some of today's most famous celebs. Past girlfriends include Jessica Simpson, Taylor Swift, and Katy Perry.
Never one to keep his thoughts to himself, Mayer was quite verbose with his comments on dating Jennifer Aniston after meeting in 2008.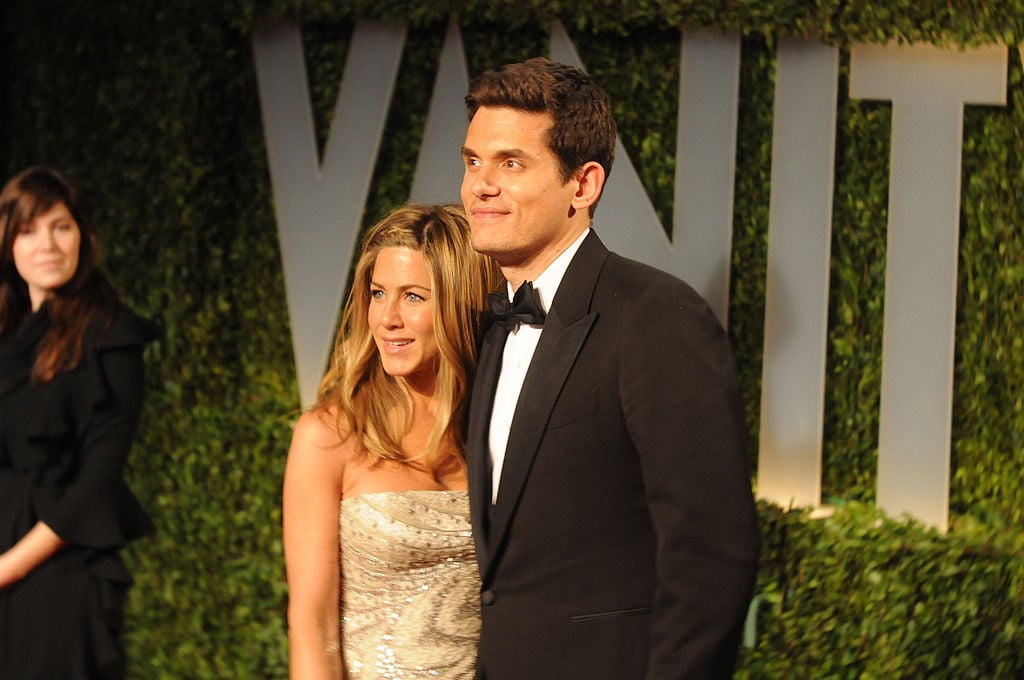 In the spotlight
Aniston and Mayer met at an Oscars party in February 2008, according to E! News. With the former Friends' star being such a paparazzi favorite, the couple quickly made headlines and became consistent material for the tabloids. Popsugar reported that Mayer had commented on experiencing that public scrutiny with Aniston.
"I had a conversation about fame with Jen before we ever really stepped out in public. She said, 'Do you understand what this entails?'" Mayer shared. "Two weeks later I had people outside my house. I was smart enough to know it would probably make me a salable item for the paparazzi. I knew I'd have to move to a home that had a gate. But that pearl of possibility that lives in your heart when you meet somebody you want to know more about has such a different molecular density than everything else that you have to pursue it. And I wouldn't undo it, man."
Quite a lot to say
The couple's union was short-lived, where they split in August the same year. They reconciled at one point in 2009, but that reunion lasted only a month. Mayer was quite open about the breakup, some may say to a fault.
Some of Mayer's comments about the relationship were reflective and favorable. "That woman was the most communicative, sweetest, kindest person," the singer said of Aniston in 2010 in an interview with Playboy. He confessed to taking their breakup very hard, telling Rolling Stone, "I've never really gotten over it. It was one of the worst times of my life."
Then there were the words Mayer probably should've kept to himself. According to a 2008 Vogue article, Mayer had a sort of temper tantrum after being stalked by paparazzi shortly following his parting with Aniston. "If you guys are going to…run every lie under the sun…have me as a man who ended a relationship," he said.
Many still remember his comparison of splitting with Aniston to burning the American flag, and making digs about her age. "I'll always be sorry that it didn't last,' Mayer said in the Playboy interview. "In some ways I wish I could be with her. But I can't change the fact that I need to be 32." Aniston is eight years older than Mayer.
His commentary didn't stop there, where he defended his use of social media to air his feelings. "One of the most significant differences between us was that I was tweeting. There was a rumor that I had been dumped because I was tweeting too much. That wasn't it, but that was a big difference," he vented. "The brunt of her success came before TMZ and Twitter. I think she's still hoping it goes back to 1998. She saw my involvement in technology as courting distraction."
Aniston took the high road
Aniston decided to take a different tack, and remained the class act for which she is known and loved. "He had to put that out there that he broke up with me," she told Vogue in 2008. "And especially because it's me. It's not just some girl he's dating. I get it. We're human."
The star of The Morning Show went on to express remaining affection for her former beau. "I feel seriously protective of him and us. Trust me, you'll never see that happen again from that man," Aniston said in the Vogue interview. "And it doesn't take away from the fact that he is a wonderful guy. We care about each other."
The actress revealed that she saw their breakup as a path to having the type of relationship that works best for them. "It's funny when you hit a place in a relationship and you both realize, We maybe need to do something else, but you still really, really love each other," Aniston explained. "It's painful. There was no malicious intent. I deeply, deeply care about him; we talk, we adore one another. And that's where it is."
Apparently, the two remain friends, where Mayer was seen attending Aniston's 50th birthday party earlier this year.