John Mulaney Jokes About Quarantined New Yorkers Binging on His Netflix Standup
Netflix is getting quite a workout now that most Americans are staying home and catching up on their favorite television shows. While some people lean into horror films about pandemics, others prefer light comedies or standup comedy performances.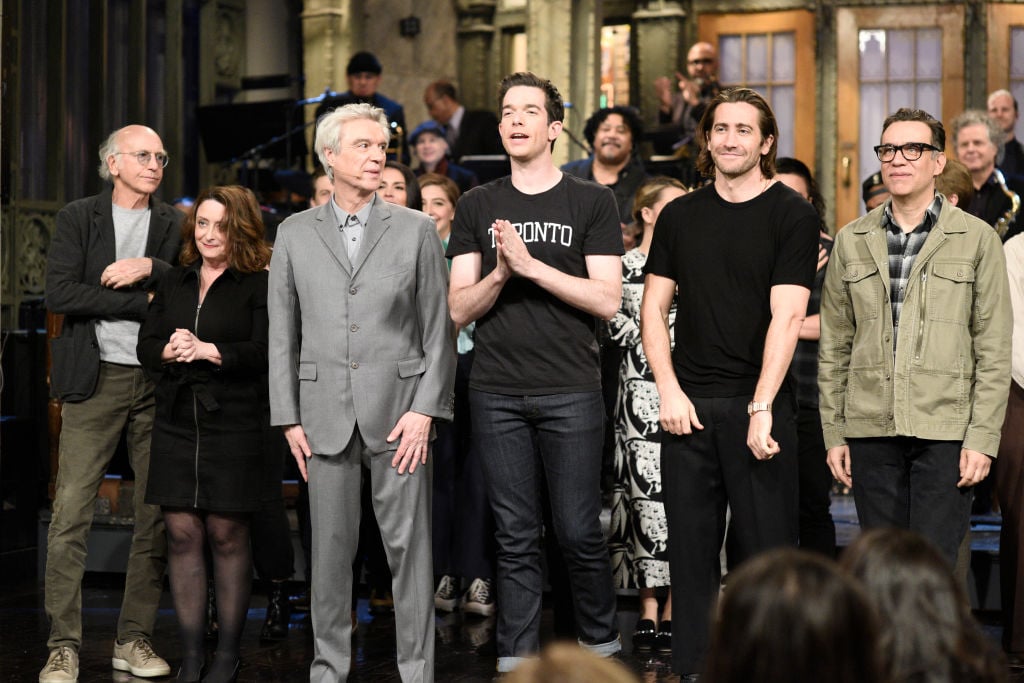 One Netflix comedy standup favorite is a John Mulaney performance. Mulaney has three delightful standup performances ripe for binging and apparently people are diving in. Mulaney himself had a funny moment, which he shared from his New York City apartment.
He snapped a photo of his neighbor from across the street who too was binging on a little Mulaney. "Caught ya," he wrote along with a photo that displayed the neighbor's TV lit up with Mulaney in his signature smart suit and microphone.
Fill your day with Mulaney
From afar, it appears the neighbor was digging into John Mulaney The Comeback Kid. The 2015 standup was a breakout performance for the comedian where he recounted getting married, buying a home, dog training and his encounter with Bill Clinton before he became president. Mulaney was nominated for an Emmy for that performance.
Other standups to sink your teeth into include his earlier work, John Mulaney New In Town and his newest standup, John Mulaney Kid Gorgeous at Radio City. Both standups are crammed with endless life stories, along with hilarious observations of society. Mulaney won an Emmy for Kid Gorgeous.
But binging Mulaney doesn't stop with standup. His acclaimed new kid's variety show, John Mulaney & the Sack Lunch Bunch has appeal to kids and adults. The show features his signature dark humor and guest appearances from heavy hitters like David Byrne from The Talking Heads and actor Jake Gyllenhaal. Mulaney's Broadway breakout hit with Nick Kroll, Oh Hello on Broadway is also on Netflix. Mulaney's quirky faux documentary series, Documentary Now! is also streaming.
Will he finally make that Toronto show?
Productions took a pause while the world deals with a global pandemic. And while no one knows when it will be safe to return to normal life, one Toronto theater is optimistic. Mulaney is scheduled to perform at Meridian Hall in Toronto on April 10. According to the site, Merdian Hall canceled performances from March 14 through April 4. Does that mean that this endlessly scheduled and rescheduled date will finally move forward?
The show's trajectory is almost comical. Mulaney's original date was slated for September 22. But, Mulaney rescheduled the September show for January 18. "TORONTO Very bummed to report Sunday's show is POSTPONED to January 18. I'll be there Saturday night but have to get home right after. Wouldn't cancel it if I did not have to. I hope I see you in January. John," Mulaney tweeted in September.
However, the weather made him once again reschedule for February.  "TORONTO SHOW POSTPONED: Weather says no way. Venue says no way. It is safer for everyone to stay off the roads and out of the air. Your tickets will be honored for new date to follow." And then came the "demand to serve his country" and host Saturday Night Live in February prompted him to move the date up to April.
"A letter from Lorne Michaels to the people of Toronto," Mulaney shared on Instagram. "Please read and understand I am terribly sorry to move the show again. It is now rescheduled for April 10 and I will be there no matter what. I love you Toronto I hope you know that I won't let you down again. Also I'm afraid of Lorne so I do what he says." Who knew the world would run into a pandemic?