John Mulaney Once Had a Cannibal for a Neighbor
During one segment, comedian John Mulaney sat down with fellow funny man, Pete Davidson and gave a very strange confession.
You can learn a lot about someone by just sitting down with them and having a conversation with them. You can learn a whole lot more than you ever expected when that conversation happens on Jimmy Fallon's popular segment True Confessions. 
During one segment, comedian John Mulaney sat down with fellow funny man, Pete Davidson. Mulaney was the first to go. Over the years, True Confessions has outed plenty of shocking revelations. But it's safe to say, no one saw the Big Mouth actor's confession coming.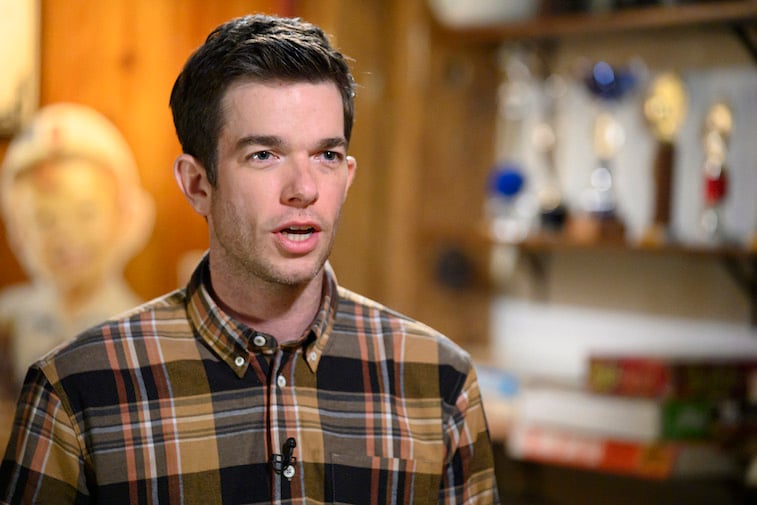 John Mulaney's shocking confession
For anyone who hasn't watched True Confessions, the way the show works is that all participants begin by holding two envelopes. One will contain a true story about them, while the other will contain a lie. They will only open one envelope. The rest of the group has to determine whether the story they tell is the truth or a lie. 
Mulaney's confession is one of those that makes you go, "Say what?" When the comedian opened his envelope, he revealed that he once had a neighbor that was a cannibal. Yep, that's right. A human who eats other humans. 
As the story progressed, Mulaney revealed that he didn't know the neighbor in question. All he could say was the person was quiet — and a cop.
According to the star, the neighbor was caught as part of a sting operation and he hasn't seen or heard from him again. Needless to say, both Fallon and Davidson were shocked to hear the story was true. 
The true story about John Mulaney's neighbor
For some, this story may sound familiar. And it's not because it sounds like a character out of a movie. But in fact, it's straight out of the headlines. The case in question is that of Gilberto Valle, a former NYPD officer. 
Valle was 28-years old when he was arrested after his wife discovered evidence that he was planning to kill and eat her. Police later found out that he had discussed plans of kidnapping, raping, and eating several other women. According to the New York Daily News, Valle made posts under the username "Girlmeat hunter."
The former police officer was convicted "conspiring to kidnap and consume women" a year after his arrest in 2012. However, that conviction was overturned just two years later. He claims his online discussions were nothing more than "fantasy."
Valle has since written a horror book and has participated in an HBO documentary. His story was the basis for a season 15 episode of Law and Order: SVU.
Other true confessions
This isn't the first time a celebrity has revealed something pretty surprising on the show. In 2016, Hunger Games star Jennifer Lawrence admitted she took an Ambien before filming a scene of the blockbuster movie.
It turns out she took the medication by mistake and made it through one of the film's dancing scenes. Ambien's meant to put you to sleep, so the fact that Lawrence could act (and dance) after taking a dose shows some pretty solid skills. 
And then there's Collin Farrell's confession in 2015. The star revealed that he was brought in for questioning for attempted murder when he was a teenager. Apparently, the suspect looked a lot like the Irish actor and he blacked out that night, so for a second he wondered, "Could I have done such a thing?"
Ultimately, the police let him go and he went on to be the successful actor he is now. But Farrell says that the police sketch looked so much like him that he thought he might actually be in trouble.
What saved him? Apparently a friend kept a journal of what the pair was doing while they were together and on the night in question, the two were across town "doing ecstasy."