John Mulaney Reveals Who Inspired the 'SNL' Character Stefon
Stefon was a beloved club kid character from Saturday Night Live, who often showed up on "Weekend Update" to impart his wisdom to tourists interested in hitting city hotspots.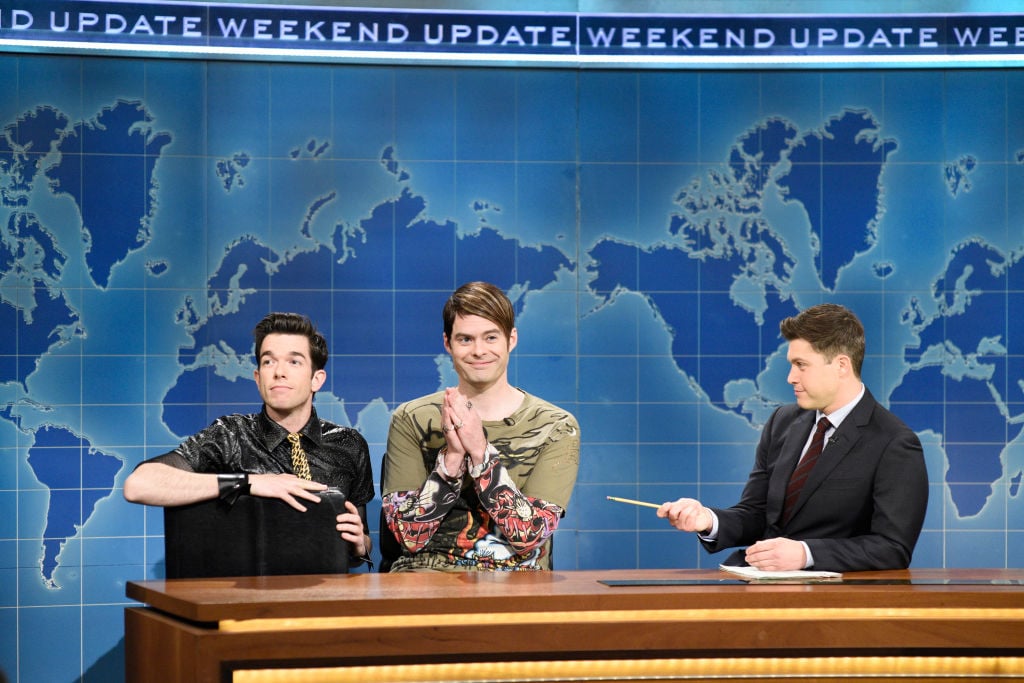 Of course, Stefon's advice was never geared toward wholesome families visiting from out of town. He touted weird underground clubs with names that were phrases that featured amenities found in A Clockwork Orange. The bit always produced gut-busting laughter from the audience — and also actor and co-writer Bill Hader, who portrayed Stefon.
Writer John Mulaney shared how he developed character, drawing from a number of inspirations and even actor Macaulay Culkin.
How did they create Stefon's physical appearance?
Mulaney spoke about Stefon's appearance in a video for Business Insider.
"So then we first had to figure out what Stefon looked like," he said. "I said I think he should have an Ed Hardy shirt. I did not know what an Ed Hardy shirt was. I was picturing something from that Macaulay Culkin, Seth Green movie, Party Monster. We hold for applause, like a latex shirt or something?"
"And then we got an Ed Hardy shirt, which is like weird snake tattoo art," Mulaney continued. "And even though it was absolutely not what we thought it was, we were like, 'Great.'"
Then, there was the conversation about Stefon's hair.
"We went to the hair department, and they said, 'What is his hair like?'" Mulaney recalled. "We said, 'We don't know.' But maybe it's something like Macaulay Culkin and Seth Green in Party Monster, the hit film.'"
Mulaney added that the character is specifically based on pop-up club culture in New York City, circa 2007.
Plus, Hader shared that Mulaney received an email from someone who urged him to hit up a local club that had "everything," listing a bunch of crazy features. This also became an inspiration for Stefon.
"The club was called, like Push," Hader told The New Yorker. "One of the things in the email was 'rooms full of broken glass.'"
Then, there was a barista at "Joe's Coffee" that Hader described was eerily like Stefon. Hader said they used the barista as their springboard to create the character.
Stefon appeared in various sketches before 'Weekend Update'
Mulaney said he and Hader test drove Stefon in various sketches.
"Finally, we're asked by the head of 'Weekend Update' to try it as an 'Update' feature," he recalled. "And we wrote the 'Update' feature, and it was so weird that I so assumed it would be cut. So I said, 'When you cut this can we try it again?' Because we thought it was just not gonna be liked by anyone."
Once on "Weekend Update," Mulaney wanted to take the comedy up even further — he wanted to see Hader break.
"The first time we did it at dress, Bill started laughing a lot," Mulaney said. "And then afterward he was apologizing to me because he has a strong work ethic and stuff. And thinks it's bad to mess up."
However, Mulaney found the mistakes funny.
"I started changing the lines before he would go out there," Mulaney continued. "Just a little. Not all the lines. Just a little bit. Like I'd throw in like, 'three screaming babies and Mozart wigs' as a detail. And he wouldn't have seen that until he went out there."