John Mulaney's Dog Petunia's Instagram Is the Cutest Slice of Comedy
When John Mulaney discussed his new French Bulldog puppy with audiences during The Comeback Kid, he couldn't have painted a more descriptive picture of not only his dog, but what he is like as a dog owner.
Correction: Petunia appears to be a "people owner" as she clearly runs things around the Mulaney household. She stares at Mulaney with judgment, speaking in a French accent while chain smoking. "Oh, the things I have seen, you c**ksucker," he lamented as Petunia in his 2015 standup. "You have no idea. The Gestapo threw my printing press into a river. But, go, tell your f**king jokes. Bring me my dish."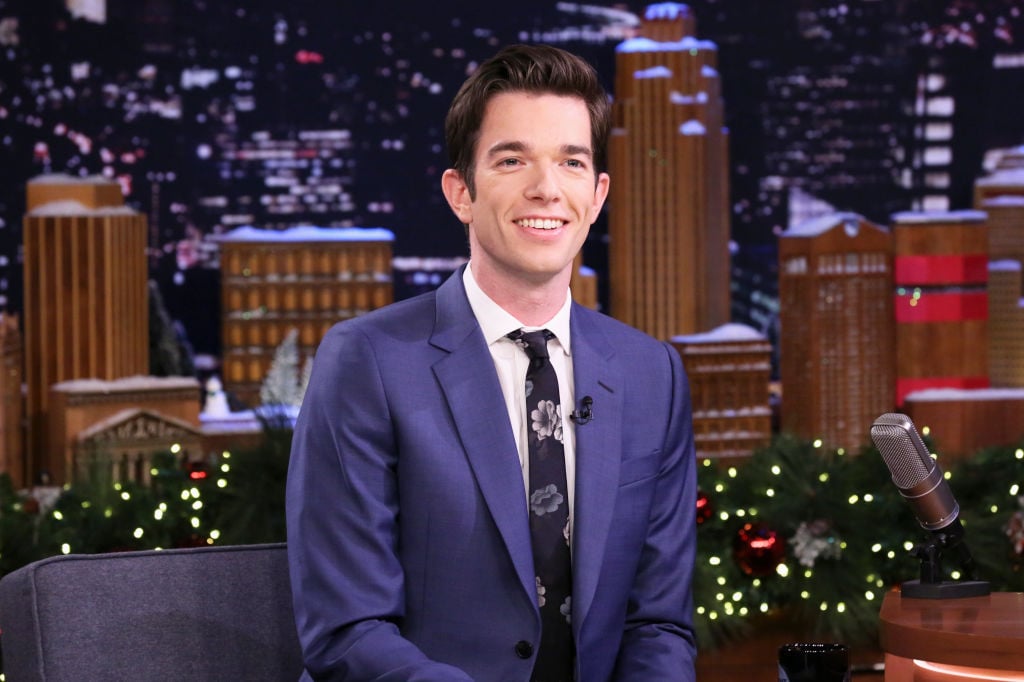 Of course that's how Mulaney conveys what Petunia is thinking and speaking. And a French Bulldog couldn't have been a more perfect choice for the comedic couple. Mulaney and his wife Annamarie Tendler have made dog ownership, and Petunia's Instagram, a total knee-slapper.
She has a lot of opinions
Petunia's Instagram is filled with plenty of "paw to the forehead" moments when it comes to dealing with these silly humans. She has lots of opinions, especially when it comes to felines. "Honestly how am I even supposed to respond if you insist on speaking in a different language?" she asserts as a cat tries to communicate. And don't even get her started when a cat dared to lay in her bed.
She clearly isn't into dog birthday hats. "I know what day it is. don't you dare put that birthday hat on me…. je te déteste," she "wrote" on Instagram. And she knows how to dodge doing what her humans insist on her doing too. "Well if I hide under this table you can't put my leash on, so in a way the joke is on you."
Petunia also believes she needs to be living the princess life too. "I definitely do not get the respect I deserve," she declared. Also, she feels very limited in the diet her humans enforce upon her. "I ask @amtendler if I can eat this lampshade she's making but she says non! So I give sad eyes, but she still says non," Petunia sits next to a gorgeous black, lace lampshade. "Incroyable this oppression I endure."
Mulaney describes how Petunia trains her humans
During Mulaney's standup, he describes how dog training went with Petunia. Needless to say, Petunia won. Mulaney illustrates how the dog trainer entered the couple's apartment. "So, the trainer came into the apartment. Sorry, didn't even walk into the apartment, walked into the threshold and went, 'Oh, okay.' Like she was an exorcist or something. She said, "I see what the problem is.' She said, 'Petunia has become the alpha of the house.'"
Since Petunia is large and in charge, she eats when she wants. But the trainer says the couple must assert dominance over their puppy by eating dinner first and making Petunia wait. "No, you need to eat dinner first," Mulaney recounts the trainer's direction during the visit. "Because the king eats before anyone else eats. Oh, yes, and what a mighty king I will be, eating dinner at 4:45 in the afternoon."
And this is how everything went down. "So… for the past month, I sh*t you not… before my wife and I give Petunia her dish, we take down empty bowls and spoons, and in front of her, we go, 'Mmm, dinner. Mmm, good dinner.' Like we're space aliens in a play about human beings that they wrote, but they didn't work that hard on. 'Mmm, we're eating dinner.' Meanwhile, Petunia's just staring at us with her Paul Giamatti face, like… "You're not eating dinner, c**ksucker. Dish, now."
Don't let her fool you, she's a lover too
Even though Petunia seems to have lots of judgement and opinions she's really a lover at heart, especially when it comes to her mama. "Mama, my true love, my valentine," she stated on Instagram. She also loves to snuggle underneath Tendler's legs or under the occasional throw pillow or two.
Tendler seems just as smitten as she's happy to prop up Petunia's head with her hand…so she sleeps better. Plus she dispelled the myth that dogs don't like to be hugged. "Remember when NPR released a study that said dogs don't like to be hugged? lol."
And while she loves hanging with dad, she loves to shade him just as much. "Reading about my favorite comic, @amyschumer, with my least favorite comic, DAD."
Check out The Cheat Sheet on Facebook!