John Mulaney's Wife Once Rejected an Expensive Gift from Jerry Seinfeld
Jerry Seinfeld and John Mulaney are two of the funniest and most successful comedians in the entire world. Together, but mostly through Seinfeld's intense wealth, they are worth millions of dollars. They are responsible for some of the most iconic and beloved comedic works of all-time. Unfortunately for them, however; it seems the pair cannot pick out a proper rug to save their lives. During an episode Seinfeld's series Comedians in Cars Getting Coffee the pair: take a drive through New York City, purchase some Tic Tacs, discuss Mulaney's comedy career, and finally run an unsuccessful errand for Mulaney's wife.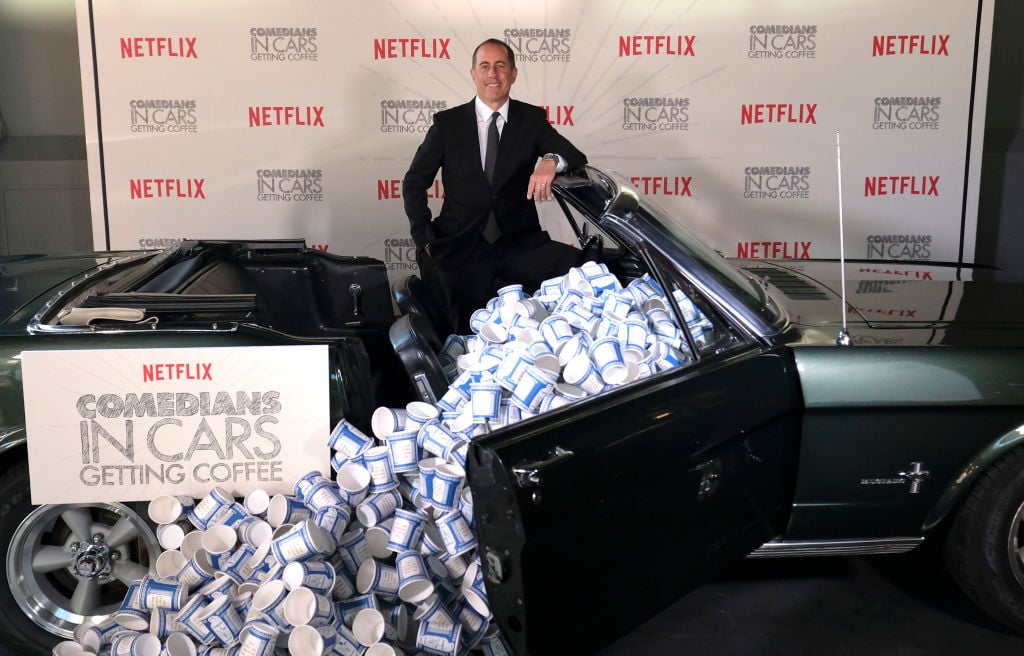 Jerry Seinfeld and John Mulaney walk into a rug store
No this is not a setup for a hilarious joke, the pair of comedians actually shop for an entryway rug and runner for Mulaney's apartment. From the beginning, it is clear that Mulaney has no confidence in his ability to pick out a suitable rug. Mulaney clearly states that "(he) has no clearance to buy anything." Ignoring his intuition to leave the rug-purchasing to his wife and her superior visual sense, Seinfeld and Mulaney continue to shop. The duo discusses if they have they have the skill in the art of haggling to get a better deal on a truly horrible rug, and wonder what it'll be like to retire and die. Finally, Seinfeld ends their collective shopping misery and pulls out his American Express black card to generously purchase a rug for Mulaney.
What's the deal with Seinfeld's black card?
The experience in the rug store leads to a variety of interesting and amusing tangents, but the most mind-blowing is that Seinfeld is apparently the reason the American Express black cards exist. In 1997, Seinfeld starred in a series of commercials for American Express. While shooting one of these commercials, a camera operator asked if Seinfeld held one of the mythic black cards. It was rumored that only the president of American Express and the Sultan of Brunei held the card, and the operator believed that Seinfeld should be the third owner. The famous comedian said no, he didn't have one but decided that he would like to. Seinfeld called the president of American Express, who denied the existence of the black card. He then decided that the card should exist, and gave Seinfeld the very first one, thus creating an iconic symbol of wealth. Little did he know that years later, he would use that black card to purchase an $1800 rug for John Mulaney.
Annamarie Tendler was not impressed
After a long day looking at rugs, and talking about rugs, and buying an $1,800 rug, it is clear that Seinfeld is ready for this ordeal to be over. It is time to deliver the rug to Mulaney's wife, Annamarie Tendler, the make-up specialist and lampshade designer who rules over her home's interior design. The pair ride up the elevator toward their judgment. Seinfeld unrolls the rug with the flair of a professional entertainer for Tendler. He's been shopping for this rug for much longer than he could have ever anticipated. Finally, the moment of truth has arrived, and Tendler ruthlessly utters her final judgment.
"No. I don't think it's going to work."
Shock and devastation. Seinfeld can't believe it. Mulaney, who was doubtful of this process all along, sheepishly shuffles his feet as he attempts to distance himself from the uncomfortable situation. It is a comedic scene that you could never script, and the legendary Jerry Seinfeld is the butt of the joke. He has all the success, all of the money, all of the accolades. He understands how to make a marriage work, as he and his wife Jessica have been married for over 20 years.