John Oliver Once Predicted Meghan Markle Would Have Issues With the Royal Family: 'It's Going to Be Weird for Her'
John Oliver accurately predicted how things would play out for Meghan, Duchess of Sussex after she joined the royal family. A 2018 The Late Show interview has resurfaced after Prince Harry and Meghan's interview with Oprah Winfrey and, given everything that came out of that tell-all chat, Oliver's prediction was spot-on.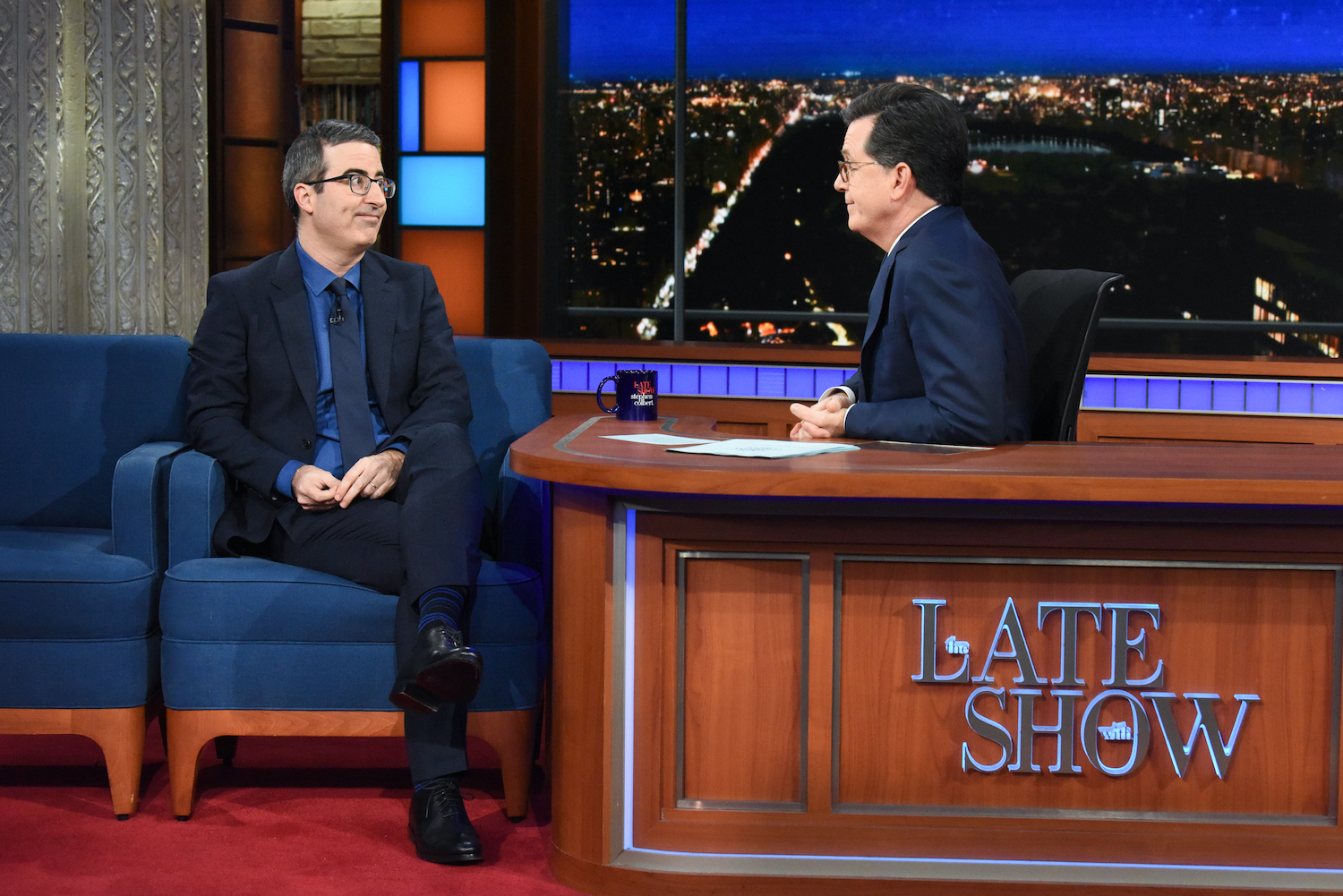 John Oliver knew that Meghan Markle would have issues with royal life
During Oliver's 2018 appearance on The Late Show With Stephen Colbert, he was asked his thoughts about Prince Harry and Meghan's wedding. Since Oliver is a British man who married an American woman, Colbert thought perhaps the Last Week Tonight host would have some words of wisdom.
Oliver, it turns out, wasn't so excited about the royal wedding. "I would not blame her [Meghan] if she pulled out of this [the wedding] at the last minute," he explained. "I don't think you need to have just seen the pilot episode of The Crown to get a basic sense that she might be marrying into a family that could cause her some emotional complications."
Colbert wondered if the current generation of royals are nicer. "But this generation seems like nice people — they're all nice now, right?," he asked.
Oliver didn't pull any punches with his response. "Yeah, I mean they're [the royal family] an emotionally stunted group of fundamentally flawed people doing a very silly pseudo job — that's what she's marrying into," he said. "So I hope she likes it. It's going to be weird for her."
"I would not marry into the royal family. I'm a commoner, I would not be welcome, especially after what I've just said," Oliver added.
RELATED: Princess Diana Kept This Secret From Prince Charles When She Was Pregnant With Prince Harry
Meghan Markle addressed her mental health concerns during the Oprah interview
During her interview with Oprah, Meghan was candid in discussing just how little support she received from the royal family, most notably when she brought up her mental health concerns with them.
"Look, I was really ashamed to say it at the time and ashamed to have to admit it to Harry especially, because I know how much loss he has suffered," Meghan shared. "But I knew that if I didn't say it, that I would do it. I just didn't want to be alive anymore. And that was a very clear and real and frightening constant thought."
"And I remember how [Harry] just cradled me and I was… I went to the institution and I said that I needed to go somewhere to get help and I was told that I couldn't, that it wouldn't be good for the institution."
"You can't just call an Uber to the palace," she added.
The situation was so serious that, when Prince Harry told Meghan perhaps she shouldn't attend an event they were expected at, she told him, "I can't be left alone."
Oprah noted, "Because you were afraid of what you might do to yourself?" and the duchess confirmed yes, that was true, with tears in her eyes.
Meghan explained why she wanted to shed light on her situation. "And that's I think so important for people to remember is you have no idea what's going on for someone behind closed doors. No idea," she noted.
"Even the people that smile and shine the brightest lights. You need to have compassion for what is actually potentially going on," Meghan added.
How to get help: In the U.S., call the National Suicide Prevention Lifeline at 1-800-273-8255. Or text HOME to 741-741 to speak with a trained crisis counselor at the free Crisis Text Line.