John Wayne Once Embarrassed Himself so His Mentor Could Save Face
John Ford biographer Scott Eyman tells a story about John Wayne thinking quickly to avoid a potentially embarrassing situation for the director.
John Wayne didn't just start out as John Wayne. He had a mentor in director John Ford, who had directed Wayne in 14 movies, including The Man Who Shot Liberty Valance. The on screen tough guy was a bit more humble in real life, and willing to look the fool to make someone else look better as he did for Ford.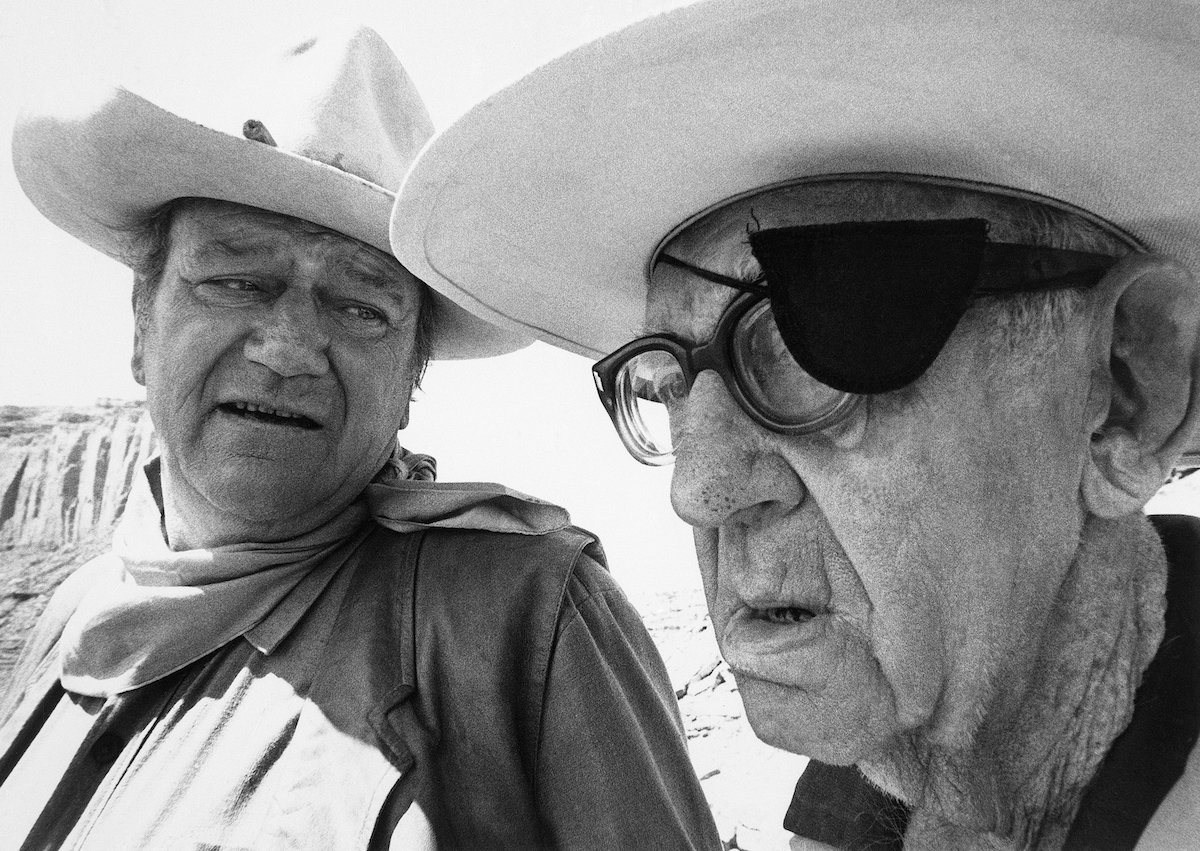 Paramount Home Entertainment is releasing The Man Who Shot Liberty Valance on 4K UHD on May 17. Showbiz Cheat Sheet got an early copy. When we reviewed the bonus features, we discovered this gem of a story about Wayne and Ford.
John Wayne's mentor John Ford was near the end of his career
John Ford was much older than John Wayne. Ford was born in 1894 and has credits dating back to 1917. Wayne was born in 1907, but it was Ford's Stagecoach that was his breakthrough. By the time they made the 1962 Man Who Shot Liberty Valance together, Ford was struggling a bit. Ford biographer Scott Eyman told the story.
"During the production of Liberty Valance, Wayne was going to be given an award and he asked Ford to present it to him," Eyman said. "Ford was announced to go introduce Wayne and he came up a couple steps to the dais and stumbled over one of the steps and slid right back down the dais. He recovered. He didn't actually fall down, he got ahold of himself and went back up the steps and introduced Wayne."
John Wayne took one for his mentor
Wayne observed Ford's stumble and came up with a plan to make it look like Ford meant to do that. It only meant that Wayne would take the same stumble. 
"As Wayne came up the steps to the dais, he also stumbled over the same step on purpose, slid all the way back down," Eyman said. "The audience laughed thinking it was a setup between the two men. Then he came right back up and accepted the award."
A potential embarrassment turned into a crowd-pleaser
By the time they were filming The Man Who Shot Liberty Valance together, Ford and Wayne had been collaborators for 23 years beginning with 1939's Stagecoach. Ford would continue to direct until 1966. He died in 1973 and had one more documentary release in 1973. Wayne had another prolific decade ahead of him and would make his last movie, The Shootist, in 1976 before his death in 1979. Eyman said Wayne made up the stumbling bit that night just to make Ford look better.
"Actually, it hadn't been a setup," Eyman said. "Wayne had done it to make it look like a setup so it wouldn't look like Jack, his mentor, his father figure, the man he loved more than anybody on Earth, he didn't want him to look bad in front of an audience."