How Johnny Carson Played a Part in Giving Kermit the Frog His Full Name
When Jim Henson first designed the puppet he called Kermit, the creature lacked definition and was actually a bit more lizard-ish. But throughout his evolution, he eventually developed into a banjo-playing, swamp-dwelling frog. In looking back over the history of the icon, Tonight Show host, Johnny Carson, is said to be one of the first to call him "Kermit the Frog," solidifying the identity fans of the Muppets have known and loved for more than 50 years.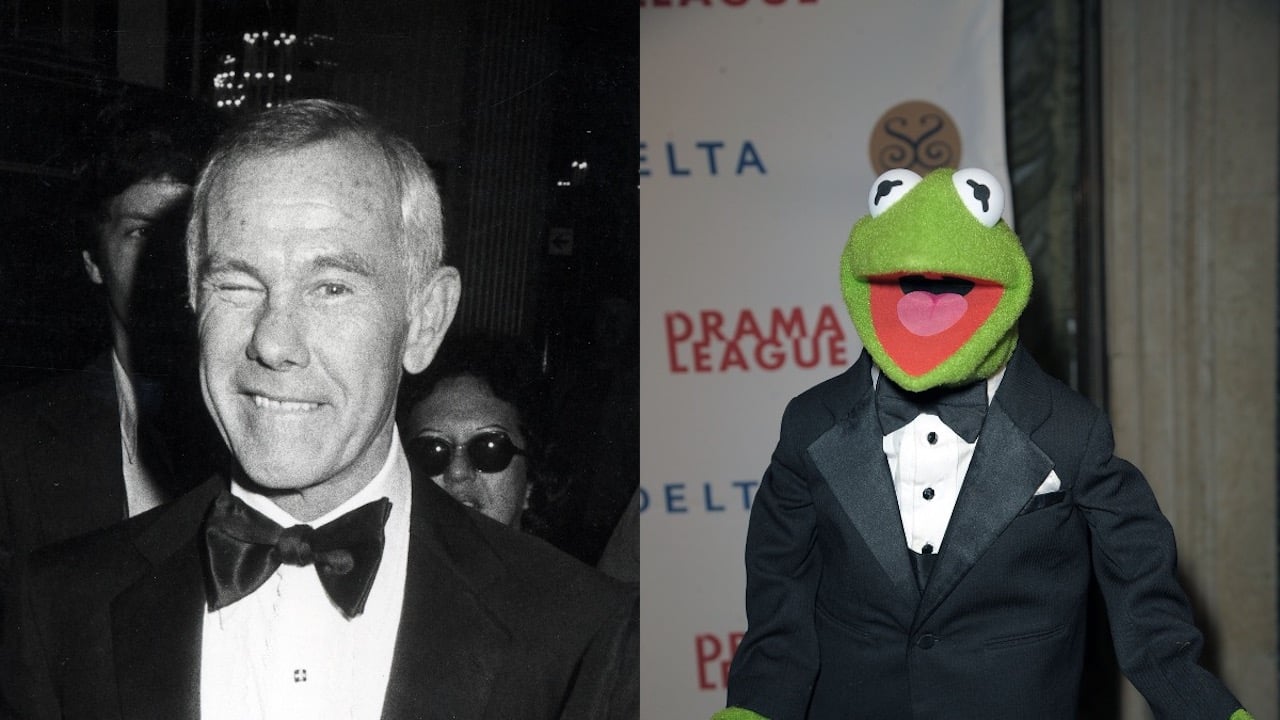 Kermit debuted in 1955 for Jim Henson's 'Sam and Friends'
According to the Smithsonian's National Museum of American History, Henson created Kermit in 1955 for a show called Sam and Friends. He was originally designed as an alter ego to Henson to promote self-acceptance. It's not that easy being green, you know?
The original puppet was made from old clothes belonging to Henson and his mother, as well as ping pong balls for eyes. Henson didn't use stuffing in Kermit's head, so the movement of the puppeteer's fingers created what looked like facial expressions.
In those earliest years, Kermit was considered to be a bit closer to lizard than frog. But the puppet went through some changes. And though Sam and Friends only aired through 1961, Kermit eventually became part of Sesame Street before he moved on to become the timeless star of the Muppets.
Johnny Carson was one of the first to add 'the Frog' to Kermit's name
On The Tonight Show in 1965, Carson invited Henson to perform sketches with the Muppets. It wasn't their first time there, as the host mentioned while announcing them. However, when he introduced "Kermit the Frog" for his sketch, it was one of the first known references to the puppet by that name per multiple fan blogs like this one.
After watching Henson's hilarious performance, Carson remarked, "That's one of the cleverest things I've seen in a long time. They do a great thing."
It was around that point that Kermit was no longer seen as an undefined, lizard-like puppet. He was officially a frog and he had Carson's approval, which was the branding of a superstar. When Henson visited The Tonight Show in 1976, the iconic host essentially requested an interview with Kermit, noting the puppeteer's amazing talent. He said it felt like he was really interviewing a talking frog.
'Johnny Carson and the Muppet Machine'
In the late '60s, Henson and a collaborator had an idea to include Carson in a Muppets television special. The gist of the story was he would find himself trapped in a machine with lots of zany Muppets — including some who groaned in pain when he told bad jokes.
"Johnny Carson and the Muppet Machine" was a project that unfortunately never came to be but existed in Henson's sketches. A book called Jim Henson's Designs and Doodles features his artwork, including storyboards for the proposed special.
As the story goes, Carson wasn't interested. But he always seemed to appreciate Henson and the Muppets despite not taking part in that project. He invited them to guest host The Tonight Show to promote The Muppet Movie. And he also performed a hilariously flirtatious interview with Miss Piggy to promote their movie, Muppets in Manhattan.
RELATED: Johnny Carson Was a 'Renaissance Overachiever' According to Ed McMahon