Johnny Cash's Mother Was Floored When She Heard Him Sing at 17 Years Old
Johnny Cash was blessed with perhaps the most distinctive voice in country music history. If he doesn't top the list, then he's at least near the apex with Willie Nelson and Dolly Parton (who once had a crush on him). Cash's mother invoked God's name and spoke seven prophetic words when she heard him sing at 17 years old.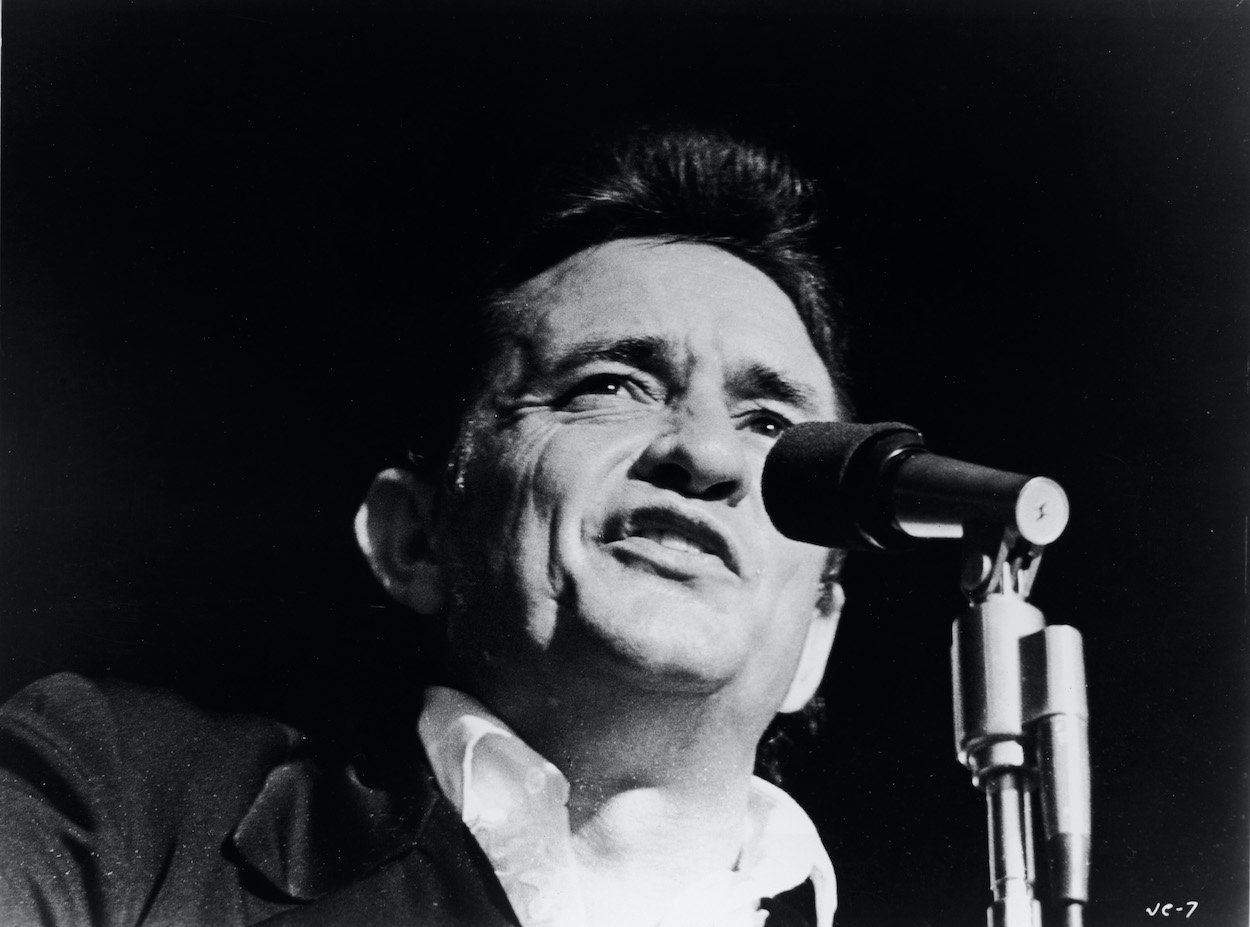 Johnny Cash worked two terrible jobs and served in the Air Force before becoming a country music star
A young Cash helped work his family's cotton farm, where he spent his days singing gospel tunes and traditional folk songs. He'd tune his radio to big-city stations at night as they piped blues music and the Grand Ole Opry to his rural Arkansas home.
He dreamed of becoming a musician at a young age, but he didn't walk a straight line to get there. Cash worked two terrible jobs — on an auto assembly line and at a margarine factory — that were somehow worse than picking cotton. He didn't last at either one. 
Cash's four-year stint in the Air Force (starting in 1950( went better. He formed his first band in the service — something he had in common with Jimi Hendrix, the electric guitar maestro who was 10 years younger than him. Yet before he enlisted in the military, Cash's mother predicted his future success in just seven words.
Cash's mother predicted his future success in just seven words: 'You're going to be a well-known singer'
It's hard to imagine Cash singing in any register other than his silky, deep-rooted baritone, but he wasn't born with that singing voice. He had to wait a while to acquire his signature sound.
In 1949, a year before he joined the Air Force, his voice finally shifted to the one music fans came to know and love. The first time Cash's mother heard him sing with it, she invoked God's name and predicted his future in just seven words (per Johnny Cash: The Life and Legacy of the Man in Black author Alan Light):
"When I was seventeen years old, and my mother heard me sing for the first time after my voice had dropped, she said, 'God's hand is on you, you're going to be a well-known singer.' I knew it myself."

Johnny Cash quotes his mother, who predicted his singing career when he was 17
Cash didn't have to wait all that long to find success. A little over two years after the Air Force discharged him, he joined Elvis Presley, Carl Perkins, and Jerry Lee Lewis for an impromptu recording session in December 1956. That came after he released a pair of singles in 1955. 
By 1958, he had five Billboard Hot Country Songs hits, four of which — "The Ways of a Woman in Love," "All Over Again," "You're the Nearest Thing to Heaven," and "What Do I Care," — were top-10 hits. That was just the tip of the iceberg.
The Man in Black was a hit machine throughout his career
He had a broad appeal that reached non-country fans, but the only Cash album to top the Billboard albums chart was 1969's At San Quentin. It spent 70 weeks on the Billboard 200 chart and four weeks standing at the top soon after its June release. His success was more pronounced on the country charts.
Cash saw 119 songs make the Billboard Hot Country Songs chart across his six-decade career. Nine reached No. 1, including "Ring of Fire" and the gospel-tinged "Daddy Sang Bass." He had an incredible 33 top-10 albums on the country charts, with 11 reaching No. 1.
Looking back at his career, Johnny Cash's mother was right about her son's future. She predicted he'd be a well-known singer, and his decades of success prove her foresight was 20-20.
For more on the entertainment world and exclusive interviews, subscribe to Showbiz Cheat Sheet's YouTube channel.