Johnny Cash Struggled Through 35 Takes While Recording His 1st Hit Single
It didn't take Johnny Cash long to become an established country music artist. He begged Sun Records founder Sam Phillips for a chance to record, Phillips soon relented, and his first single included a B-side that was a modest hit. The biggest hiccup was that Cash struggled through more than 35 takes to record the tune that helped him take the first step toward leaving behind his first two terrible jobs forever.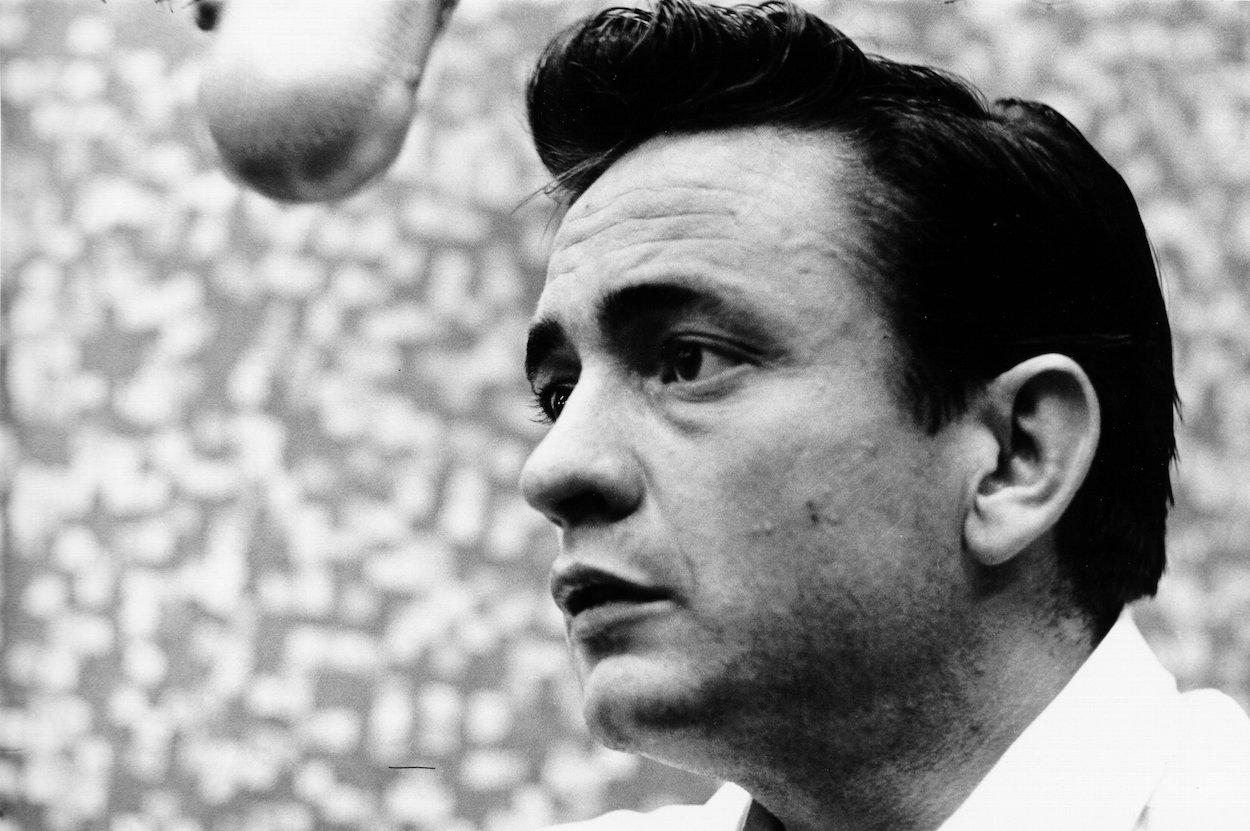 Johnny Cash found success with one of his first songs
Cash served in the Air Force from 1950 until 1954. He formed his first band while he was in the military, which was something he and Jimi Hendrix had in common. Cash moved to Memphis, Tenn., when the Air Force discharged him and initially sold appliances as a full-time job. 
But Cash, who always dreamed of being a musician, had his sights set on that goal. Phillips turned him away after his first audition, but Cash won over the Sun Records chief with his persistence and his song "Hey Porter," which he originally wrote when he was in the Air Force. 
Phillips wanted to release "Hey Porter" as a Sun single, which meant it needed a song for the B-side. Cash and his band struggled through more than 35 takes to record that song, which became their first hit.
Cash struggled through more than 35 takes on 'Cry! Cry! Cry!' but it led to one part of his signature sound
Phillips liked "Hey Porter" enough to make it Cash's first single in 1955. That meant it needed a B-side. Cash had to write a new song.
As Alan Light writes in Johnny Cash: The Life and Legacy of the Man in Black, Cash returned with "Cry! Cry! Cry" a few weeks later. The finished version of "Hey Porter" came together quickly, but the B-side was a different story. Cash and his bandmates struggled with the musical break in the middle of the song, per Light:
"'Cry! Cry! Cry!' met Phillips's standards, but it still took no fewer than 35 takes to get the recording he wanted. [Luther] Perkins was struggling with the guitar break Cash had asked for, until eventually they decided to scrap it and just stick with the chordal playing."
When Perkins couldn't come up with a guitar fill for the musical break just over one minute into the song, Cash decided to have the band continue playing a variation of the song's main chords. The chugging progression spotlighted what came to be known as Cash's signature boom-chicka-boom sound that defined his sound. 
"Hey Porter" barely registered with country music fans, but "Cry! Cry! Cry!" became a hit and one of Cash's signature songs. It performed reasonably well on the country hit parade, per the Sun Records website, and Light writes that it climbed as high as No. 14 on the charts.
The boom-chicka-boom sound came through on several early songs
Cash's boom-chicka-boom sound came to the masses when "Cry! Cry! Cry" found success after struggling through more than 35 takes. That wasn't the only early tune that used that approach.
Cash songs such as "Get Rhythm," "Luther Played the Boogie," "Folsom Prison Blues," and "I Walk the Line," which he wrote in just 20 minutes, also employed the chugging sound that "Cry! Cry! Cry!" made famous.
Johnny Cash struggled to record the first hit of his career, but it was worth it in the end. The musical interlude spotlighted his signature sound that became prevalent on the earliest songs of his lengthy and legendary career.
For more on the entertainment world and exclusive interviews, subscribe to Showbiz Cheat Sheet's YouTube channel.