Johnny Cash Was Arrested 7 Times — Here's Why
When he died in 2003, Johnny Cash left behind a hole in the musical world that will likely never be refilled. The singer's rough-and-tumble reputation helped seal his spot in country music history, but his influence transcended the genre and continues to make an impact on artists across the musical world. 
It might not surprise anyone to hear that Cash had some trouble with the law. After all, one of his most famous albums was recorded in a prison! However, fans might not know that Cash was arrested more than half a dozen times — and maybe not for the reasons they expect. 
Johnny Cash rose from a humble background 
Born in 1932 in Arkansas, Cash's childhood was marked by his family's status as sharecroppers and his mother's devout devotion to the Pentecostal church. According to Biography.com, Cash started writing songs when he was just 12 years old, and his mother managed to get together enough money to help nurture her son's passion with singing lessons.
The teacher, however, urged Cash to stop lessons after just three sessions, insisting that his natural voice — with its raw, emotional quality — was the best tool he had. After graduating high school in 1950, Cash found his way to Michigan and worked briefly in an auto body plant before enlisting in the Air Force.
After he was discharged, he married his first wife, Vivian, and began to work as a mechanic. He and some co-workers formed a band, and Cash — strumming the guitar — quickly became its frontman.
In 1954, Cash and two of his band members showed up at Sun Records and managed to coax their way into an audition. Eventually, that work gave way to Johnny Cash and the Tennessee Two and some hits that laid the foundation for Cash's fame. 
Johnny Cash became a musical legend 
Eventually, Cash went on to have an extremely successful musical career. By the 1960s, he had relocated to California and was traveling almost every night of the year with his group then known as the Tennessee Three.
His wife, frustrated with being left alone to raise their children, filed for divorce in 1966. Whether in the midst of his own personal spiral or the spark of one, the divorce saw Cash's personal life taking a serious nosedive. He went on a drug binge and started a forest fire.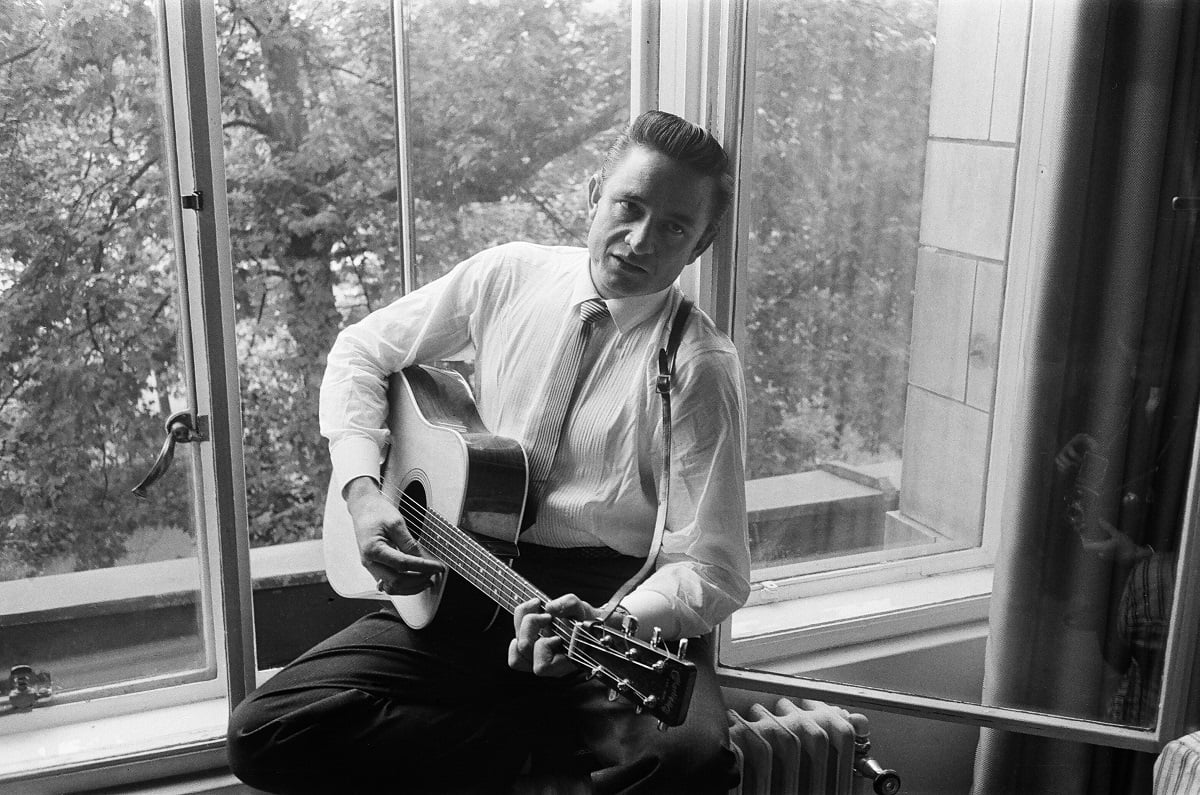 These missteps wreaked havoc on Cash's own personal physical and mental health, but they also helped add to his public persona. Cash had a reputation as a bad boy who answered to no one, and his actions — however destructive — helped solidify it.
It wasn't until he married June Carter and refocused on his faith that Cash was able to pull himself out of the spiral and renew his career. Beginning in 1969, that resurgence was started in earnest. Winning two Grammy awards for his album Johnny Cash at Folsom Prison certainly didn't hurt. When it was all said and done, Cash left behind a sprawling legacy of music over decades. 
Multiple arrests are in Johnny Cash's history 
As might be expected with a past that checkered, Cash's history includes some run-ins with the law. As Biography.com reports, Cash was arrested seven times over the course of his life.
Between 1959 and 1968 — prior to his resurgence with June Carter by his side — Cash was arrested for public drunkenness, reckless driving, and drug possession. One of the more interesting arrests on his record includes getting booked for picking flowers. On a drunken binge in a small town, he was caught in the middle of the night picking flowers out of someone's yard. 
While Cash definitely has a reputation as a bad boy and more than his fair share of nights in the jailhouse, he never spent any significant time behind bars. Cash never faced a prison sentence and managed to keep rolling forward through his brief legal dust-ups.