Johnny Depp Called Keira Knightley Kiss in 'Pirates of the Caribbean' 'Unbelievably Awkward'
The Pirates of the Caribbean franchise is one of Disney's most successful efforts, drawing billions of dollars at the global box office and a deeply loyal fanbase.
Beginning with 2003's The Curse of the Black Pearl, the films have mostly followed Captain Jack Sparrow, Will Turner, and Elizabeth Swann as they embark on journeys with a sort of love triangle developing between them.
In a past interview, Johnny Depp (Captain Jack Sparrow) spoke about his experiences on set. When specifically asked about his kissing scene with Keira Knightley (Swann), Depp confessed it was "unbelievably awkward" for him. Here's the reason why.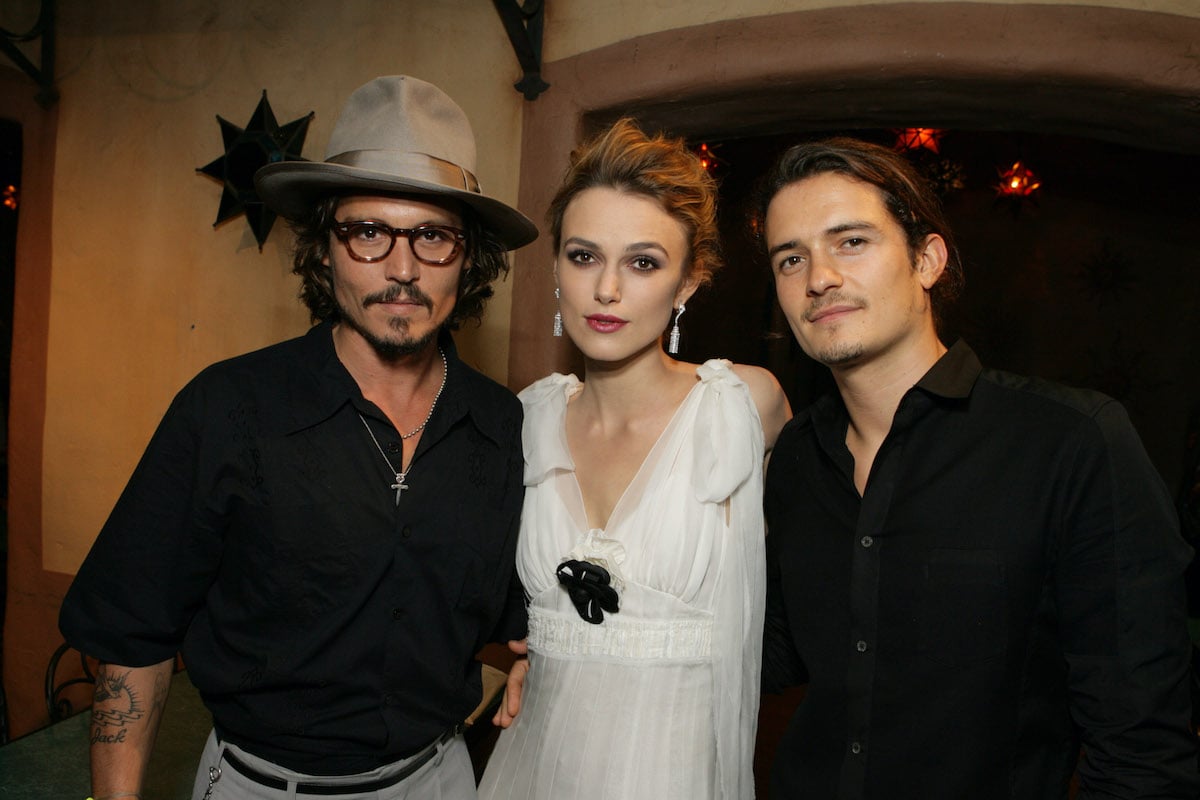 Looking back at Johnny Depp and Keira Knightley's kiss in 'Pirates of the Caribbean'
Viewers know Swann was deeply in love with Turner (Orlando Bloom). But throughout the franchise, she repeatedly found herself in flirty situations with Jack.
After lots of build-up, she and Jack finally kissed in the second film, 2006's Dead Man's Chest. But not in the way you think. It turned out that Swann only did it to distract him so that she could handcuff him to the ship and abandon him. Later, she married Turner and had his child.
RELATED: Johnny Depp Improvised a Hilarious Scene in the 'Pirates of the Caribbean' Franchise: 'I've Got a Jar of Dirt'
What Johnny Depp said about kissing Keira Knightley
Ahead of the release of Dead Man's Chest, TMZ caught up with Depp to question him about the film. Speaking on love scenes, Depp admitted it's always uncomfortable to lock lips with another actor. But he said his kiss with Knightley was even more so because he'd known her since she was a teenager.
"Any kind of scene like that whenever you're doing that sort of thing, it's always unbelievably awkward especially having met Keira when she was 17 years old," he told the outlet. (Knightley was 17 when she appeared in the first film.)
"But regardless of that it's always awkward so you kind of just making light of it; she was a good sport and we just kind of did what we had to do, that's the gig," he continued.
RELATED: Did Johnny Depp Date His 'Pirates of the Caribbean' Co-Star Keira Knightley?
Keira Knightley didn't seem to share the same view
For her part, Knightley seemed to love smooching Depp. In that same TMZ interview, she confessed, "I couldn't ask for a better kissing scene with Johnny Depp actually, I think my 14-year-old self was yelping with pleasure. It was fantastic! What more can a girl ask for? I've got Johnny Depp and Orlando Bloom and I get to kiss both of them. It's wonderful!"
When later asked to name the person she enjoyed kissing most in the movies, she even appeared to rank Depp over Bloom, telling InStyle: "Johnny Depp certainly wasn't bad."
Oof. Well, the good thing is that, regardless of their conflicting experiences, they were able to pull off their scenes perfectly.