Johnny Depp Was Gifted a Vintage Corvette by Director Bruce Robinson
Despite being best known for portraying Captain Jack Sparrow in the 'Pirates of the Caribbean' franchise, Johnny Depp was one of the most famous actors in the 90s. Depp had many great roles in the 90s, but one of his best ones was as Raoul Duke in Fear and Loathing in Las Vegas.
What some people don't know is that Fear and Loathing in Las Vegas was written by Hunter S. Thompson, and that he wrote Raoul Duke based on himself. This was one of the first collaborations between the two men that would eventually lead to Johnny Depp receiving a vintage Corvette as a gift.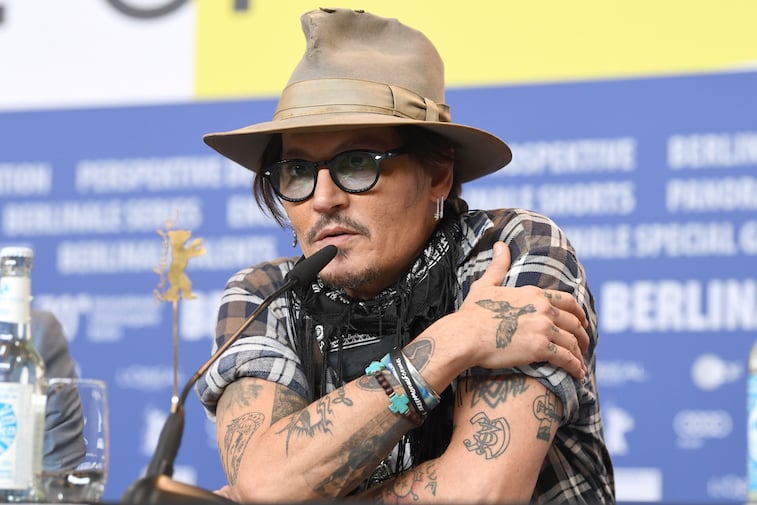 Johnny Depp and Hunter S. Thompson's friendship
Depp and Thompson first met in 1994, back when Depp was in his early 30s and Thompson in his late 50s. Despite the age difference, the two men connected quickly due to what they had in common. Both men were born in Kentucky and both men had a love of literature.
This would be the start of a friendship that would last a long time. In fact, according to Newsweek, while preparing to shoot Fear and Loathing in Las Vegas, Depp moved in with Thompson to study him as a person. 
Indeed, when Thompson died by suicide in 2005, Depp was devastated. That said, Depp knew that Thompson wanted his ashes to get shot out of a cannon. As Newsweek reported, Depp said that, "Jesus Christ, we've got to build this 150-foot cannon to shoot him into the stratosphere. I think Hunter knew that I was the only one dumb enough to take it on."
And, with a $3 million price tag and many Hollywood stars in attendance, that's what Depp did for his friend.
Johnny Depp in 'The Rum Diaries'
In 2011, Depp's movie, 'The Rum Diaries' came out in theaters. It was directed by Bruce Robinson and it was based on the novel of the same name, which was written by Thompson. Just like the character of Raoul Duke, Depp played the character Paul Kemp, which is also loosely based on Thompson.
For reference, Thompson wrote The Rum Diaries back in the 60s, and he wrote 'Fear and Loathing in Las Vegas' in the 70s.
This resulted in Depp portraying Paul Kemp differently than Raoul Duke. According to Newsweek, Depp said that, "Raoul Duke is the fully realized Hunter Thompson, and this character, Paul Kemp, is the Hunter teetering on locating that voice, pre-Gonzo."
The movie itself is exactly as Depp described it to Newsweek. Paul Kemp is a struggling journalist who's trying to find his voice and become the writer that he knows he can be. 
This movie was a passion project for Depp, as it was a way for him to work with Thompson even after Thompson's death. That said, despite the love and care that went into the film, critics and audiences didn't really like it.
It wasn't as successful as Fear and Loathing in Las Vegas. But, at the very least, it's currently available on Netflix for Depp or Thompson fans.
Johnny Depp's 1959 Corvette
Regardless, the director knew how important the film was to Depp, and so, he decided to give Depp a gift after they were done with filming. According to Motor Authority, after they had finished filming, Robinson gave Depp the 1959 Corvette that was used in the movie.
Depp said that he was "blown away" by the gift. This Corvette, while it was vintage, was obviously restored for the film as the movie took place in the 60s. As a result, it's only estimated to be worth about $50,000 or so, which is about average for the car.
That said, it carries a lot more value in terms of sentiment.