JoJo Siwa Credits Abby Lee Miller for Maddie Ziegler's Career
When it comes to Dance Moms alums, JoJo Siwa and Maddie Ziegler (alongside Chloé Lukasiak) have had the most successful careers in entertainment thus far. Following her tenure on the show, Siwa went on to become a famous popstar and YouTuber. The 17-year-old is now a multimillionaire and has a brand deal with Nickelodeon. Ziegler, …
When it comes to Dance Moms alums, JoJo Siwa and Maddie Ziegler (alongside Chloé Lukasiak) have had the most successful careers in entertainment thus far. Following her tenure on the show, Siwa went on to become a famous popstar and YouTuber. The 17-year-old is now a multimillionaire and has a brand deal with Nickelodeon. Ziegler, on the other hand, has continued dancing for Sia, writing books, judging TV shows, and building on her acting career.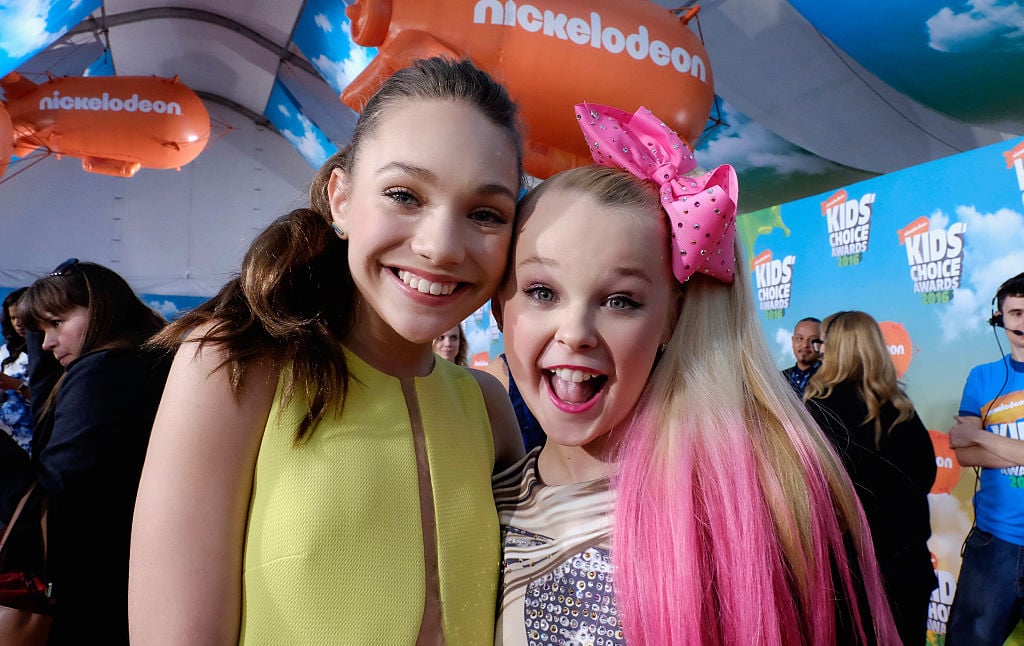 Maddie Ziegler and JoJo Siwa had drastically different 'Dance Moms' experiences
Siwa snd Ziegler certainly differ in a lot of ways. But, one of the biggest ways they differ is the way they describe their tenure on Dance Moms. Though the dancers both left the series in the show's sixth season, they had wildly different experiences. Ziegler was an original member of the ALDC Junior Elite Competition Team. She was present from the very first episode of the show and she was undoubtedly Miller's favorite dancer on the team.
Ziegler is no longer in contact with Abby Lee Miller
Siwa, on the other hand, was invited to dance with the team as a guest during season 5 of Dance Moms. The 17-year-old was certainly not one of Miller's favorites, and she had to work hard to get herself onto the team. Ultimately, both Siwa and Ziegler left the show to pursue other opportunities. But, while Siwa misses the show every day and remembers Dance Moms fondly, Ziegler doesn't share that experience. She has referred to her time on the show as terrible and no longer has any contact with Miller.
Siwa, on the other hand, still talks to Miller consistently. In fact, she was the only dancer to return as a guest star on Dance Moms Season 8. In a recent interview with Us Weekly, the 17-year-old YouTuber even confessed that she talks to Miller more than any of her other former castmates. "I actually talk to Abby the most out of anybody from the show. She's great. I think Abby got hurt by a lot of people and it's really, really, really sad that a lot of the people don't talk to her anymore," Siwa shared.
Siwa defends Miller's character
The Masked Singer alum continued on to share that Miller is actually a good person despite how she is depicted on Dance Moms. She then stated that she had Miller to thank for her current success. Taking it further, she also shared that Ziegler and the rest of her castmates owe a large part of their success to Miller.
"It's just sad because Abby really is a good person. Even though you see her yelling and screaming at children on TV, like Abby made seven stars. I wouldn't be doing this if it wasn't for her. Maddie and Mackenzie [Ziegler] wouldn't be where they are today without Abby," Siwa stated.
Siwa credits Miller for making her fellow 'Dance Moms' alums stars
Siwa then shared that Dance Moms wouldn't have been as successful without Miller's influence. "Dance Moms would not have been the same without Abby. You either love her or you hate her. That's just how it works. But for me, I just can't hate somebody. It's sad. You don't need to give her the credit for everything, but you also can be a human and have a little bit of sympathy. She's gone through it in these last years, and she doesn't have that many people," Siwa concluded, likely referencing Miller serving jail time and her cancer diagnosis.
It's great that Siwa still has a relationship with Miller. However, we can't fault Ziegler for her decision to cut off contact with Miller. Ziegler was there a lot longer and probably experienced some trauma that nobody (even Siwa) is privy to. Furthermore, as much as Miller helped Ziegler's career, Ziegler helped Miller's career as well. As Miller has announced that she's done with Dance Moms, it'll be interesting to see what she does next.