JoJo Siwa Celebrates Her Birthday; Will Her New Age Affect Her Image?
It's a new age for YouTuber and popstar JoJo Siwa. Today, May 19, 2020, marks another birthday for the Dance Moms alum. Thanks to the coronavirus (COVID-19) pandemic, Siwa isn't able to have a huge blowout like she's done in the past. But, the "Boomerang" singer seems to be in good spirits regardless. Just last night, she went viral after she ditched her traditional high-ponytail in favor of a more casual hairstyle in a TikTok video.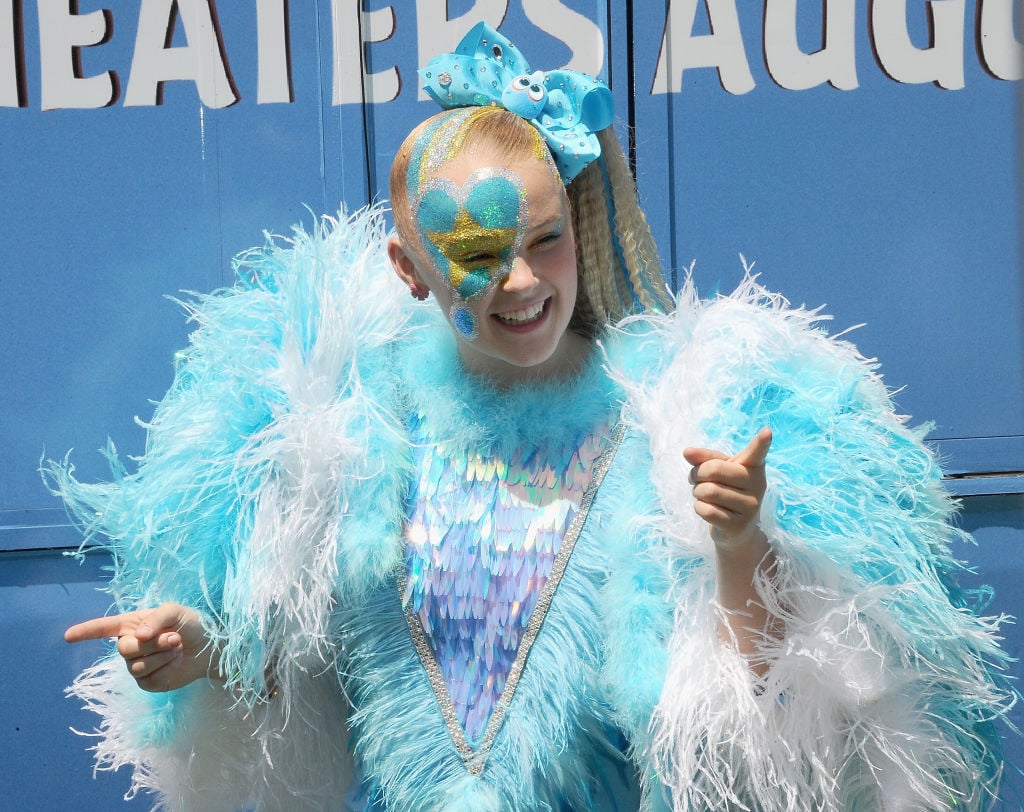 What is JoJo Siwa's age?
In the aforementioned TikTok video, Siwa completed the "Wipe It Down" challenge. Siwa started the video off sporting her trademark high ponytail, complete with a huge bow and a sparkly outfit. Siwa wipes the mirror down and transforms into a more casual version of herself. Sporting a t-shirt, Siwa grins, now wearing her hair down. "IT'S MY BIRTHDAY TOMORROW," Siwa captioned the video, referencing her reaching a new age and celebrating her 17th birthday.
Siwa may be in quarantine, but that isn't stopping her from celebrating her new age. Already, she has posted quite a few videos online which feature her dressed up surrounded by a huge, celebratory balloon display. But, Siwa's birthday has also caused people to point out that her contract with Nickelodeon is ending soon.
How are people reacting to the 'Dance Moms' alum's birthday?
This news about Siwa's contract has left people speculating that Siwa will rebrand soon and not everyone is on board with that rumor. After literally letting her hair down just once, Siwa is getting messages from fans and parents that are urging her to ensure that her brand remains age-appropriate for their young children despite the fact that she's growing up. Many people following Siwa's career feel that she receives far too much pressure regarding her unique image. It seems she's constantly being asked to change it (and grow up) or maintain it (and potentially stunt her growth).
"I already saw a Dad on Twitter asking her not to abandon her characters because his daughters would be 'devastated.' He wasn't rude or anything, but geez — I can't imagine being 17 and still having that character. Although it's making her way more $$$ than I'll ever see so I'm not one to judge. I just hope she's doing what she wants to do. That age can be tough when so many people are applying their own views on you," one person on Oh No They Didn't wrote about Siwa.
What will Siwa do when her contract is up?
Other people expressed concern for Siwa and what would happen with her career once she reached legal age. Often, when child stars are finally released from their contracts, they tend to express themselves in a way that is in direct contrast with the character they previously played. This often sparks outrage amongst the parents of the star's young fans. One good example of this is the backlash Miley Cyrus received following her Hannah Montana days.
Though we have no idea if Siwa is planning to rebrand, we hope that she does what's best for her and her career. Part of being famous means that one is constantly under intense scrutiny and receives load of criticism for everything they do. Hopefully, the Dance Moms alum can ignore the naysayers and do what feels right to her.