JoJo Siwa Has an Incredible Net Worth, Especially Given Her Age
JoJo Siwa may receive a lot of hate on the internet, but it's clear that she's been laughing all the way to the bank. Born on May 19, 2003, Siwa's net worth is pretty incredible. But how did she manage to make so much money at such a young age, and what is the secret to her success?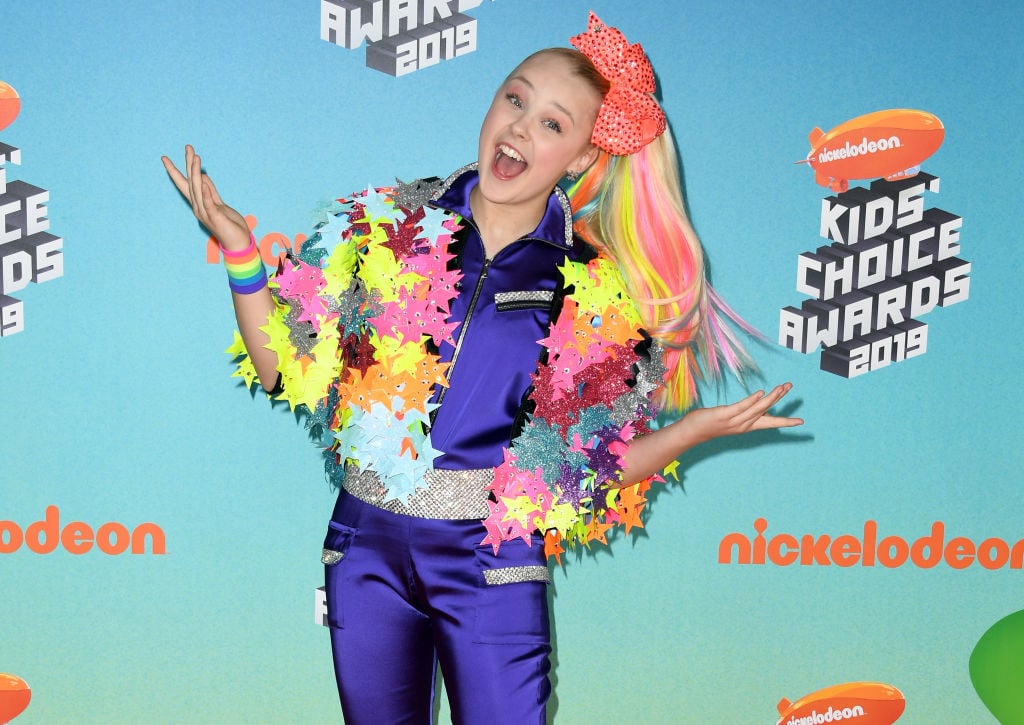 JoJo Siwa began building her net worth on 'Dance Moms' at a young age
Prior to being known as a world-famous popstar, Siwa was making a name for herself in the dance community. Siwa first appeared on the second season of Abby's Ultimate Dance Competition, which was a spinoff of the extremely popular show, Dance Moms. Siwa managed to capture the attention of Abby Lee Miller and eventually fought for a spot on Dance Moms. As a series regular on the show, Siwa slowly began increasing her net worth.
The 'Boomerang' singer smartly partnered with Nickelodeon
During her tenure on Dance Moms, Siwa also launched her music career. Her music videos "Boomerang" and "Kid in a Candy Store" allowed her to began flexing her popstar muscles before quitting the show. There was plenty of speculation as to why Siwa left Dance Moms. But ultimately, it came down to Siwa having better opportunities elsewhere. One of the biggest opportunities came from her partnership with Nickelodeon.
In 2017, Siwa signed with Nickelodeon. Through this partnership, she bolstered her net worth by starring in the film Blurt! Furthermore, she also starred alongside Nick Cannon in Lip Sync Battle Shorties. Through her partnership with Nickeloden, Siwa also released her own merchandise, like her infamous bows, and grew her fan base exponentially.
Finding success on YouTube
Throughout all this, Siwa was also building herself a personal brand on YouTube, which also is a contributing factor to her impressive net worth. Siwa has built characters for the video platform and shared details about her personal life through YouTube. To date, Siwa boasts over 12.3 million subscribers on the popular platform. Her aforementioned Boomerang video boasts an astronomical 944 million views. Meanwhile, her video of her babysitting Kim Kardashian West's oldest child, North West, has racked up 45 million views to date.
Siwa makes tons of money on tour
Siwa has also toured around the world, selling out and performing in massive stadiums. Her loyal fans, often called Siwanatorz, are enamored with her unique rainbow style, over-the-top persona, and her anti-bullying ethos. Though her most recent tour was put on hold due to the coronavirus (COVID-19) pandemic, that hasn't slowed the Dance Moms alum down at all. Siwa opted to build a massive stage in her own backyard in order to perform for fans on Instagram live.
The singer did her first concert live from her house
"WORLD WIDE LIVE!🌏🌟 I decided it's time to do this right, it's time to put on a real true performance," Siwa announced. "Get ready…. My FIRST performance from my stage in my backyard will be LIVE on my Youtube channel MAY 1st at 12:00PST!! plus, the full "Building a stage in my backyard" video will be up on wednesday so you can see what it took to pull this off. it was a lot of hard work getting here, but this performance will make it all worth it!!🌏🌟 LET THE COUNTDOWN TILL FRIDAY BEGIN!!"
What is Siwa's net worth in 2021?
Siwa's fans are definitely tuned in to her latest venture. Her first Instagram live performance manage to rake in a whopping 50,000 viewers. Many people may not understand Siwa or her brand, but it's clear that she knows what she's doing and it's working for her. To date, Siwa has a net worth of $20 million according to Celebrity Net Worth, and we're sure she'll continue building upon that. We're interested to see what Siwa will do to ensure her brand has longevity. But, for now, we have to give her props for what she's already managed to accomplish at such a young age.