Jon Bon Jovi's Net Worth and Why He's Performing at Joe Biden's Inauguration
Find out why Bon Jovi is performing at Joe Biden's inauguration and what Jon Bon Jovi's net worth is.
On Jan. 20, 2021, music icons like Justin Timberlake, Lady Gaga, and Bon Jovi will take part in the ceremony to swear in the 46th president of the United States. Find out why New Jersey rock band Bon Jovi will perform at the inauguration of Joe Biden and Kamala Harris and how much Jon Bon Jovi is worth.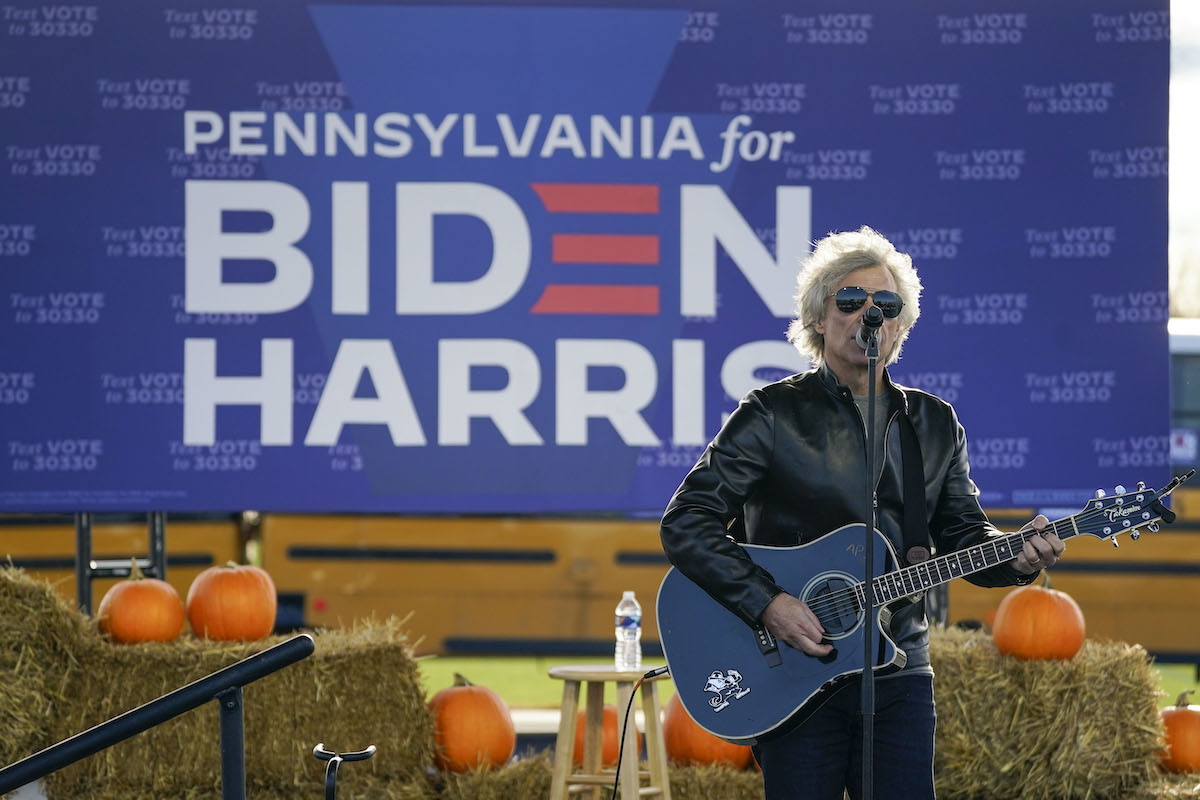 Jon Bon Jovi is a rock star and activist 
John Francis Bongiovi Jr. was born on Mar. 2, 1962 in New Jersey to Carol and John Bongiovi. From an early age, Bon Jovi knew he wanted to be a rockstar. 
Before forming the world-renowned band Bon Jovi, the rocker performed in various bands including Raze, The Rest, The Lechers, and Atlantic City Expressway. Later, he was part of a band called John Bongiovi and the Wild Ones. 
In 1983, the band Bon Jovi was born thanks to record executive Derek Schulman, who anglicized Bongiovi's name. Their debut album Bon Jovi was released the following year. 
As he rose to fame, Bon Jovi began using his platform to raise awareness around poverty, homelessness, and hunger. In 2006, he founded the Jon Bon Jovi Soul Foundation, an organization that seeks to "break the cycle of poverty, hunger, and homelessness through developing partnerships, creating programs and providing grant funding to community benefit organizations."
Bon Jovi has been writing socially conscious music for decades 
During a September 2020 interview with USA Today, Bon Jovi talked about his previously released songs that cover hot button social issues. 
"Typically, I'll have one or two songs that are socially conscious," the rocker began. "Whether it was 'Keep the Faith' (1992), 'Dry County' (1992), or 'Runaway' (1981). Social consciousness was something I was aware of but wasn't making a career of." 
Now, Bon Jovi has an entire album dedicated to social consciousness. The band's 15th studio album 2020 came out last October and features songs like "Lower the Flag" and "American Reckoning," each of which addresses a major societal issues.
Bon Jovi's 2020 album is part of the reason they will perform at the 2021 inauguration ceremony.
Jon Bon Jovi will perform at Joe Biden's inauguration
On Jan. 20, 2021, Biden and Harris will be sworn into office. The ceremony is set to go on despite the coronavirus (COVID-19) pandemic and the heightened security concerns after protestors breached the capitol on Jan. 6, 2021. Bon Jovi has supported the Biden/Harris campaign thus far — a trend that will continue on inauguration day.
"It's my belief that [Biden] understands a wide spectrum of Americans' feelings, needs and hopes," Bon Jovi said during his USA Today interview. "I also think that experience matters — I thought it mattered last time. And relations with allies (matter) because none of us is an island." 
Why is Bon Jovi performing at Joe Biden's inauguration? 
Previous inaugurations have leveraged pop culture icons to set the mood of the new administration. As reported by the New York Times, the performers at Biden's inauguration will help drive home Biden's theme of "America United." Bon Jovi's latest album release drives that message home. 
Jon Bon Jovi's net worth is $410 million 
Considering all of Bon Jovi's revenue streams, his net worth of over $400 million is unsurprising. According to Celebrity Net Worth, the Bon Jovi frontman is worth $410 million in 2021. In a given touring year, the band can earn $135 million, with Bon Jovi taking home $40 million personally, as reported by the outlet.