Jon Hamm's Wax Figure Sold Booze and Steaks in New York
An iconic New York City steakhouse partnered with Madame Tussauds to cart Jon Hamm's likeness in to sell cocktails and beef to guests. It also wheeled in wax figures of other big names, like Audrey Hepburn, too.
When the pandemic rocked the world, one restaurant used celebrity wax figures to lure guests for a nice evening with their favorite stars — no social distancing required. Not only did one of New York City's most popular steakhouses partner with Madame Tussauds to cart Mad Men star Jon Hamm's likeness in to sell cocktails and beef to guests. But it also wheeled in wax figures of other big names, like Audrey Hepburn and Jimmy Fallon.
Jon Hamm boasts over 100 acting credits since 1997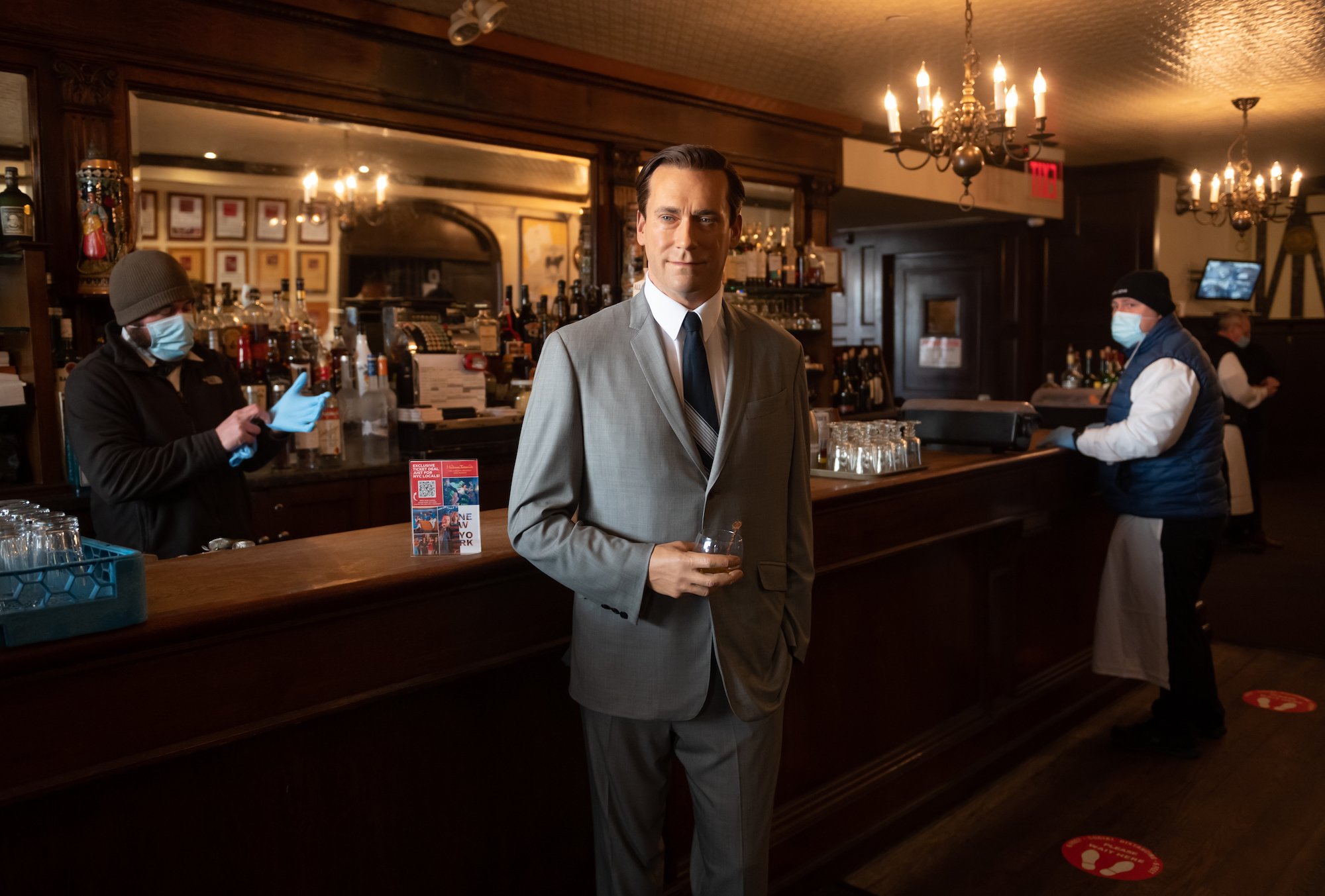 Hamm has 107 acting credits to his name and new projects coming soon. Maggie Moore(s) and Off Season are in pre-production, Corner Office is in post-production, Confess, Fletch is currently filming, and Top Gun: Maverick is set to hit screens in November. 
He's known for playing FBI Special Agent Adam Frawley in The Town, JB in Million Dollar Arm, and Bob Callahan in the 2018 comedy film Tag. But, of course, his leading role as Don Draper in the period drama Mad Men thrust the Hollywood actor into the limelight.
Hamm's character, Don Draper, is a talented creative director at Sterling Cooper in the 1960s. He's shockingly good at pitching and selling ideas — thanks to his ability to read others and understand their desires. Unfortunately, he also struggles with erratic behavior that often causes problems with his job and the people around him.
Esquire said the character's symptoms reflect "narcissistic personality disorder and antisocial personality disorder, but he also appears to have an impulse control disorder."
Hamm's wax figure looks eerily like him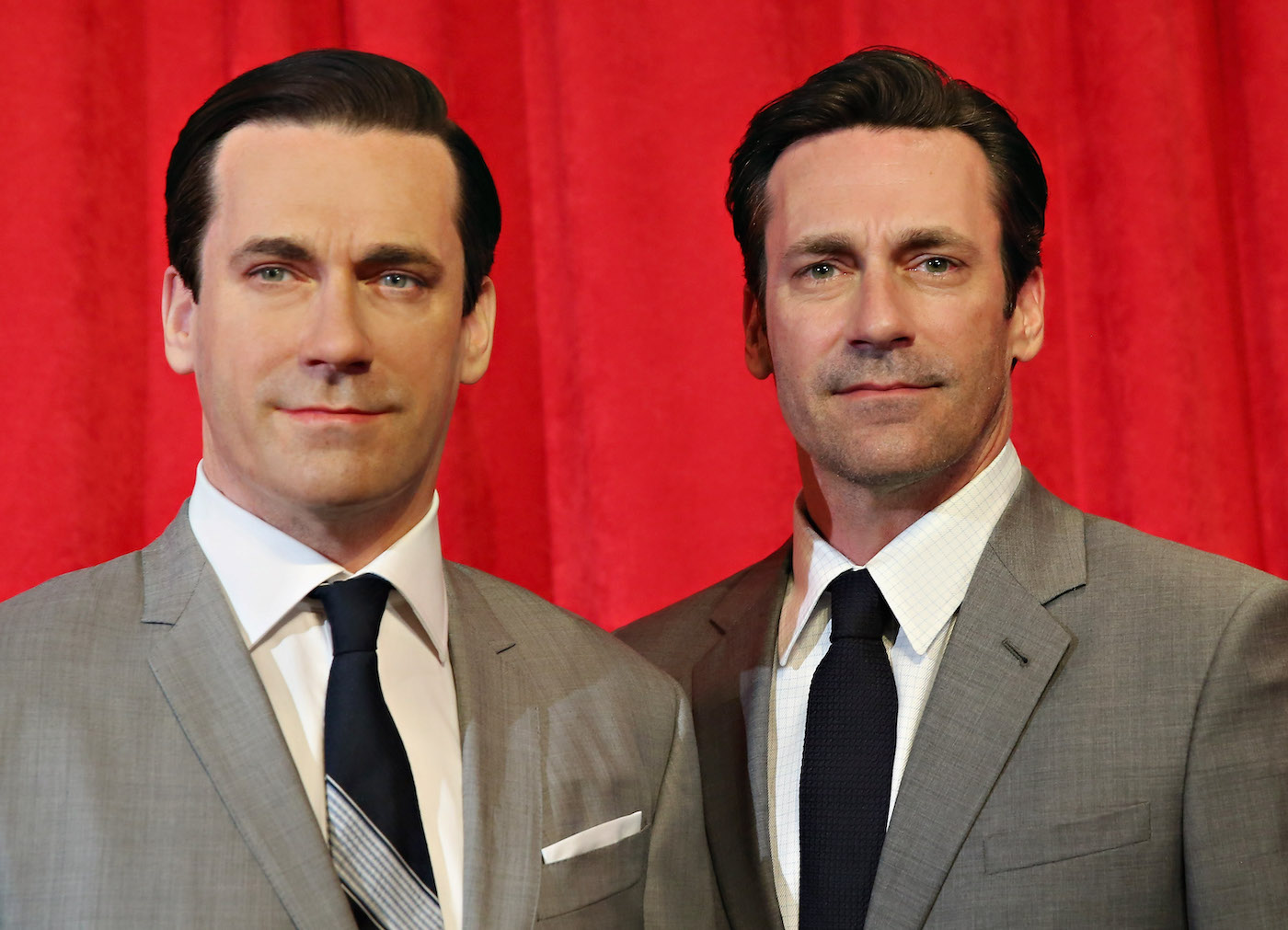 Madame Tussauds has come under fire in recent years for its wax figures of Nicki Minaj, Ariana Grande, and, most infamously, Beyoncé (which had to be redone due to the Beehive's outrage) because fans thought their likenesses didn't resemble the stars. However, Tussauds' wax figure of Hamm is far from off the mark and looks remarkably like his Mad Men character. 
The realism of his wax figure is eerily exciting and allowed guests at Peter Luger Steak House in Brooklyn to eat and drink near the talented actor/advertising guru during a time when social distancing was required. Better yet, it brought guests closer to the Mad Men star without putting themselves or their idol at risk.
To top it off, you wouldn't even know it wasn't Hamm at a glance. Photos with the wax figure could easily be mistaken for the real thing had captions not said otherwise.
Other wax figures showed up at the steakhouse
Peter Luger Steak House also displayed other wax figures of celebrities. With the help of Madame Tussauds, the steakhouse introduced four iconic stars to encourage patrons to return to the restaurant following the pandemic.
"The restaurant industry is vital to New York City's economy, and it's been particularly hard hit this past year," Peter Luger VP Daniel Turtel told The Hollywood Reporter in February. "We're excited to welcome diners back indoors at 35 percent and thought this would be a fun, safe way to fill some of the seats that need to remain empty as we continue to fight the pandemic."
Patrons also found wax figures of Audrey Hepburn leaning over a table with her chin in her hand, Jimmy Fallon drinking tea and eating dessert, and Michael Strahan standing inside the front door. And, of course, there was John Hamm chilling at the bar, looking like Don Draper ready to share a toast.