Jon Stewart Was a Soccer Star Long Before 'the Daily Show'
Jon Stewart has been retired as the host of The Daily Show for several years now, and that retirement was well-earned. For years, Stewart delighted fans with his razor-sharp wit and cutting edge political humor.
But did you know that Stewart also had a brief career in athletics? Before he interviewed politicians, actors, and other celebrities, Jon Stewart played NCAA Division I soccer and was quite good. Let's take a closer look back at his collegiate soccer career.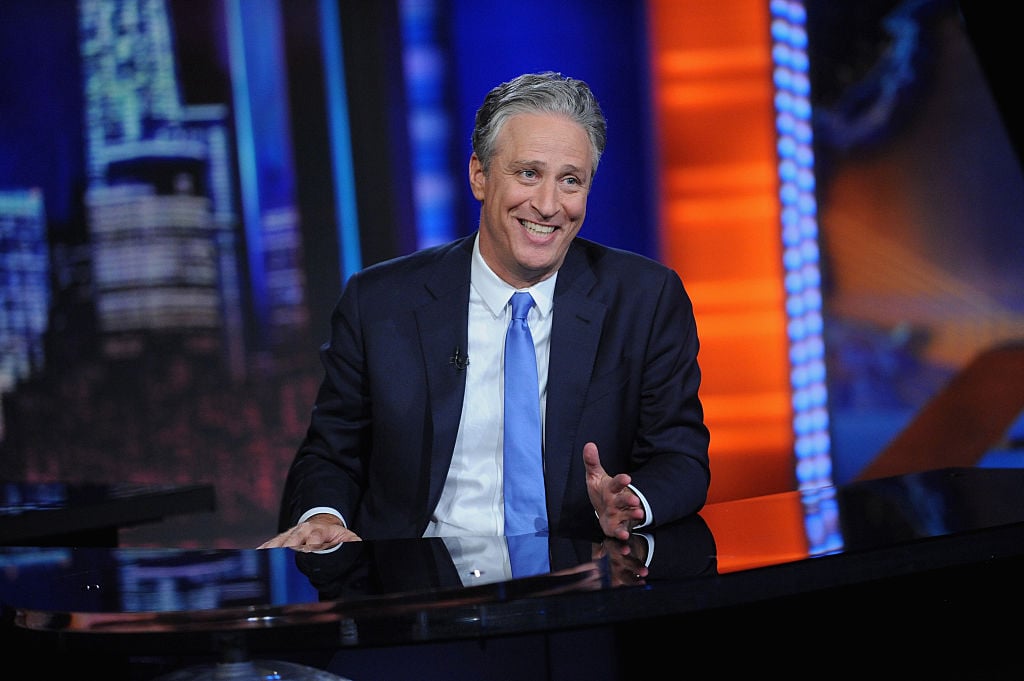 Jon Stewart's career
Stewart is known to most as the former host of The Daily Show, the long-running political comedy program that airs nightly on Comedy Central. Stewart's career as an entertainer started well before his stint behind The Daily Show desk, however.
Biography.com reported that Stewart first broke onto the scene as the host of Short Attention Span Theater on Comedy Central, a clip/highlight show. He was also the host of the first talk show on MTV, The Jon Stewart Show.
Stewart then took over for original Daily Show host Craig Kilborn and put his own distinctive stamp on the show. He made it one of the leading sources for political information for many viewers. 
Stewart also made appearances in the comedy films Big Daddy alongside Adam Sandler and Half Baked alongside Dave Chappelle. 
When Jon Stewart was a soccer star before hosting 'The Daily Show'
Stewart may have kept audiences informed and in stitches for a good long stretch in the '90s and 2000s, but he was also quite the athlete when he was younger.
Going by his given name of Jon Leibowitz, Stewart played for the William and Mary Tribe as a collegiate athlete in the early '80s. According to NCAA.com, Stewart played on the junior varsity squad as a freshman before joining the varsity team as a sophomore. He was a midfielder. 
In three years playing for the main varsity roster, Stewart scored 10 goals. His biggest came in the Eastern College Athletic Conference (ECAC) championship game in 1983.
Stewart scored the game-winning, go-ahead goal that gave William and Mary the conference title. It came only two minutes into the game against UConn. It was quite a big upset and sent the upstart Tribe to the NCAA Tournament. 
What was Jon Stewart, the soccer player, really like? 
When he came to William and Mary, Stewart asked coach Al Albert if he could try out for a spot on the team. According to the forward Stewart wrote in Albert's book, the request was (politely) declined: 
"Coach thanked me for my offer and gently explained the team was well stocked…he would be tracking my progress with their vaunted JV program, which turned out to be not so much a program as a sign-up sheet in a Greek kid's dorm room."
Stewart's self-deprecation wasn't a true sign of his talent, however. According to Albert, Stewart had some game in him: 
"Don't listen to his jokes about himself. Jon was a good player…Jon was very feisty as a player — very high-energy sort of guy."
Stewart said that while he was "lost" for much of his time in college, he loved his experience on the pitch at William and Mary: 
"My years with Tribe soccer were the best of my college experience…[T]he banter, the camaraderie, the keg parties … the endless van rides that no matter where we went always seemed to end up at a Sizzler in Fredericksburg, where Coach had a deal on soda refills."
Stewart may not have been a professional level soccer player, but he was no slouch and it appeared to be a great source of enjoyment for him. Who knows what role it played in his development as a comedian, but it clearly didn't hurt.