'The Jonas Brothers': Who Are the J Sisters?
Kevin, Joe, and Nick Jonas are the musicians behind the award-winning boy band, the Jonas Brothers. However, they're not the only iconic friend group within this family. 
Here's what we know about one of the Jonas Brothers' best-known fan clubs — the J Sisters.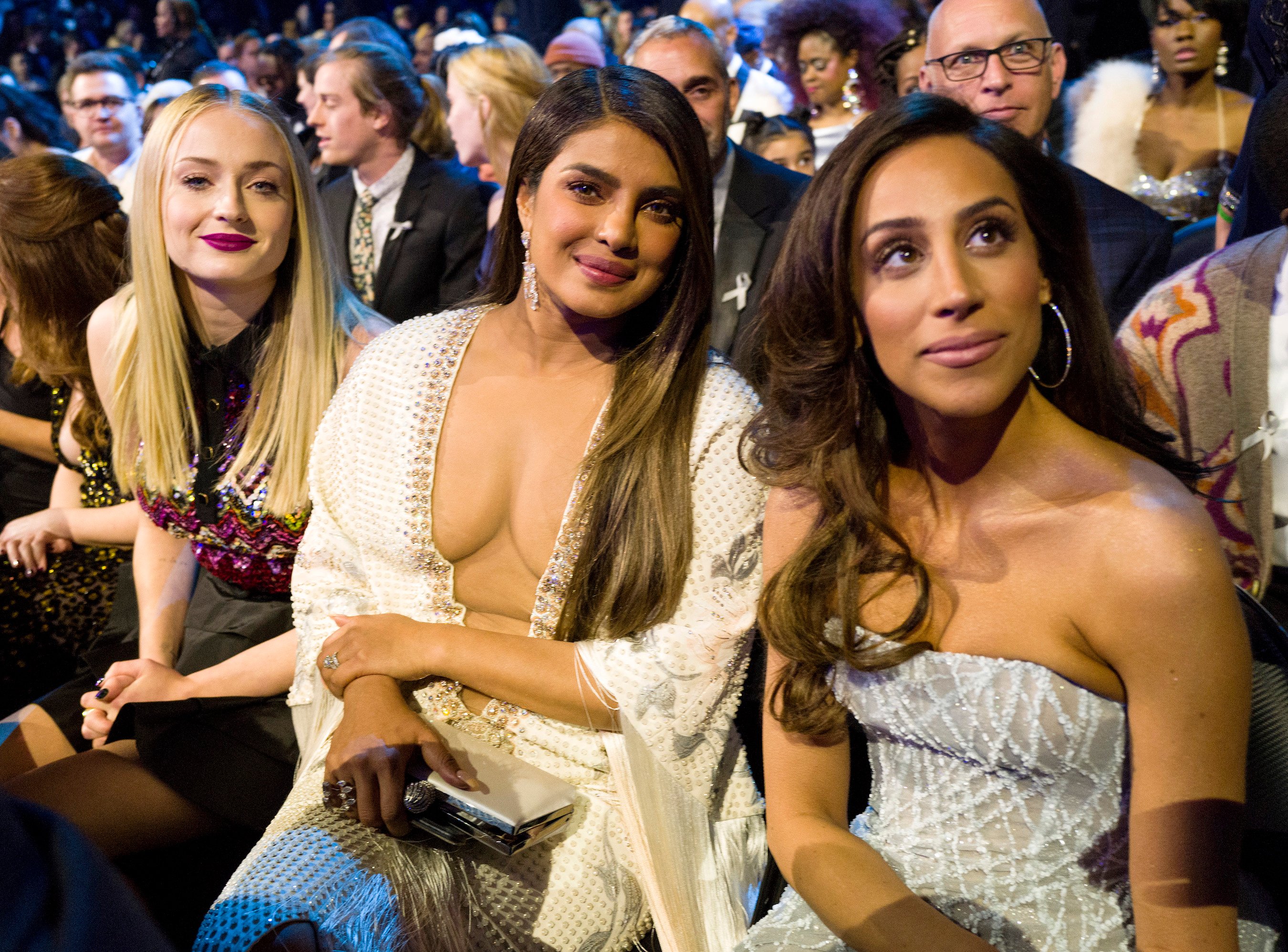 Kevin, Joe, and Nick Jonas are married to the 'J Sisters'
Disney Channel fans met Kevin, Joe, and Nick Jonas when these celebrities were teenagers. The three brothers starred in Disney Channel productions like Camp Rock 2: The Final Jam and Jonas LA. They released songs like "Burnin' Up," "When You Look Me in the Eyes," and "Year 3000."
Following their Disney Channel stardom, each member of this boy band got married. Kevin Jonas, the eldest brother, was the first to marry, eventually having children with Danielle Jonas.
Nick Jonas later married model and actor Priyanka Chopra. Most recently, Joe Jonas married Game of Thrones star Sophie Turner.
RELATED: 'Queer Eye' Star Jonathan Van Ness Proved How Much He Loves 'Game of Thrones' When Meeting Sophie Turner
Who are the J Sisters?
In response to the Jonas Brothers' reunion and musical success, the partners of these rockers created their own group nickname. That's the "J Sisters," comprised of Turner, Chopra, and Deleasa.
Sometimes they pose in Jonas Brothers merchandise. Other times they appear together, cheering and singing along at concerts. Outside of attending the Grammy Awards, these celebrities even discuss their close relationship as "girlfriends."
"It's also nice to have built-in girlfriends, who are actually really cool, who I can hang out with, and we can really talk to each other about, like, how crazy the boys' lives are," Turner said of Chopra and Deleasa during an interview with Elle.
"We can relate on so many different levels," she continued. "It's like, thank God, because you never know [about your in-laws]."
RELATED: Our Favorite Disney Channel Halloween Episodes, From 'The Ghost in Suite 613' to 'The Tale of the Haunted Firehouse'
The 'J Sisters' branched off to work on other projects 
The J Sisters appeared in the "Sucker" music video alongside the Jonas Brothers. The women also work on other projects. Turner starred in X-Men: Dark Phoenix. Nick Jonas and Chopra encouraged fans to donate as the coronavirus (COVID-19) cases rose in India.
Danielle Jonas became the founder of the jewelry company Danielle Jonas Co. Of course, these celebrities also spend time together as a family.
"I've never had a sister, so it's really nice to have Danielle and Sophie and just inheriting the family by proxy," Chopra said during an interview with Elle UK. "Sophie is super talented, super funny, and we have the most fun when we go out together. She's incredible. By the time this comes out, she'll be the new Mrs. Jonas — I can't wait for her to join the family.'
Some television shows and movies starring the Jonas Brothers, including Camp Rock and Camp Rock 2: The Final Jam, are available for streaming on Disney+.