How Did Jordan Peele Meet His Longtime Comedic Collaborator Keegan-Michael Key?
Key & Peele is one of the best comedies of its time. The show satirized America's racial tensions while simultaneously making room for hilarious sketches. Neither Jordan Peele nor Keegan-Michael Key was a household name before the show hit the airwaves. But like most overnight success stories, their journey was decades in the making. Both climbed the industry ladder before persuading Comedy Central to greenlight Key & Peele. 
Jordan Peele was a burgeoning comedian in the early 2000s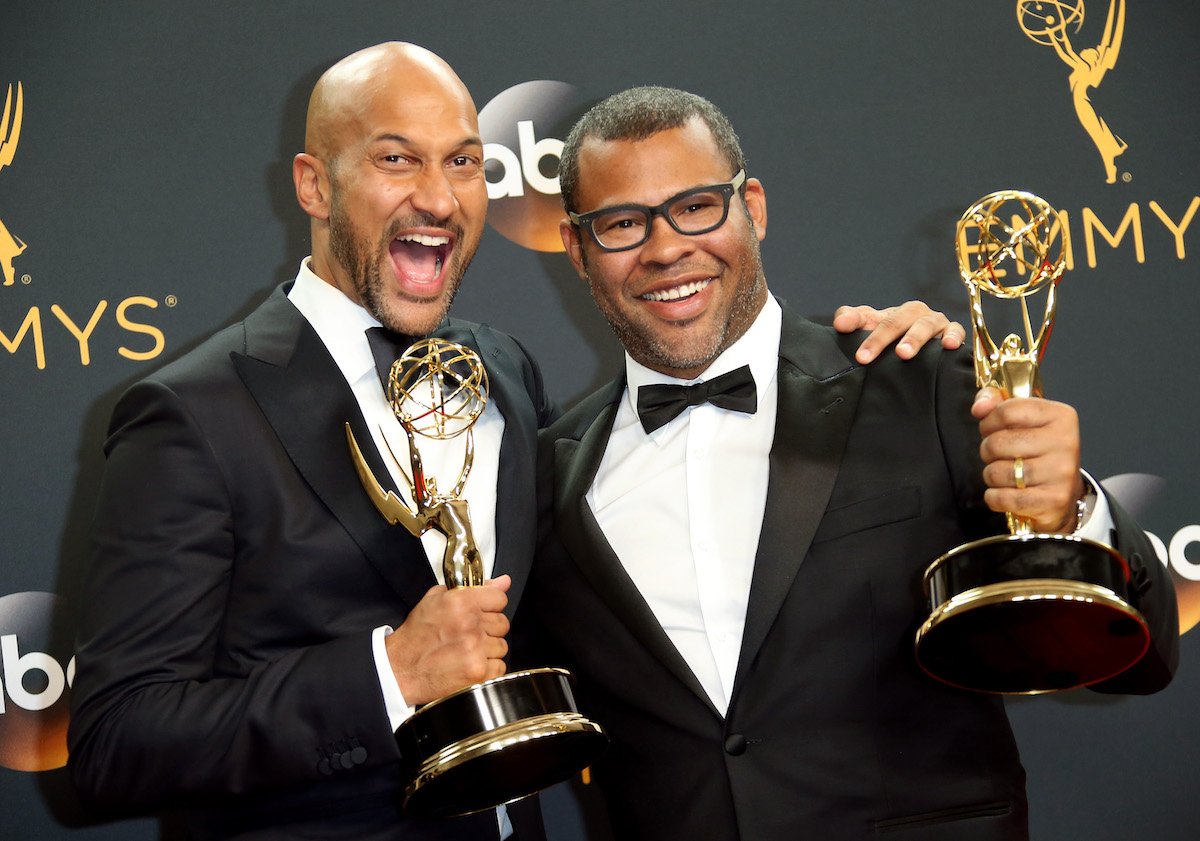 In a 2015 New Yorker profile about the two creators, Jordan Peele details his focused rise in the comedy world. Growing up with a single mother on Manhattan's Upper West Side, he found an interest in sketch performance during a workshop at the Metropolitan Opera when he was in fifth grade. He was initially given the job of assistant stage manager, but after one of the actors called in sick, Peele filled in onstage for a few performances. As a child, he was a shy lover of genre movies and fantasy books, but the experience showed him how much he loved working in front of an audience. 
He enrolled at Sarah Lawrence College to study puppeteering before joining an improv troupe with his roommate and future Key & Peele writer Rebecca Drysdale. They ironically called their act Two White Guys even though they were a mixed-race man and a Jewish woman. Their troupe's success led Peele to join Boom Chicago, an Amsterdam-based improv troupe, where he made his name playing Ute, a ditzy Danish supermodel.
How did 'Key & Peele' happen?
Key and Peele met for the first time in 2003 when they performed at the Second City Theatre in Chicago on consecutive nights. They became friends quickly after that and worked together on Mad TV a year later. They were initially cast against each other, but their chemistry was so apparent that they combined their talents, riffing on some of the same ideas they later explored in Key & Peele. But after a few years on the show, they became frustrated with the layers of interference from producers and the general broadness of Mad TV. 
Peele attempted to join Saturday Night Live in 2008 but wasn't allowed because of his contract with Mad TV. He got out of his deal in 2009, and after a pilot failed to gain traction at Fox, he and Key began making plans for their own sketch show. 
Figuring out the fine details of the show with Comedy Central took some time. During the early stages of production, Comedy Central imagined the show as Key vs. Peele, but the duo's partnership was such that they couldn't find enough topics where they disagreed enough to play off the concept. The studio's first choice for directing the series dropped out, so Key and Peele suggested Peter Atencio, whom Key had known from a series they made together for MySpace. 
The actors have worked together since 'Key & Peele' ended
After five seasons and 53 episodes, Key & Peele ended in 2015. In the New Yorker piece, Peele describes their connection as "a total brother understanding," so it makes sense they collaborated on another project soon after ending their show. 
In 2016, they made Keanu, which marked the first starring role in a movie for both actors and Peele's first film-writing credit. (He co-wrote the movie with Alex Rubens.) Much of Keanu feels like a Key & Peele sketch extended to the length of a feature film. It follows Rell (Peele) and Clarence (Key) as they search for the former's pet cat named for the star of The Matrix, and their quest leads them into increasingly absurd, action-movie hijinks. 
That's the last live-action project the two have collaborated on, but they have brought their buddy act into two animated movies. The first was Storks, also in 2016, where Key played Alpha Wolf and Peele played his sidekick, Beta Wolf.
The two have a similar dynamic in Toy Story 4. Their performances as Bunny and Ducky are essentially G-rated versions of the valet characters from Key & Peele, this time set in a carnival where they hope to be won and taken home. 
The actors' paths have diverged since then. Key continues to act in TV series and movies, while Peele has primarily become an exciting filmmaker and producer.