Jordyn Woods' Fans Can't Wait for Her Album — and Neither Can She
Last year, Jordyn Woods rose to prominence as Kylie Jenner's best friend who was caught kissing Khloé Kardashian's boyfriend. Woods ended up having a fallout with the Kardashian-Jenner family, and these days, she is trying to make a name for herself in other areas.
In fact, it might not be long before Woods is known for being a singer. She has been working on an album that fans are now very excited about. Woods also seems to be thrilled to embark on this next journey of her career. Read on below to learn more about when fans can expect her album to drop.
Jordyn Woods has been modeling and acting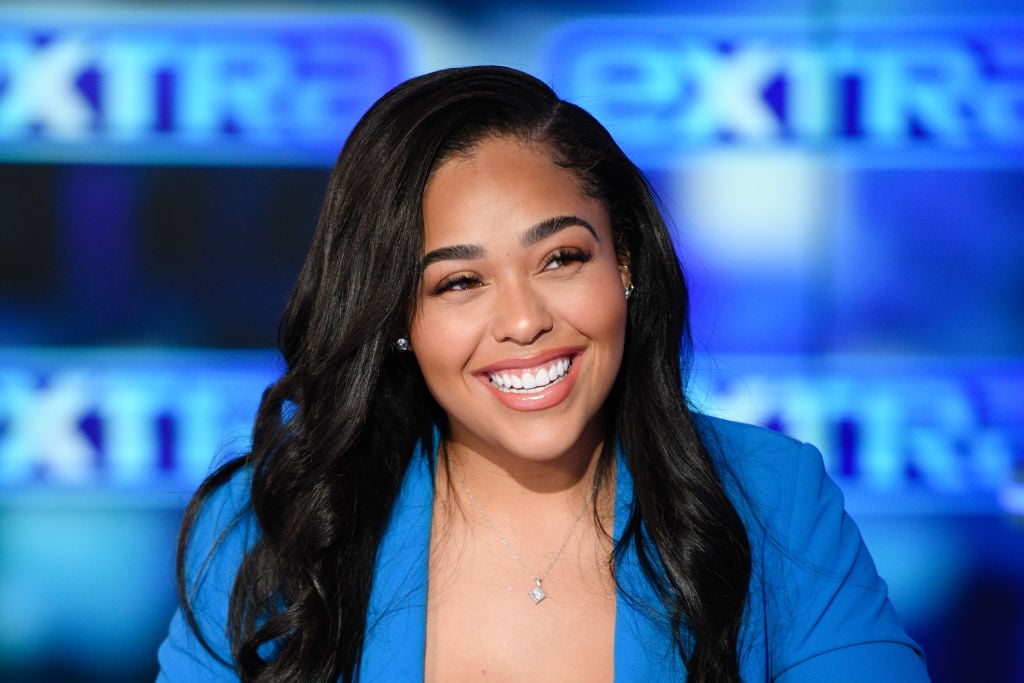 Woods has actually been modeling since she was a child. In elementary school, she was signed to Ford Models for a few years. At the age of 18, Woods returned to modeling and began working as a plus-size model.
She recently had a few acting gigs as well. She made her screen debut with a small role on Grown-ish last August. Woods has also been cast in the films Sacrifice and Triggered. Additionally, she has an activewear brand called SECNDNTURE, and she has collaborated with fashion brands like Addition Elle, Boohoo, and Barneys.
Jordyn Woods is now working on a music career
Woods is clearly open to trying many different things, and it looks like music might be next. She appeared on the latest season of The Masked Singer as a kangaroo before being eliminated in early April. Woods has received praise after her appearance on the show, and it looks like she is seriously embarking on a music career.
She told Entertainment Tonight that fans can expect an album by the end of the year, saying: "I have not been able to get to the studio. But as soon as everything clears up and we can leave again and I can get to the studio … you guys will get [an album]. Hopefully before the end of 2020. And I'm talking, like, as soon as possible."
However, Woods clarified that her music is still "more of a passion project" at the moment and she is still looking to set up her own record label to release her music.
Many fans on social media are excited nonetheless. One person said: "You sang so good [on The Masked Singer]!!! You should bless us with your voice more often." Meanwhile, another fan wrote: "You got talent girl. Get yourself a record deal."
Jordyn Woods says Jaden Smith has been her 'biggest motivator'
Woods shared with Entertainment Tonight that Jaden Smith has been her "biggest motivator" in pursuing music.
"Last year, when I was just in the house, I started writing and teaching myself how to play the piano and he's one of the first people that was like, 'Jordyn, where's the album?' And this was before I even went on the show or anything," Woods said. "He always pushed me to really do something. So, now it's finally happening."
Woods' and Smith's families have been close since they were little. Woods' late father, John Woods, was a sound engineer on The Fresh Prince of Bel-Air, so he and Will Smith became friends in the 1990s.
It was actually Jaden Smith who introduced Jordyn Woods to Kylie Jenner when they were in middle school. Throughout their teenage years, the three of them hung out together often.
Although Woods seems to no longer be friends with Jenner, the Smith family is still sticking by her. When Woods was on Jada Pinkett-Smith's show, Red Table Talk, the young model shared that she knows she will always have their support no matter what.