Joseph Quinn's Guitar Skills Helped Make the Scene with Eddie Munson in the Upside Down a Breeze
Stranger Things 4 introduced the world to their newest heartthrob in Eddie Munson, played by Joseph Quinn. One scene in the Stranger Things 4 Part 1 trailer shows Eddie shredding a guitar in the Upside Down. As it turns out, that was all Quinn.
[WARNING: This article contains detailed plot spoilers regarding Stranger Things 4 Part 1.]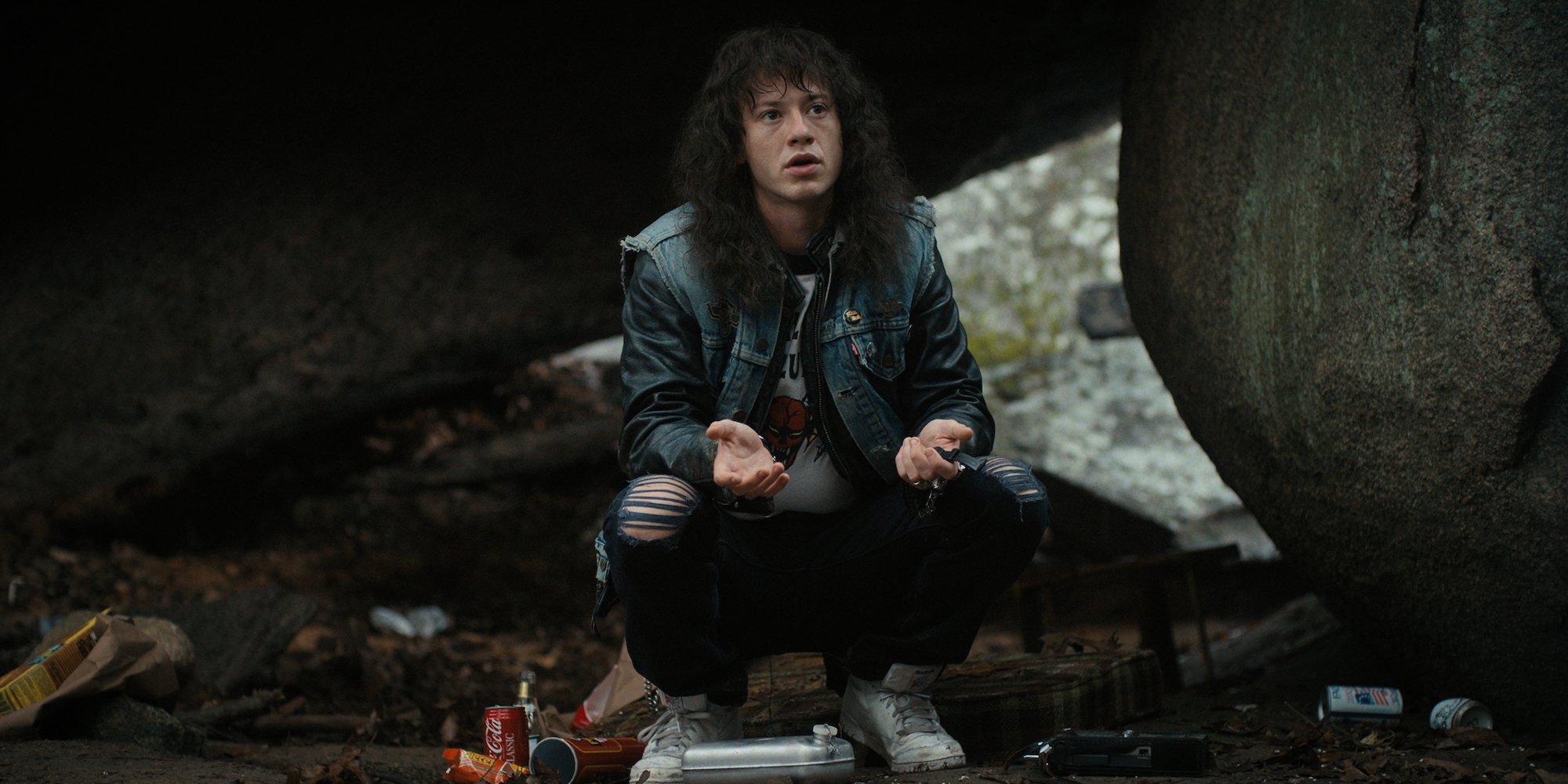 Who is Eddie Munson in 'Stranger Things 4'?
Eddie, the leader of the Hellfire Club, is an '80s metalhead with a heart of gold. When high school sweetheart Chrissy Cunningham dies at the hands of Vecna, the town of Hawkins blames Eddie, who then goes on the run. Chrissy's boyfriend Jason (Mason Dyer) riles the citizens up at a town meeting and convinces everyone that Eddie and the Hellfire Club worship the devil. The show's creators, Ross and Matt Duffer tie in real-life occurrences similar to the Satanic Panic of the '80s.
RELATED: Colonel Sullivan Actor Sherman Augustus Says 'No One Is Safe' in 'Stranger Things 4' Part 2 [Exclusive]
Eddie Munson plays his electric guitar in the Upside Down in 'Stranger Things 4' Part 2
Most of the Stranger Things 4 full-length trailer features scenes from part 1. However, a few clips seen in the trailer happen in the last two episodes of season 4. One of those shows Eddie on top of a trailer in the trailer park he calls home, but it's in the Upside Down. The Duffer Brothers were shocked to learn that Quinn is actually a very talented musician, and they incorporated his talent into his role as Eddie.
Speaking to Entertainment Weekly, the Duffers discussed scenes from Stranger Things 4 Part 2, including Eddie's guitar scene. Qui
Matt Duffer said, "There were a few shots in the original trailer for season 4, most of them were from Volume I, but a few were from Volume II, of course, and that's a big one. We're very excited."
"Yeah, that's a really special moment. We cast Joe Quinn, not knowing he's an incredible musician, as well as being this magnificent actor. So we were very lucky. I just remember that we texted him or called him and said, 'Hey, by the way, can you play guitar?' And he's pretty modest, so he's like, 'Yeah, I'm pretty good.' He's more than pretty good. He's amazing," Ross Duffer added.
Ross Duffer continued, "Yeah, I can't wait for people to see that. He spent many, many, many, many hours perfecting it. I won't say what song it is, but I think people are gonna be excited when they hear it."
What song does Eddie Munson play in the Upside Down?
Stranger Things fan theories about the song Eddie plays in the Upside Down range from Dio to Iron Maiden to Black Sabbath. Because of Eddie's fondness for heavy metal, it makes any of those bands viable options. Others believe Eddie plays a song to save Nancy from the clutches of Vecna, but that means the song would be one of Nancy's favorites. We're not sure Eddie is in tune with Nancy's song choices, so we're also leaning toward something in the heavy metal category.
Fans only have a few more days before finding out which song Eddie plays. Stranger Things 4 Part 2 premieres on July 1, 2022.
RELATED: Eddie Munson Keeps Fans Swooning in New 'Stranger Things 4' Volume 2 Images