'Counting On' Fans Think Josiah Duggar is Hiding Something
The Duggar family is one of America's largest families, and they don't live their lives the way most American families do. Rather, they're very religious, and everything they do is for God. They take their religion very seriously (they're Baptists), and everything from their education to their relationships centers around preparing to meet God in the afterlife. This means that the Duggars only believe what the Bible believes and can't always be themselves or do what they truly want to do. And fans think Josiah Duggar is hiding something.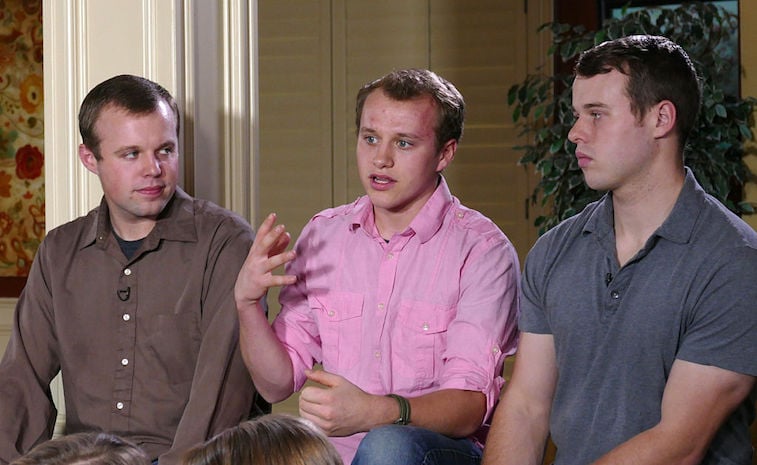 Josiah Duggar flew under the radar while his older siblings were famous
Up until recently, Josiah Duggar wasn't paid much attention to when it came to the Duggar fame. The family first got its start on 19 Kids and Counting on TLC back in 2008, but after everything unfolded with Josh Duggar's sexual abuse scandal, the show was canceled. A new show, Counting On, then followed the Duggar children as they continued life after everything the family had gone through with the Duggar scandal. And that's when more focus started being put on the younger Duggars, including Josiah. On the show's more recent seasons, he courted and married Lauren Swanson
He married Lauren Swanson in 2018
The Duggars typically marry very young; most are already married by their early 20s. They also don't have long courtships or engagements. In early 2018, the family announced that Josiah had started courting Lauren Swanson. The two only courted for about six weeks before announcing their engagement in early March. (Josiah had actually courted someone else before Lauren, but it didn't work out.) The two didn't wait long to tie the knot; by June 2018, they were married. They started trying for a family soon after the wedding but went through a tough miscarriage toward the end of last year. The couple recently announced that they're expecting again this fall.
Some fans think Josiah and Lauren aren't actually in love
Leave it to Reddit to let the Duggar fans and critics speak their minds. Some Reddit users have interesting theories about Josiah and about his marriage to Lauren. "I'm just not seeing that he's into her," one Reddit user wrote. Others suggest that Josiah could be gay (though there has never been any confirmation of the sort) and that he only married Lauren so he could escape his family. "If Josiah is gay, which I know is speculation, maybe he is miserable, and she's just so happy to have a husband," another Reddit user analyzed about the two.
Others think that Josiah is actually in love with Marjorie, who was the girl he courted before meeting Lauren. However, for reasons that still remain unknown, his first courtship didn't work out. "I think Josiah was genuinely in love with Marjorie… He seems almost depressed now," another user wrote.
Others think Josh Duggar's scandal hit him hard
While some think Josiah is hiding how he really feels about Lauren, others think he became quieter and changed a lot after learning what happened with his older brother and sisters. "Maybe he changed because he has been through hell with the scandal," one person suggested. "Maybe he looked up to Josh and his heart was broken. If he lost [Marjorie] over Josh's bull**** maybe that broke him again." Of course, everyone's opinions of Josiah's feelings and personality are all speculative, though it wouldn't surprise us if he was hiding something, since the Duggars have long been unable to express their true selves.