Joss Whedon vs. The Russo Brothers: Marvel Fans Debate Which Pair of 'Avengers' Films is Better
Beginning with Jon Favreau of the Iron Man trilogy, important writers and directors have worked on films in the Marvel Cinematic Universe. However, some of the most talked-about are those who took on the Avengers films: Joss Whedon, and Joe and Anthony Russo. Recently, Marvel fans took a look at the four Avengers films, attempting to rank them.
The 'Avengers' films each celebrated an anniversary recently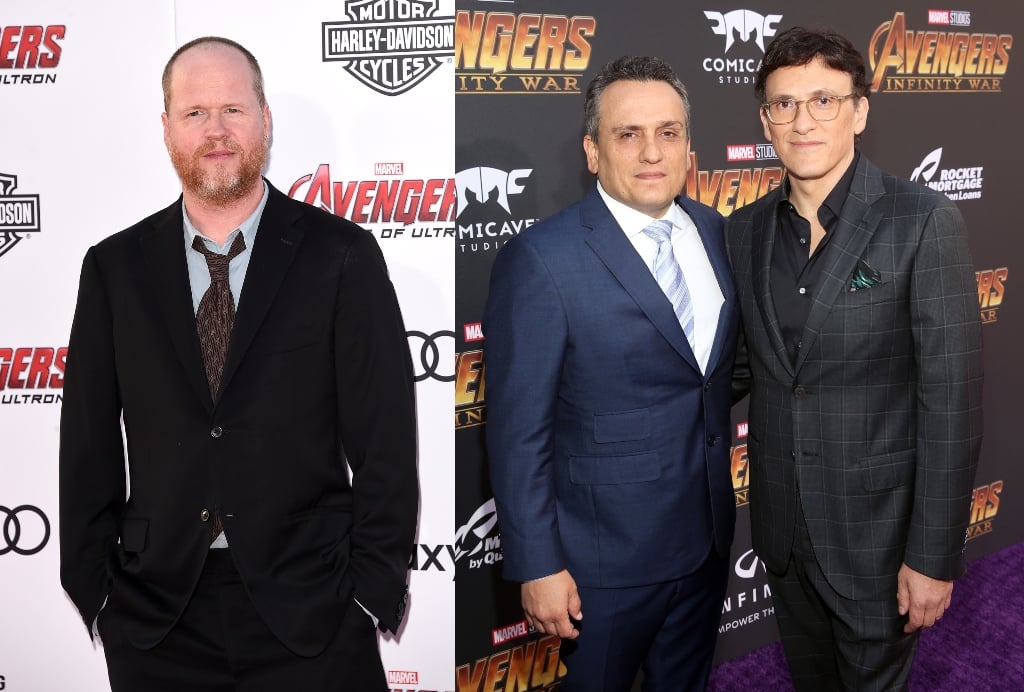 Though films are released year-round, the spring is typically considered the beginning of blockbuster season. So many of the biggest Marvel films have come out in the spring and summer. (In fact, all of the Phase 1 entries came out in May, June, or July, in order to boost their chances of success)
First up was The Avengers, released on May 4, 2012, meaning it's been eight years since its premiere. The other team-up films just celebrated anniversaries, too. Avengers: Age of Ultron came out five years ago, on May 1, 2015. As for Avengers: Infinity War and Avengers: Endgame, they celebrated two years and one year since their late April releases, respectively.
Joss Whedon wrote and directed 'The Avengers' and 'Avengers: Age of Ultron'
Whedon was the first to helm an Avengers film, writing and directing The Avengers and its follow-up, Age of Ultron. As far as the MCU goes, this is atypical. Not only was Whedon the first filmmaker in the franchise to both write and direct their movie, but aside from James Gunn for Guardians of the Galaxy Vol. 2, he is the only one to not share either credit on a project.
Even for someone who once worked on multiple TV shows (Buffy the Vampire Slayer, Angel, and Firefly) at once, that's a lot to undertake by oneself. Whedon stopped working with Marvel after Age of Ultron. However, he didn't leave the superhero genre for good — he took over for DC director Zack Snyder on Justice League.
The Russo Brothers directed 'Avengers: Infinity War' and 'Avengers: Endgame'
The Russo Brothers, meanwhile, exclusively hold director credits on their projects within the MCU. They first joined the franchise with Captain America: The Winter Soldier, working with the writing team of Christopher Markus and Stephen McFeely. And they did the same for Captain America: Civil War.
Given how many MCU characters are in it, many consider Civil War to be an Avengers movie. So it only made sense of the four of them to tackle the second pair of Avengers films. The Russo Brothers even revisited Whedon's The Avengers with Endgame, when they recreated scenes from the Battle of New York as the characters traveled back in time.
Fans on Twitter rank the 'Avengers' films
As the anniversaries of the movies coincided with watch parties being held during the coronavirus (COVID-19) pandemic, fan opinions were at an all-time high. And when prompted on Twitter to "rank all four Avengers films from best to worst," there were plenty of responses, both dividing them into pairs and looking at them individually.
Naturally, the rankings varied greatly. Some though The Avengers and Age of Ultron aged poorly. And there were many who struggled with placing Infinity War above Endgame, or vice-versa. But one Twitter user, who called them all "very good to outstanding," may have said it best.
The Avengers came first, so "nothing works if it doesn't." Then Endgame, which was deemed "satisfying" and "monumental." Next was Infinity War, writing that it "shouldn't work but it does" and calling it "emotional," tragic" and "funny." Finally, there's the oft-maligned Age of Ultron, which they wrote contains "some of the most poetic moments in all 22 films."
Where you can watch all of the movies now
For those who are now feeling an Avengers binge coming on, fear not: All of the movies are available to stream. The Avengers, Age of Ultron, and Endgame are on Disney+. Infinity War is set to join them there in June 2020, but until then, catch it on Netflix.